What can't Drew Barrymore do? Back in September, the 45-year-old star entered the daytime talk show arena, with The Drew Barrymore Show, and since then? The boho, free-spirit, mommy mother star isn't slowing down! Her highly successful Walmart line, FLOWER Home, has expanded from home decor to beauty, and this month, it's expanded once more with the addition of hair tools to its roster. And, just when you think she has done it all? Barrymore raises the bar once more, dropping her fall 'Santa Fe' collection — and we want it all.
What makes this third installment so swoon-worthy? The inspiration behind it. Barrymore explains she's involved in every single detail behind the scenes. She cares about "every detail... every color-way, every pattern, and every shape," and believes "inspiration comes from everything," — and boy, does it show.
Shoppers will find fun, fresh, fall decor patterns — including Gingko Leaf, Sunset Stripe, Cactus Medallion, and Botanical Floral — new colorways inspired by the season, picture frames, new peel-and-stick wallpapers and, so much more! Priced from $18 to $1,099, there is something for everyone and every price point. But, if you're stumped on what (or where) to start? Not a problem, we've got it covered.
Here are Drew's 5 favorite fall refreshers: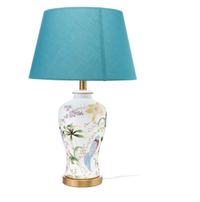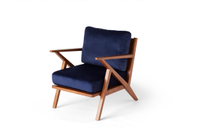 Mid-Century Accent Chair l Now $299 at Walmart!
Find yourself rethinking your current furniture situation? Aren't we all. Here, this mid-century chair helps bridge the gap between fun furniture and functional furniture. The cozy velvet upholstery comes available in an always-stylish blue color and it's paired to perfection with a durable wood frame. Don't think here, just do!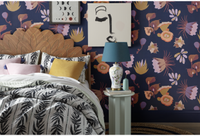 Vintage Palm 3 Piece Quilt Set l Now $60 at Walmart
Dreaming of a vacation? Drift off to dreamland courtesy of this vintage palm 3-piece set. Here you'll find a comfortable cotton quilt, that's perfectly paired with two matching shams. Need more convincing? Reviewers don't think so. Many say it's as "versatile, comfortable," as when "grandma made it."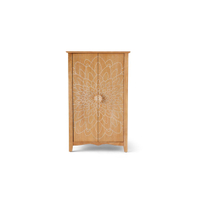 Carved Wood Storage Cabinet l Now $299 at Walmart
Short on storage? Opt for this carved wood storage cabinet. The 2-door can easily open and close shut for easy access and features a globally-inspired look. The light beige wood and striking white flower design will seamlessly elevate any room in seconds.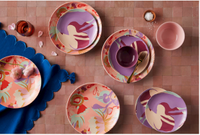 Botanical Watercolor 16 Piece Dinnerware Set l Now $60 at Walmart
Find yourself cooking more than usual? Upgrade your traditional kitchenware for this option that reviewers are "loving." Within this 16-piece set, reviewers receive small and large plates, plus bowls; all in a fun watercolor print. It's perfect for grabbing a bowl of cereal or serving at a dinner party. Talk about endlessly versatile!
Want more? Check out more FLOWER Home top picks: