When Dirty Labs laundry detergent started drawing comparisons to the unparalleled Le Labo Santal 26 fragrance, our ears perked and we became very excited about putting our mountain of clothes in the washing machine.
We're not surprised that the brand has landed on lists of the best eco-friendly laundry detergents, but to be compared to such a luxe collection of scents catapults it into unimaginable territory. Needless to say, we're taking on our household chores in a whole new way.
If you're curious about the things people with nice-smelling homes always do, it all comes back to the basics. Grab your hamper and let's get to it, shall we?
Dirty Labs laundry detergent: what you need to know
Although the detergent smells like a home fragrance, it first and foremost intends to change the way we wash our clothes. By utilizing clean methods that lead toward a sustainable future, Dirty Labs is a safe selection that will help your garments look good, smell good, and do good in the process thanks to its hyper-concentrated non-toxic formula and bioenzyme cleaning technology. Oh, and did I mention, that there are no sulfates, dyes, parabens, preservatives, chlorine bleach, or CA Prop.65 chemicals either? So it's great for sensitive skin.
We'd be lying if we said Dirty Labs' Magnolia, Bergamot, and Cider scent didn't pique our interest, especially considering the woody aroma reminds us of Le Labo, a.k.a. one of Selena Gomez's go-to brands. (You can have a look at all of celebs' favorite scented candles for more fragrance inspo, if you're in need.) Clean, crisp, and efficient enough to clean using cold water?! What more could we possibly ask for in a detergent? Laundry is often one of the more frustrating household chores — especially for renters living without washing machines who need to bring their hampers elsewhere — but an earthy, cozy scent in an attractive aluminum bottle will make it all worth it.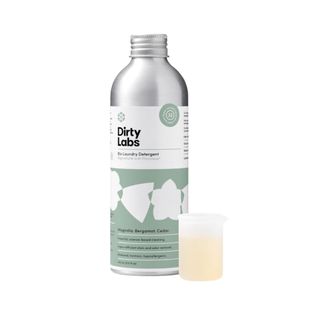 Two sizes
Dirty Labs | Signature Scent | Bio-Liquid Laundry Detergent
Price: $15.20 (8 fl oz), $26.10 (21.60 fl oz)
Loads: 32-80 (depending on size)
---
For more ways to make the chore a little less tiresome, experts spill on common laundry mistakes that you probably didn't even realize you were making. After you switch things up, you might also want to add one of the best reed diffusers to your space to capture a similar aroma to Dirty Labs (and Le Labo).