If you fancy a toastie for lunch – totally normal for this time of year – then you're in for a treat as these top toastie makers are on sale and sure to hit the spot. Perhaps you call it a sandwich toaster? Whatever your terminology, this is a smart purchase. And, it's one you'll probably use for years and years. Sporadically, but still, you can't perfect a ham and cheese (or soon a brie and cranberry) toastie without one of these babies. You can try but your fillings will probs just fall out of the sides – you've been warned.
We've rounded up all of the best toastie maker deals on the web right now, and have popped them below. These cheap buys are from either Amazon or Argos, and prices start at just £9.99. A toastie maker is a great buy whether you are a student or not – some of them even double up as waffle and panini makers, too. Keep scrolling for the best picks on sale and for our best sandwich toaster roundup you can take a look at our buying guide.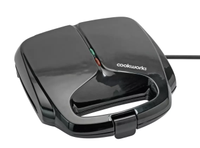 Cookworks 2 Portion Sandwich Toaster | £12.99 £9.99 at Argos
This two-portion sandwich toaster is cheap yet cheerful. Great for students, it's non-stick, has a handle locking clip and it features cord storage so you can pop it in a cupboard with ease.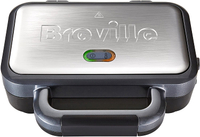 Breville Deep Fill Sandwich Toaster | £40.99 £25.99 at Amazon
With removable, non-stick plates, this deep fill toastie maker can fit any type of bread, no matter how thick or thin, and since it's deep, it prevents filling leakage. It has a ready-to-cook indicator, while it stands upright when you need to store it away.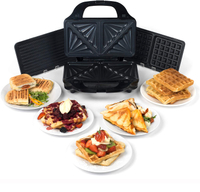 Salter EK2143 Deep Fill 3-in-1 Snack Maker | £59.99 £28.99 at Amazon
This machine can make more than just toasties, but also waffles and panini. It comes with interchangeable plates that are non-stick, while it has power and ready indicator lights, and a locking latch. With 52 per cent off, it's undeniably a bargain. Use it for lunch breakfast, or dinner.
Also see: