If you're tired of eating cold and soggy sandwiches, it might be time to shake up your lunchtime routine with a panini press. These countertop appliances are designed to toast sandwiches using two heated grill plates to brown the bread and warm up inner ingredients, all while leaving crisp grill marks on the outside.
While most panini presses serve the same basic function, there is a wide range of models available today. You have your choice between large panini makers that can cook several sandwiches at once, as well as compact cookers that can only hold half of a sandwich. Some models also do double duty as an indoor grill, allowing you to cook hamburgers and more. And, others cleverly slip inside a good toaster.
The best product for your needs depends on how you plan to use your panini press and to make your decision easier, we tested seven top-rated panini makers from popular brands. After cooking more than a dozen sandwiches with these small kitchen appliances, and comparing the appliances head-to-head, these are the best panini presses for every home.
The best panini presses as rated by our expert
Why you can trust Real Homes Our expert reviewers spend hours testing and comparing products and services so you can choose the best for you. Find out more about how we test.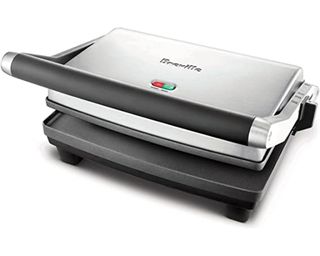 In terms of performance, versatility, and construction, you'll be hard "pressed" (no pun intended) to find a better panini maker than the Breville Panini Duo. During testing, this appliance delivered incredibly consistent results, cooking sandwiches at the perfect speed to leave them beautifully browned. We loved that the panini maker has a floating lid, which ensures it presses down evenly on the top slice of bread. It also has an adjustable lock on the side that lets you set the lid at different heights — perfect if you want to melt cheese or cook other foods besides sandwiches. You can easily fit two average-sized sandwiches in the panini maker at a time, and its non-stick cooking plates were easy to wipe clean after use.
The Breville Panini Duo was by far the most substantial and heavy-duty model we tested, and it has a built-in cord wrap and can be stored upright, making it easy to stash away when it's not in use. The only thing that we didn't love about this model is that the bottom plate doesn't have the ribbed appearance you'd expect from a panini maker. The brand explains that the flat plate allows for faster, more even cooking, while the ribbed top plate gives you the classic grill lines you'd expect on a panini.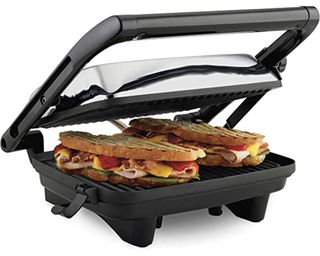 The Hamilton Beach Electric Panini Press was the largest model we tested, and you could easily fit two large sandwiches on its cooking plates. It has a floating lid that presses down evenly on sandwiches of any thickness, and it also features a top lid lock that lets you toast open-faced sandwiches if desired.
When we tested this panini maker, it created beautiful grill marks on both the top and bottom of our sandwiches, though we did notice that the edges of the bread cooked a bit faster than the center. Still, the panini press cooked at the perfect speed to melt the cheese without burning the bread, and the non-stick plates were wiped clean after use. The panini maker can be stored upright to save space in your cupboards, and overall, we think it's a great choice for larger households.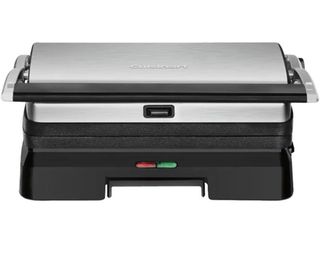 It's quick and easy to clean up after using the Cuisinart Griddler Grill & Panini Press, as it has removable cooking plates that can be put right into the dishwasher. This panini press is a mid-sized option, accommodating one large sandwich or two smaller ones at a time. We loved that it has a floating lid that presses down evenly on your food. This appliance is also more versatile than others we've tested — it can be opened fully flat and used as a grill, and it even has a handy grease tray to minimize mess while you cook.
Our only complaint about the Cuisinart Griddler is that it sometimes cooks sandwiches too quickly. On a few occasions, the bread would be fully toasted before the cheese on the sandwich was melted. Its fast cooking isn't necessarily a problem if you're grilling, but we wish there was an option to turn down the heat for those times when you want to cook sandwiches slowly.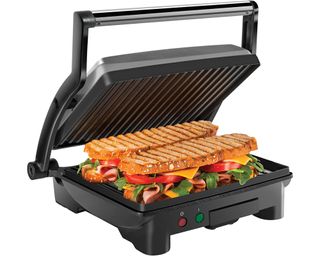 If you're on a budget, the Chefman Electric Panini Press provides the most bang for your buck. This model actually comes in two different sizes, depending on your needs, and we found that the smaller option is ideal for cooking one sandwich at a time. In our testing, it cooked sandwiches at a good speed, browning the exterior of the bread and melting cheese inside, but because it doesn't have a floating lid, the back of the sandwich tends to cook faster than the front. We remedied this by rotating the sandwich halfway through cooking.
The Chefman Panini Maker also doubles as an indoor grill — there's a red button on the handle you press to open the lid flat. It has a grease tray to catch any drippings, and the non-stick plates quickly wipe clean after cooking.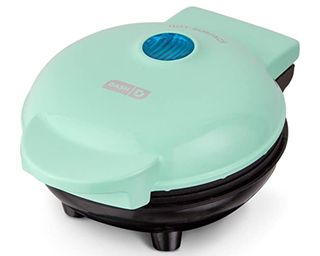 For a small apartment or even a dorm room, the Dash Mini Maker Portable Grill + Panini Press is a great compact model that comes at a low price. The small panini press weighs less than 2 pounds, and it's even tiny enough to store in a drawer when it's not in use. When we tested it, we were impressed with its performance — it evenly toasted the exterior of our sandwich, leaving nice grill lines, and it cooked slowly enough to melt the cheese inside.
However, the major appeal of this panini maker — its compact size — is also its main drawback. The cooking surface of this gadget is only a 4-inch circle, and in testing, we could only fit half a sandwich or an English muffin into the panini press. So if you're someone who likes large sandwiches, this probably isn't the best model for you.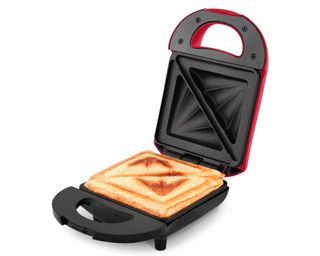 The Dash Pocket Sandwich Maker is another compact, affordable model, and we found that it's ideal for making grilled cheese. It's slightly bigger than the other Dash Panini Maker and has a square cooking surface. Its cooking plates feature a diagonal line that effectively cuts your sandwich in half while it's cooking.
We loved that this panini press cooks sandwiches slowly, giving cheese plenty of time to melt, but it doesn't toast the bread quite as much as other models. Still, the design is small enough to tuck into a drawer when it's not in use, and it's perfect for making small sandwiches.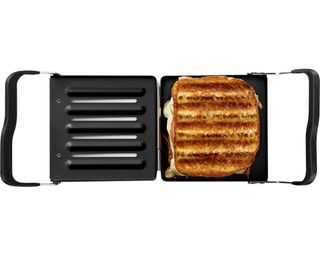 If you don't necessarily want a whole new appliance to toast your sandwiches, the Revolution Panini Maker is designed to work with any two or four-slice toaster. The compact, lightweight tool is essentially a little pocket for your sandwich, and we found that it can comfortably fit most standard slices of bread. It has a heat-resistant silicone handle that lets you insert the pocket into your toaster, and after a toasting cycle, your sandwich will have a slightly crispy exterior with a few prominent toast marks.
While undeniably handy, this panini maker wasn't our favorite for a few reasons. First, you can only fit thin sandwiches into it — if you include more than a few ingredients, the pocket won't close properly. Additionally, the gadget is really expensive, especially considering the design is quite simple.
Real Homes review process ⁠— how we reviewed these panini presses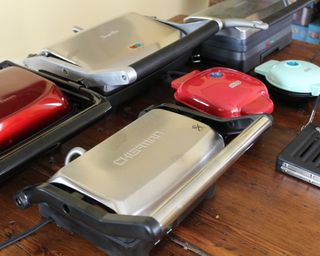 To evaluate the performance of each panini press, I (Camryn) used them to make sandwiches over the course of several weeks — by the end of testing, my partner and I had eaten enough paninis to last a lifetime!
I used each model at least two times, testing them out with different types of bread and ingredients. I evaluated each panini maker on several qualities, including how evenly it cooked the sandwich, its cooking speed, its cheese-melting abilities, and its ease of cleaning. When ranking the appliances, I also considered factors like storage, quality, and overall value.
Reviewed all of the panini presses
Reviewed all of the panini presses
Camryn is a freelance writer and product reviewer who has been testing small kitchen appliances (as well as other home goods) for several years. She's tested everything from toasters to oil infusion machines. She spent a few weeks eating lots of toasted sandwiches when she was working on this buying guide.
Camryn does her product testing from her small homestead in beautiful Rhode Island. When she's not tinkering around with the latest home gadgets, she spends her time tending to her animals, working in her garden, or crafting.
What to consider when buying a panini press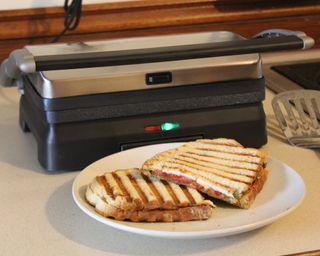 Panini presses come in a wide range of sizes and shapes, and the best option for your kitchen will depend on how you plan to use it. If you live in a dorm, or with roommates, you'll most likely prefer a larger model that can cook multiple sandwiches at a time, as this will make meal prep faster. If you live by yourself (or it's just the two of you), you might want a more compact model that takes up less space.
You'll also want to consider whether you want a panini maker that does double duty as an indoor grill. These models are generally a little more expensive, but they're handy for cooking hamburgers, hot dogs, and other grilled items right on your kitchen counter.
Panini press FAQs
Should I butter bread before using a panini press?
Most, if not all panini presses are made using a non-stick coating that stops the bread from sticking to the plate. However, some people choose to use a spray oil, butter, or margarine to get golden brown and crisp(ier) results.
Can you use parchment paper in a panini press?
If you don't fancy cleaning burnt cheese and toppings off your panini press, you could try using greaseproof paper to protect this appliance.