It's official: these five celebrities have the best Christmas decorations for 2020. We know this from Instagram, obviously. We wish we could be pals with these guys.
From Rochelle Humes' incredible bauble-filled fireplace to Leona Lewis' owl Christmas decorations and Scarlett Moffatt's pink nutcrackers, keep scrolling for the Celebrity Christmas decorations we are loving this year – as well as where you can buy replicas from. These replicas should arrive before Christmas, too! Joy to the loo roll (keep scrolling and you'll understand the reference)...
Head to our dedicated Christmas page for more festive ideas – think gifting, decor, food and drink recipes and more.
1. Decorate your Christmas tree with owls (and loo roll) like Leona Lewis has
Okay, so we are big fans of Leona's tree this year. We're gonna look past the toilet roll and straight to the cute little owl decorations. Certainly something we've never considered popping on the tree, and so cute! Here's where to buy yours...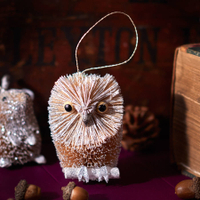 The Christmas Home Woodland Owl Christmas Decoration | £8 at Not on the High Street
Made from natural bristle with a hint of festive glitter, this cute owl decoration is from a small business, and it'll arrive in time for Christmas!
2. Create a bauble arch around your fireplace like Rochelle Humes
We're fully on board with this level of Christmas decorations. If only we had a fireplace grand enough! You can create something similar – although a little more suited to a smaller London flat – by shopping at Amazon. Oh, and how can we not mention those adorable kids? We'll have a pair of those pyjamas, too, please!
Oh, and btw, the incredibly talented ladies over at @earlyhoursltd made this!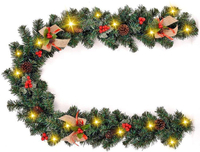 ZYFZYJY Christmas Garland with Lights for Stairs | £22.99 £21.99 (save £1) at Amazon
This garland is complete with lights, and although it's for stairs we think it would look great over a fireplace. It comes decorated with pinecones and berries, and it's six foot long.
3. Decorate your home with big red bows like Louise Thompson has
We love a bow, and not just on a present! Louise has decided to decorate her tree with red bows this Christmas – as well as her house in general as we also spy one on a vase – and we're liking it. Not to much, but definitely enough! Here's where to get yours...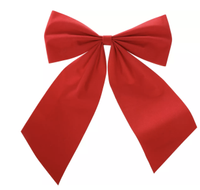 Halfords Flocking Red Gift Bow | £8 at Halfords
We're as shocked as you are that Halfords sell gift bows – especially ones as pretty as this. Though these ones are meant for decorating your presents, they can also be used for decorating your home. It also includes fitting ties so can be easily attached to anything!
4. Buy a couple of these Nutcrackers and copy Scarlett Moffatt's decor choices
Large nutcrackers as decorations? We love it, Scarlett! Especially pink ones – though these are all sold out for 2020. Check out these white ones we've found at Amazon. Buy ASAP for delivery before Christmas. If not, what's stopping you from displaying them after Christmas and then waiting until next year to show them off?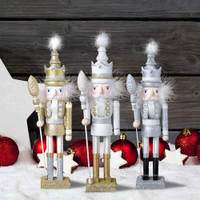 AMOLEY Traditional Wooden Nutcracker Soldier Figure | £19.19 at Amazon
Though not as big as Scarlett's wooden nutcrackers, these ones are cute! They come in three colour choices – gold, silver, white – and they measure 42cm high.
5. Add some blue to your gold tree like Olivia Bowen has
First thing's first: let's talk about the gold tree. Woah! It definitely goes perfectly in Olivia's dark living room, but not sure it would look so great in ours. And the blue? Whoddathought it works so well at Christmas time? Definitely one to bear in mind next year, or this year if you put your tree up months ago and fancy a change...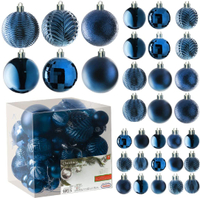 Prextex Midnight Blue Christmas Ball Ornaments | £16.99 at Amazon
A whole load of blue baubles for under £17? We're here for it. Baubles come in three different sizes and a range of textures. And, they'll arrive ahead of Christmas!
More Christmas content: