Kitchen renovations are more popular than ever. What was once a room reserved for preparing dinner is now command central — home to family breakfasts, impromptu Zoom meetings, and experimental bread baking.
Chances are, all that extra time in the kitchen has begged for an upgrade. Plus, the past decade's bright-white kitchen trend is starting to feel dated in 2021. According to HomeAdvisor, the average kitchen renovation costs anywhere between $13,000 and $38,000. But you don't have to wait until you have tens of thousands of dollars to spare to give your kitchen design an upgrade. Try these six genius ways to remodel your kitchen on the cheap.
Use butcher block countertops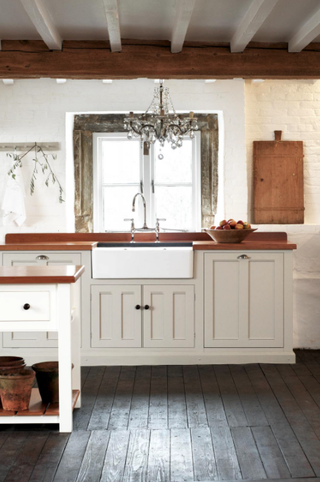 It's no surprise butcher block countertops are incredibly popular. The material is more affordable than stainless steel, marble, or soapstone and can be purchased at most home improvement stores. And, since you can cut through wood a lot easier than stone, the installation is DIY friendly for handy homeowners. Plus, if you want to know how to seal a butcher's block, see our guide.
The best way to use butcher block is to embrace the rustic, farmhouse vibes and let the wood stain and patina as it ages (the material is sensitive to water marks and nicks). You can pick the grain and type of hardwood, and the results will last for decades.
For more budget kitchen countertops, check out these 8 DIY countertop ideas.
Choose paint instead of backsplash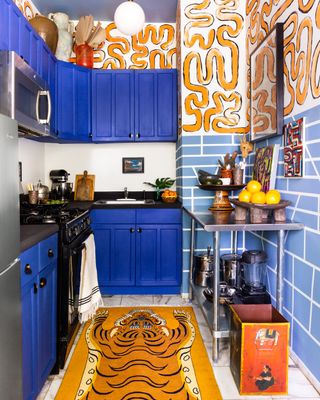 Both budget-friendly and ideal for renters, paint is a great way to refresh your kitchen without permanent (and expensive) alterations. "Paint is the most affordable way to transform a space," confirms interior designer Anthony Gianacakos, who used Annie Sloan chalk paint to reimagine his own Manhattan kitchen. "To liven things up, opt for a fun wall pattern with painter's tape or by hand. The beauty is, you can always adjust the look with another layer of paint."
Create a statement wall with a bright hue or paint a tile pattern in lieu of backsplash, or skip the element all together and refresh cabinets in a saturated color.
Keep the existing layout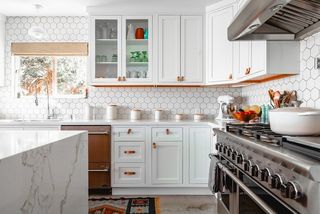 If you're happy with your kitchen's existing layout but just need a facelift, this is a surefire way to do your kitchen on a budget. Most importantly, try to keep your stove and sink in the same spot. Moving gas lines and plumbing will add to the time and expense of your renovation. Keeping electrical items in their place will save even more.
Save on cabinetry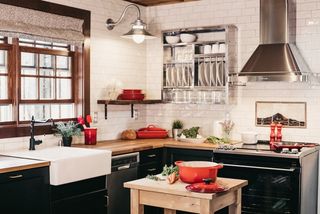 Cabinets are one of the most expensive elements to a kitchen renovation, but there are a few ways to cut down the cost. First, you can choose to reface cabinets but leave boxes intact. With this process, a contractor will remove existing cabinet doors and drawers. Then, they'll cover the existing boxes and with veneer or laminate.
Finally, they will install new door and drawer fronts and finish with new fixtures and hinges, if necessary. Generally, this process costs about half as much as an entire replacement. Plus, older cabinet boxes are often sturdier and worth preserving.
If your cabinetry calls for a full replacement, another way to save is to skip upper cabinets entirely. Instead, opt for open shelving to display your collections and matching China. On a bare-bones budget? Give your cabinets a fresh coat of paint or take the doors off and paint the frames, leaving them open faced.
Choose a freestanding island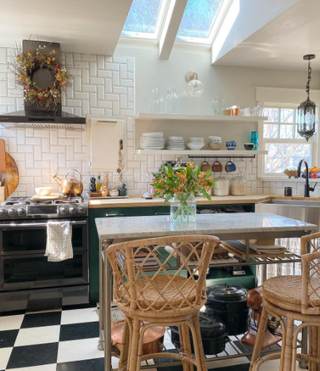 Kitchen islands are a wonderful way to increase prep space and offer a place to gather. And while a built-in island is nice, it's not a necessity. There are lots of beautiful freestanding options that incorporate the appeal of built-ins (like butcher block counters or storage space) without the price tag. Choose a style on casters for flexibility in smaller kitchens. These are a great way to keep new kitchen costs down, too.
Opt for affordable appliances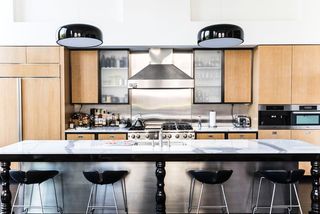 You don't have to wait for the next big holiday to take advantage of an appliance sale. (As it turns out, the prices are typically about the same.) Instead, save money by asking your favorite retailer to price match or by purchasing a bundle.
To save even more, you can shop secondhand from used appliance dealers like Habitat for Humanity Restore over Craigslist or Ebay, which can be risky. You can also purchase new items from scratch and dent retailers, or ask if the showroom is willing to sell a floor model for a discount. Retailers like Best Buy also have open box outlets, which sells items that have been returned by customers then inspected for quality and resold at a discount.