Can I tell you a secret? Between the two of us, I've never been the gardening type. Sure, this might be a geography thing, and you can blame it on my location: I live in New York City and do not actually have a backyard where I could grow full-fledged greenery, or maybe it is not.
Perhaps this is a 'me' thing, and the likelihood of me taking up garden design or gardening (or smart gardens) becoming my new favorite hobby is a personal problem, and I'll never get into it. Now, no matter which way you spin it: it is what it is with no likelihood of you changing that — or at least, this was the case pre-pandemic.
After spending one-too-many months locked away in my tiny apartment, I tried everything; from cleaning to journaling, to even reliving my childhood Sims obsession (Anyone else out there, start to love that computer game again, too?), I had done it all. However, the one thing I did not try: gardening.
Yes, that's right: Somewhere around mid-April, I not only was ready to give in to the hobby I once swore I'd never get into. And to make matters worse, I even tweeted about it, so now my friends were not only laughing, but ready to hold me accountable for it. (Was I crazy? Probably? Yes? Unclear.)
And how did it go?
Long story short: After many (many) months dedicated to my small indoor garden, I, of course – as many of you suspected – had no luck. No matter how much Miracle-Grow, sunlight, or water I gave to my tiny plants, day in and day out, there was no success, and that is when it hit me.
Maybe it wasn't my fault, but the garden's fault.
The girl who killed a cactus couldn't kill this smart garden:
ēdn SmallGarden for $200, at west elm
The ēdn SmallGarden recently joined Apple HomeKit as its newest accessory in the smart-home family suite! This smart garden is the first product of its kind to join Apple HomeKit and now offers seamless integration with the Home app for a cohesive smart home experience via full compatibility with Apple device.
Now, stay with me here: I am not blaming the garden for not growing, but what I am saying is that the gardening kit I selected might not have aligned with my current living arrangement, and in that case, it is back to the drawing board!
I need a gardening kit that allows plants to grow and prosper but can do so with limited sunlight (due to my apartment's exact locations), and that was when I heard of this ēdn SmallGarden.
Now, what did I love about this smart garden? It completely reimagined what I thought the gardening experience entailed. This garden paired technology with nature. It catered to all types of people looking to add a bit of green to their home (AKA me), was designed for individuals who had an eye for chic yet functional products (Again, also me), plus worked with even the lowest level of expertise.
Going to go out on a limb here: I think I hit the jackpot with this smart garden, and boy, was I right!
Here, this wi-fi powered garden was not only aesthetically pleasing to the eye but made an exceptional home décor piece — and it is also the first 'true' smart garden to exist. It delivers the optimal light and nutrients your plants need to grow and thrive. And speaking of plants, you can grow anything from tomato to basil, and do so from the comfort of your own home.
Plus, the only thing better than that? For anyone who's looking to continue this gardening hobby post-COVID, you're in luck. Garden enthusiasts will never have to worry about how their plants are doing when they're not home because ēdn offers iOS technology.
All you have to do is pair your smartphone or any electric device up to the app, and you can seamlessly manage the lighting schedule, see garden alerts, and get detailed guidance on how to improve the growth of your plant. You can even take it to the next level: from seed to harvest.
So, if you're looking to give your green thumb another try, now is a perfect time!
With the cold-weather season in full swing and nowhere to go (with or without stay-at-home orders in place), all you have to do is set this smart garden up in any room of your house and watch this little miracle worker grow.
Oh, and if you're anything like me and this is the second chance at perfecting your green thumb — and, who would have ever thought I'd write that sentence (not me!) – add the ēdn SmallGarden to your shopping cart, and let's all give it a go!
Want more? Check out these additional smart gardens below: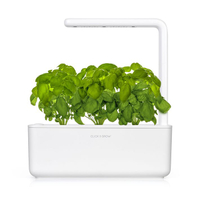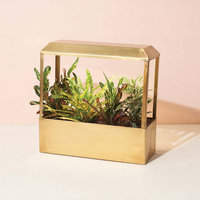 Modern Sprout Smart Growhouse for $190, at west elm
Create green combinations that will thrive in low-light spaces with this perfect piece. This option frames your favorite landscape and nourishes it with all-over grow lights, giving your space personality while allowing your favorite plants to thrive.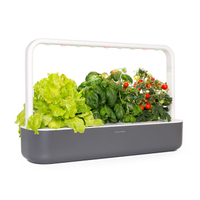 The Smart Garden LED Grow Set - Large for $199, at west elm
If you think this garden looks familiar, you're not wrong: It does and it's the larger version of the one previously mentioned. This planter is equipped with lights and a built-in water tank to give your plants just the right amount of water and light. It holds nine Click and Grow Plant Pods (sold separately), which are specially designed to guarantee that plants get ample air and nutrients.
Still, want more? Don't forget to check out these additional smart garden suggestions, too: