A DIY fan has transformed her bland piece of Homebase furniture into a contemporary rattan sideboard with the help of some black Frenchic paint and rattan. Now a stylish addition to a bedroom she rents out on Airbnb, it fits perfectly into the sleek Japandi scheme, which features a deep red wall and thoughtful decorative pieces.
The original sideboard, which Lisa had had knocking around for over 15 years is now totally unrecognizable. Missing the thrill of thrift shopping or a trip to a flea market in lockdown, she decided to upcycle this existing piece in her home. The modern makeover looks stylish while also providing ample storage - and a spot to display accessories.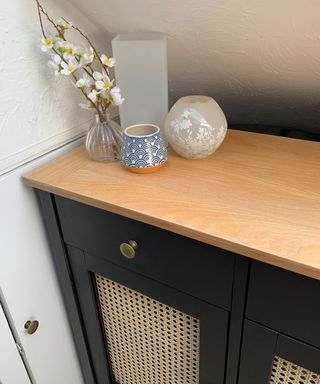 The slim, frosted glass table lamp, faux flowers, candle and bowl all tie in with the Japandi style to make a cohesive design. The sideboard's textural rattan and light wood surface complement this, too.
Before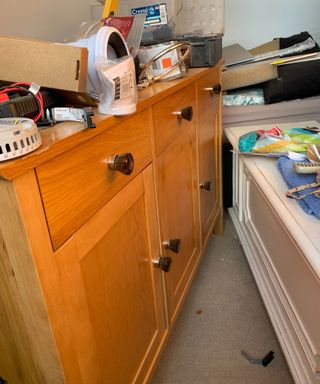 'I got inspired by the Japandi trend,' Lisa adds. 'I've never been a fan of Scandi. It's a bit too neutral for me as I love color.
'The Japandi look with pale natural woods and textures plus strong Japanese colors, black and dark red really hooked me. So that's really the inspiration,' she tells us.
After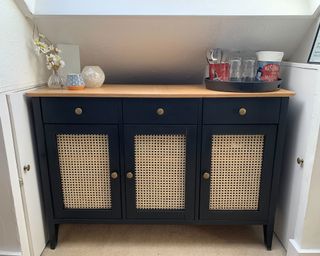 If you're feeling inspired to do some rattan-based DIY yourself, Lisa has explained exactly how she did it.
First, she sanded the sideboard all over - an important stage in any upcycling project is to prepare your item. Our guide on how to paint wooden furniture will help. Plus, if you're not sure of the best paint for furniture, head over to our roundup.
Then, she painted it with Frenchic Blackjack paint and applied a clear wax all over. In order to get the wood as light as possible, she gave the top of the sideboard an extra sand, and waxed it with a clear wax.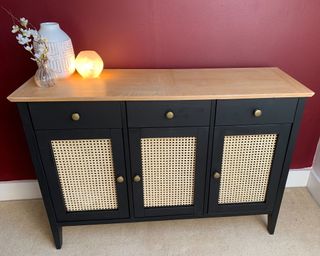 Next, Lisa removed the center panels from the doors. She soaked the rolled rattan in the bath to flatten it, and then stapled it to the back of the doors. Finally, she added some nice new handles. The cost of the project came to around £103, and given the price of some rattan sideboards online, we think it's a steal.
PS, it may be possible to recreate the look for even less (really!) thanks to Robert Dyas' discount code here.