A new kitchen can be a seriously costly endeavor. But, if you don't need to tear down any walls or rotate the layout, it's surprising how much of a difference you can make with a fresh lick of paint, new hardware, and some fun accessories. DIY fan Chloe has shown that with some clever kitchen ideas, you really can transform a space without shelling out thousands.
Totally tired of Zoom and having completely exhausted Netflix, Chloe got stuck into some DIY at the beginning of the third UK lockdown. The result of her evenings spent sanding and painting is a homely kitchen she just loves spending time in, which is what it's all about, right?
Before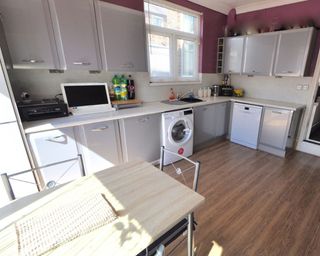 Before the renovation, the kitchen had dark pink walls and pale grey units - functional, but in need of a little love. 'We had been putting off renovating our kitchen because we anticipated that it would cost a small fortune,' Chloe tells Real Homes.
'However, thanks to a lot of hard graft and DIY hacks, we were able to transform our drab and outdated kitchen into a space that feels more us for just £350.'
The plan was to simply paint the kitchen cupboards in a bold blue color for a drastic change from the murky grey. If you're thinking of painting your cupboards our guide on painting kitchen cupboards will help you get a perfect finish.
'I didn't want to replace the units because I am trying to be more mindful of the environment and generating unnecessary waste,' Chloe says.
After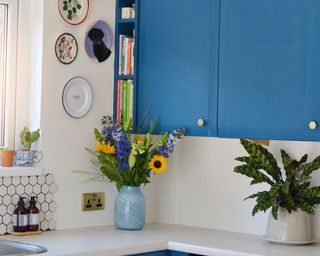 However, the cupboards were coated in shiny plastic which meant that any paint layered on top would be likely to scratch off. Chloe noticed that some of the plastic was peeling off near the microwave, and she was able to remove it with a heat gun - the part of the process she describes as the most satisfying.
After preparing the holes for the new handles, Chloe prepared the MDF doors for painting by using coarse sandpaper to remove the glue, followed by fine sandpaper to smooth the surface.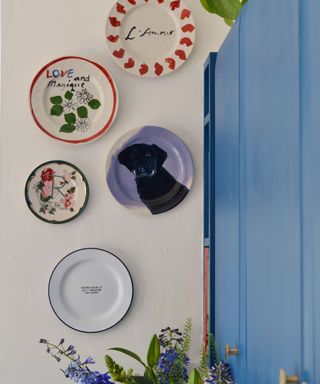 The vinyl backsplash is now painted in hardwearing white paint, which helps to brighten up the room. Chloe used modern kitchen ideas like gold light switches and plug sockets, and gold hexagonal hardware to bring the tired kitchen up to date.
The blue tone is striking but also very liveable, and the contrast with white makes for a crisp and classic feel. Plus, the decorative plates, hexagonal tiling, house plants, and frames inject personality.
The units were painted with a roller, with two coats of Dulux Difficult Surfaces primer, followed by two coats of Valspar Eggshell Interior Wood & Metal Paint in the shade Blue Moon Glow and finally protective clear varnish.
'I'm so pleased with how our kitchen has turned out,' she says. 'It makes me so happy when I walk in there first thing in the morning to make a coffee when the sun is streaming through the windows. Making savings has also allowed me to justify treating myself to cute accessories for the kitchen including our plate wall made up of plates from Anthropologie.'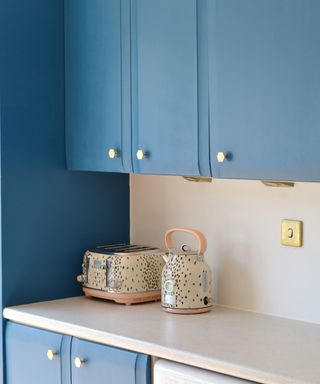 Chloe shared her top tip post-renovation, and it's all about preparation. 'Make sure you completely deep clean the surfaces. Use sugar soap to remove stubborn grease that will stop the paint from fully adhering to the surface. Hoover every nook and cranny to avoid stray pet hairs from ending up in your paintwork. Tie your hair back when painting too.'
She also suggests using food tins to elevate the cupboard doors to make it easier to paint the edges and create a seamless finish. 'If we had to do anything differently, I would have used a spray gun to apply the protective lacquer to prevent visible paint strokes,' Chloe says.
So if your kitchen layout works fine as it is, there's nothing stopping you from giving yours a glow up.