The guest bathroom is a great place to make a statement with wallpaper, tiles, or in this case, an old-school sink. One avid DIYer transformed a retro sink that had been thrown out in an alley into a stylish bathroom feature.
One man's trash is another man's treasure - and this couldn't be more true in Nancy's gorgeous bathroom. Her half bath is a little unusual because it runs off her kitchen, but having a statement sink totally distracts from the quirky layout.
Before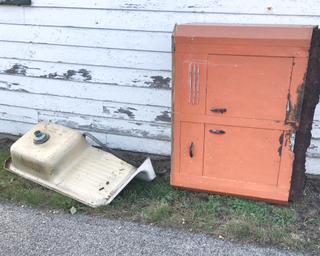 The cabinet that was thrown out with the sink had lots of rust on it, which would have made it a big job. 'I wasn't up for that kind of redo,' Nancy says. Instead, Nancy just took the farmhouse sink, and found an antique dresser on Craigslist big enough to hold the sink's frame.
So she removed the top and back off the drawers and shortened them to allow for plumbing. The top two drawers can't be used, but the bottom ones are great for storing toilet paper and extra hand towels.
After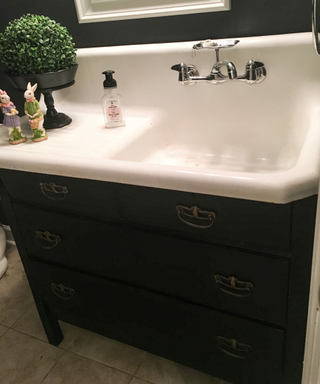 The first step in the transformation was to clean up the sink - which, luckily, had no cracks or chips on it - just a lot of grime. She soaked it with CLR cleaner to loosen up the residue, before scrubbing it with bleach. Once it had completely dried out, Nancy gave it a good scrub with a soft cloth and Comet powder.
Finally, she went over it with a Magic Eraser to remove leftover scuffs. Nancy fitted a new faucet found at her local Menards, which has a handy soap tray and traditional style like the original piece.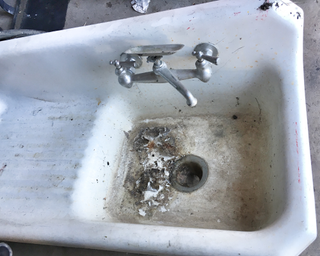 'The sink I had before was just standard and boring,' Nancy says. 'I decided to go dark with the walls in Graphite Charcoal from Behr since the new sink was so white and such a show stopper for the room.'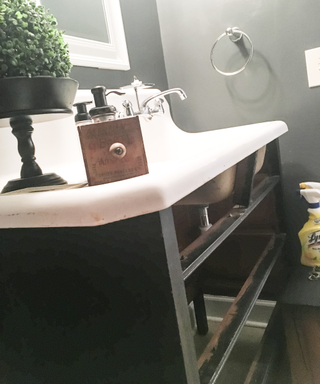 'This sink is so large and gives my half bath so much character,' Nancy says. 'The crazy thing is I had been looking for a sink just like this. Adding this sink has just made this half bath such a show stopper.'
'My home is from 1901 so it's pretty cool to have a true farmhouse sink for our guest bathroom.' We think it works brilliantly in her small bathroom. If you're renovating your own bathroom and looking for a new basin, our guide on how to pick the best bathroom sink will help.
We're feeling so inspired - something that most people would walk straight past, Nancy has made into a unique design statement.