Think of architectural design - think of George Clarke. That is certainly the case for his many admirers across the UK who tune into his Channel 4 shows Amazing Spaces and Ugly House to Lovely House, so, just like his mass of fans, we're taking notes on everything George has to say.
Over the years, George has revealed his fair share of unconventional design ideas; however, speaking exclusively to Real Homes, he highlighted his most controversial tip of all - before sharing why it works and how you can bring it into your own home.
'My most unconventional tip would be multifunctional furniture and multifunctional design,' George begins.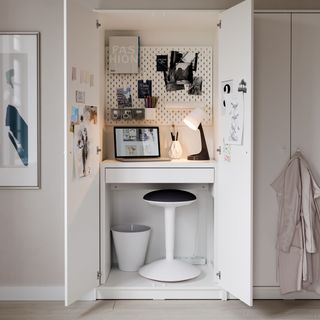 'It was really unconventional when I started Amazing Spaces; nobody thought about how you can design one space to do many different things, or, more specifically, one piece of furniture. I was designing things with Will Hardie on the show, and I suggested that we should not design a space to do one thing but to do three or four different things. That was interesting for small space design,' George explains.
'How could you design a wall storage unit that could turn into a dining table, that could flip to become a sofa bed? It's not easy to do.' The architect continued, emphasizing the complexities of this tip but arguing the controversial design method is worth the planning.
'It's really challenging from a design point of view, but when you get it right, it's amazing.'
This design tip has never felt more relevant than now as many of us are trying to cram working from home spaces into our homes. Kitchen tables have become desk and cupboards have become offices. For more home office design ideas check out our dedicated gallery.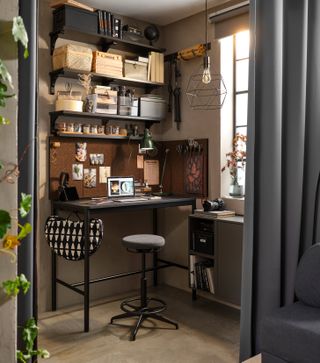 He continued, however, suggesting that since his show, this tip is becoming more accepted: 'Multi useful things - to be able to design something to adapt to do more than one function - is one of the most unconventional things I've done, but since Amazing Spaces, more people have tried it now.'
Following closely from the subject of multifunctionality, George explained how to create a 'Recharge Retreat,' which is, as he explains, is a therapeutic circular space in the middle of a room in our homes.
'Most of the rooms in our houses are square with corners, so all of a sudden, to put a circular form into the corner of our space is one of the most simple, but also the most radical ways of changing a room,' George shares.
The retreat was created by George after research from Belvita uncovered that seven in ten people found themselves with a need to reclaim their home, after finding themselves suddenly working from a space they previously found relaxing.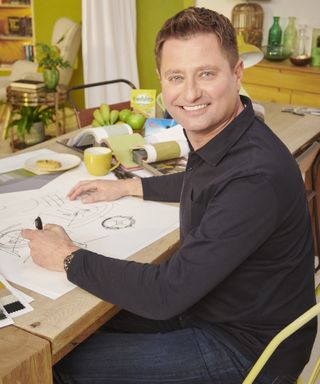 George also emphasized the radical unconventionality of the retreat, suggesting these therapeutic spaces are a uniquely interesting way to change a space.
'You have to think about your own personal needs. Think about how you can transform that space. I think, in quite a radical way, if you are going to do it, it needs to be a really interesting change, but just because it's radical doesn't mean it has to be different. Even though you can be radical, you can do that by changes in fabric, changes in color, changes in texture, and choosing something that you love. It sounds like a cliche, but it's got to be something that's personal to you. It's your house; it's your retreat.'
The architect also suggested that you can bring a Recharge Retreat into a compact urban apartment because everybody needs a place to detox, wherever you are.
'If it's in a small-scale apartment, it is small-scale thinking. It has to be personal, it doesn't have to be big, but it can still be radical, and it has to be your own personal choice,' he adds. George has teamed up with belVita to help us Reclaim Our Space. For more information, visit here.
The king of multifunctionality and radical spaces is here to save us throughout the rest of our WFH days and beyond. Thank you, George.