All aboard the Bake Off bandwagon! There's no feeling more emblematic of the changing of the seasons than seeing that big, white tent bustling with bakers – and Aldi has jumped in with stylish stand mixers, starting at under £50. Getting our hands on one of those stand mixers would be the icing on the cake!
Our love of KitchenAid stand mixers the Bake Off cooks use is an unhealthy obsession (as the consequence is a whole load of cakes and an empty wallet); however, these budget Aldi dupes can get the job done (and look fabulous while they're at it) at a fraction of the price.
Available in pink, white, grey, black and silver (in classic and premium models), they look as good as the best stand mixers.
A must-have kitchen accessory, the Classic stand mixer from Aldi comes decked out with all the basic baker kneads (sorry, we had to) for just £49.99! Or, if you're already a bit of a pro baker you're going to want to get your hands on the Premium model – star baker style – for £149.99.
These stand mixers have a swing engine head for easy filling and removing as well as dishwasher safe accessories, there's a rotary switch and eight speed levels. Keep reading to discover the fab features each model has to offer!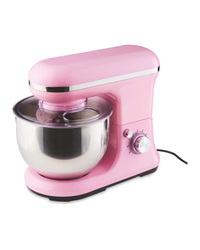 Ambiano Pink Classic Stand Mixer | £49.99 at Aldi
With non-stick feet, this stand mixer will be a proud kitchen countertop accessory, kitting you out for any future bake-offs. With three attachments to make kneading, stirring and mixing a breeze, if you purchase this piece you're sure to get the bang for your buck. Enjoy a non-stick coated flat beater, a non-stick whisk, a non-stick coated dough hook and a splash guard to avoid the mess!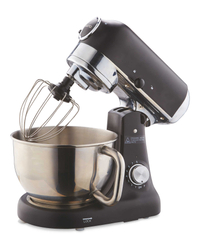 Black Ambiano Premium Stand Mixer | £149.99 at Aldi
The ultimate stand mixer, this premium model from Aldi ensures that all bases are covered at the fraction of the price of similar models! Not only is this stand mixer kitted out with everything a baker could want, this gadget also comes with a meat grinder, sausage making attachment, a kebab attachment and a pasta attachment. What more could you want from your stand mixer?
Read more: