With the national lockdown and global travel bans putting quite the damper on summer 2020, it's more vital than ever to foster a great outdoor space that you actually want to spend time in—and it doesn't have to be an expansive garden terrace or Kardashian-sized backyard, either. With a little creativity and the right patio furniture set, it's easy to make even the smallest condo balcony into a charming outdoor escape.
That's why we're particularly excited about the patio furniture deals we spotted at Walmart this week. Here, we've pulled together a list of some of the best deals we spotted for all types of outdoor spaces. Whether you're furnishing a postage stamp-sized balcony or a rooftop terrace, these unbeatable deals will transform your patio space into a summertime oasis.
Still looking for the right patio furniture to suit your style and budget? We've put together some of the best patio furniture sales to help you narrow down your options.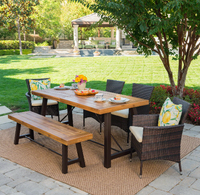 (opens in new tab)
Olivia Outdoor 6 Piece Acacia Wood Dining Set | Was $1,050.00, now $599.97 (opens in new tab)
Consider yourself a natural entertainer and host? This six-piece dining set was made for the summertime entertainer. Perfect for backyard barbecues and weekend brunch, for nearly 50 percent off, you can't go wrong.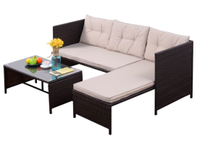 (opens in new tab)
Goplus 3 PCS Outdoor Rattan Furniture Sofa | Was $599.99, now $309.99 (opens in new tab)
There's nothing better than settling into the couch with a glass of wine in hand and the sunset sneaking down the horizon. Currently on offer for just $309, this three-piece outdoor sofa was made for romantic evenings in the great outdoors (or on your condo patio).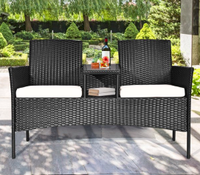 (opens in new tab)
Costway Patio Rattan Conversation Set | Was $369. (opens in new tab)9 (opens in new tab)9, now $179.99 (opens in new tab)
Made for tight spaces or cozy encounters, this compact loveseat includes a built-in glass table that's perfect for housing a bottle of wine and charcuterie board for two. Currently less than $200 at Walmart, this is a great option for anyone looking for an easy solution to a small outdoor space.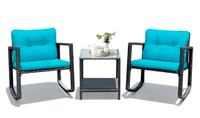 (opens in new tab)
Gymax 3PCS Rattan Rocking Chair Table Set Patio Furniture Set | Was $469.99, now $299.99 (opens in new tab)
Here's your chance to add a bold pop of color to your outdoor space without breaking the bank. This charming rocking chair table set includes a matching set of chairs and compact outdoor table is currently on offer for under $300.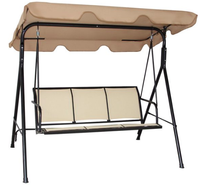 (opens in new tab)
Costway 3 Person Outdoor Patio Swing Canopy Awning | Was $399.99, now $209.99 (opens in new tab)
While a patio swing may not be the most elegant outdoor furniture solution, if you have the space for one, you'll be amazed by how blissed out you'll feel after spending an hour or so enjoying the breeze and swinging in your own little oasis.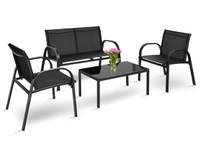 (opens in new tab)
Costway 4 PCS Patio Furniture Set Sofa | Was $369.99, now $199.99 (opens in new tab)
Looking for a cozy set up to host close friends for a drink or casual outdoor dinner? This four-piece furniture set is the ideal solution to help foster memorable conversations and cozy al fresco evenings.
Read more: