Handleless kitchens are beautiful for their simplicity. With our fast-paced, busy lives, we want our homes to be spaces where we can escape the world (not much choice with that at the moment, obviously...) and feel relaxed, calm and energised.
Handleless kitchens have the power to create all of these feelings, depending on the colour and style you choose. Not only are they sharp, clean and linear by design, but they are so versatile in the overall look they can create.
There are tons of reasons why handleless kitchens are a great option, but we've narrowed it down to six, so check them out and see if it's the kitchen style for you.
For more kitchen ideas, head over to our hub page for tons of inspiration and advice.
1. Handleless kitchens are the perfect backdrop to a sophisticated space
Recessed floor-to-ceiling storage maximises every inch of your kitchen. This streamlined design can take a bold shade, so don't be afraid to go for a deep, dramatic colour, for a space that oozes sophistication. Combine with glass pendant lights and matt black accessories for added drama.
2. The simple design means you can go bolder with colour combos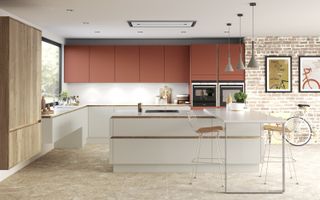 Choose brighter cabinets for your walls and neutral designs for the base level and island to give your kitchen a splash of colour without overwhelming the space. Bring in some wooden cabinets too, for added warmth and texture. We love this warm terracotta shade, for a punch of colour that's striking yet neutral.
3. Tidy kitchen = tidy mind. The fuss-free design lets your mind breathe (and is very hygienic too!)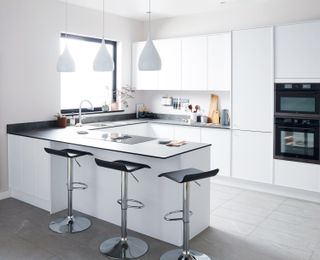 Fresh white cabinets and clean lines make for an uncluttered look that's ideal for a smaller kitchen. Combine with thin profile worktops and plain tiles to maintain a streamlined scheme. The less visible distractions in your space, the easier it is to focus, so for a kitchen where you can tune into yourself and you senses, handleless is the way to go. Plus, with no handles to harbour germs and flat cabinets that are super easy to wipe clean, it's a great design for keeping your hygiene levels high.
4. Want a vibrant colour pop? Bold shades are best on handleless designs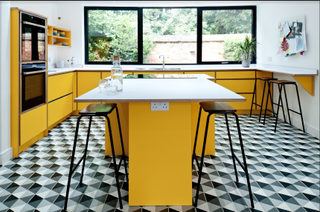 The simplicity of design means colour can take centre stage, and you can get creative with pattern in other parts of your room. Choose cabinets in a vibrant look-at-me shade, such as this sunny yellow, and team with geometric flooring in monochrome tones for a statement scheme. Keeping the walls free of cabinets will enhance the feeling of space.
5. Not keen on the push-to-open mechanism? Choose an integrated design instead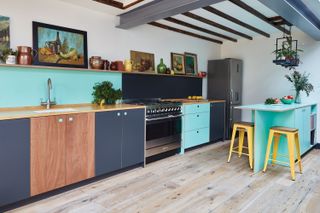 If you're one for racing round the kitchen at a hundred miles an hour and couldn't bare the thought of a push-to-open design slowing you down, here's a style for you. Square cut-out sections are embedded into the unit design, so you can grab the door without the clunky look of handles. We love how they reveal a pop of colour to draw the whole scheme together, too.
6. Handleless kitchens are the perfect base for any decor style you like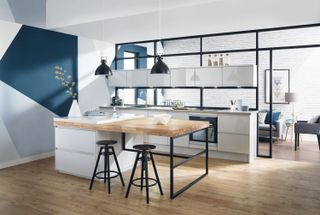 Handleless kitchens are like a blank canvas, from which you can tap into the trend of the moment. Here the black metal framing, pendant lights and bar stools create an industrial look. Team your handleless kitchen with florals and a chunky dining table for a modern country look, or choose soft woods and pared back greys and whites for a scandi style. If you'll want to refresh your scheme frequently, handleless is a great option that'll sit back with most schemes and stand the test of time.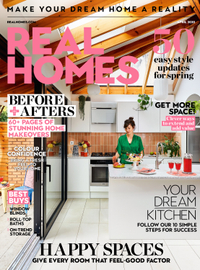 Get Real Homes magazine delivered direct to your device
Can't get to the shops but don't want to miss out on the latest issue of your favourite homes magazine? Don't worry as you can subscribe to our digital subscription offer and have every issue of Real Homes magazine delivered direct to your device. From stunning completed projects to the latest decorating ideas you can try in your own space, you'll find plenty to keep you entertained and inspired inside each issue. Don't miss our special offer – subscribe today and you'll receive five issues for just £5.

Read more: