For the last decade, The Great British Bake Off has been synonymous with the end of summer. Millions tune in each week to follow the rises and falls in the tent, as the bakers fight to stay on another week.
From the contestants making mouthwatering desserts, anxiously staring into the oven as they wait for their loaves to rise, to the inevitable disasters – all under the intense glare of Paul Hollywood – it's pure entertainment; but hugely inspiring, too.
And it's back! Channel 4 have just announced that it's to hit our screens again on September 22nd, with hosts Paul Hollywood, Prue Leith, Noel Fielding and, new to the team, Matt Lucas. If you, too, have fallen under the Bake Off spell, these key kitchen updates on the wish lists of former finalists will provide the ultimate setup to help you create star bakes at home.
For more kitchen ideas, don't miss our inspiring design gallery.
Watch the Bake Off 2020 trailer
1. A classic range cooker
'I think the right oven is so important' says 2015 winner Nadiya Hussain, 'It's worth trying before you buy as there are so many options. If you are ever out with friends or visiting places where they have equipment you have never used, see if you can try it out.'
Found in the homes of some of Britain's best bakers, from Jamie Oliver to Mary Berry, a range cooker will ensure you have a beautiful bake every time. Using electric radiant heat as opposed to a naked flame, or with hot air circulated by a fan, the Everhot 90, £6,770, creates a consistent temperature that does not drop when the door is opened, resulting in an even bake throughout with less risk of a burned top and raw middle – every baker's nightmare!
2. The dream stand mixer
'I'm sure a lot of bakers say this but when you bake with a stand mixer your life just becomes so much easier' says Martha Collison 'It's especially great if you've got a small space because it means you haven't got to have an electric whisk and a bowl out, it just all does itself.'
And 2014 semi-finalist Chetna believes that 'a good stand mixer and some quality cake tins' are all you really need.
Create light and fluffy cakes, marvellous meringues and perfectly kneaded bread with this true kitchen hero. Beloved by professionals and home bakers around the world, Kitchenaid has been one of the industry leaders in stand mixers for the last 100 years, and it's easy to see why. Extremely versatile, the attachment-ready Culinary Hub also has over 15 optional accessories, enabling you to do everything from slicing and grating to juicing and spiralising.
Our advice? Shop KitchenAid in sales – or look to online retailers like Argos – this KitchenAid mixer above is only £299 at the moment.
3. The perfect hand mixer
'I use Breville's HeatSoft™ hand mixer, which uses clever softening technology during the creaming process to bring the butter to room temperature faster, creating the most delicious, airy mixture,' says Candice Brown, winner of the seventh series of Bake Off. 'It also comes with a whisk and dough hook attachments and is great for melting chocolate, whipping cream, making homemade bread, or even sauces for your Christmas dinner. It also means you can rustle up something sweet for guests, without having to take your butter out the fridge in advance.'
4. A freestanding larder cupboard
Every good baker deserves a larder, as it is perfect for keeping all your key ingredients in one place. It's a surprisingly space-efficient solution, and can contain as much storage as up to eight wall cupboards. This Suffolk larder, £3,978 at Neptune, is painted in Old Rose, a bespoke colour, and includes six internal drawers, three adjustable shelves and a spice rack.
5. The best bakeware (obvs)
Mason Cash has been making its iconic English kitchenware since the 1800s. Featuring classic shapes and subtle pastel shades, its Innovative collection is the perfect blend of practical and nostalgic. You can shop Mason Cash at Amazon for speedy delivery.
6. The built-in bookshelf
Every baker needs a copious collection of recipe books to provide inspiration when the mood strikes – so plan in somewhere to display them. With a built-in sink and dedicated workstation, this island also incorporates a bookshelf at one end so that you can keep all your favourite recipes at your fingertips.
7. The spectacular storage solution: Kilner jars
Having recently moved into a new flat, the kitchen played a huge part in Martha Collison's decision of where to live. 'My dream kitchen would be a bigger version of what we've got now with lots of really tall storage. I love the aesthetic of a lived-in kitchen; I empty all of my ingredients into labelled Kilner jars.'
Browse Kilner jars and labels on Amazon or shop below.
8. The perfect presentation
Don't let down your fabulous cakes with second-rate presentation. Ceramicist Molly Hatch's 18th-century-inspired illustrative designs will really let your bakes shine.
Shop Molly Hatch's beautiful range at John Lewis.
9. The flexible family space
Being the mother of a three-year old girl as well as a professional baker, 2018 semi-finalist Briony Williams loves the design of an open-plan kitchen 'I'm not shut off in the kitchen, plus it gives my daughter space to play.'
We think she'd love this flexible kitchen-diner. Serving as a social hub for the family to gather around, it also doubles as a roomy workstation for rolling out large quantities of pastry or kneading dough. John Lewis of Hungerford's Artisan dining table, £1,437, is shown here in the grey-painted Shaker kitchen, from £25,000, which is packed with cupboard space to make the most of this room's smaller size
10. The essential pantry
'Another essential is a pantry' says Briony Williams 'I'd love a pantry, that's a definite life goal. It'd be so good to have it well-stocked with baking stuff so I don't have to run to the shops halfway through a bake when I've run out of flour!'
There is nothing more irritating than getting halfway through a recipe and realising you've run out of a vital ingredient. Prevent such disasters by keeping back-ups of all your essentials in a separate pantry. Designed to be dark and a lower temperature than the kitchen, it's also the best place to let your baked goods cool down. With wide shelving and drawers, you can easily hide away all your baking supplies and tools, helping you to achieve a minimalist aesthetic in your kitchen.
If this has inspired you check out 10 practical pantry storage ideas

11. Wondrous worktops
'My dream kitchen would be very different from my current galley kitchen' says 2013 bake off winner Frances Quinn 'It would have to be a big, open space, with a marble-topped island and lots of natural light. Caesarstone does beautiful work surfaces – they are perfect for chocolate work and look lovely.'
12. The pretty yet practical Belfast sink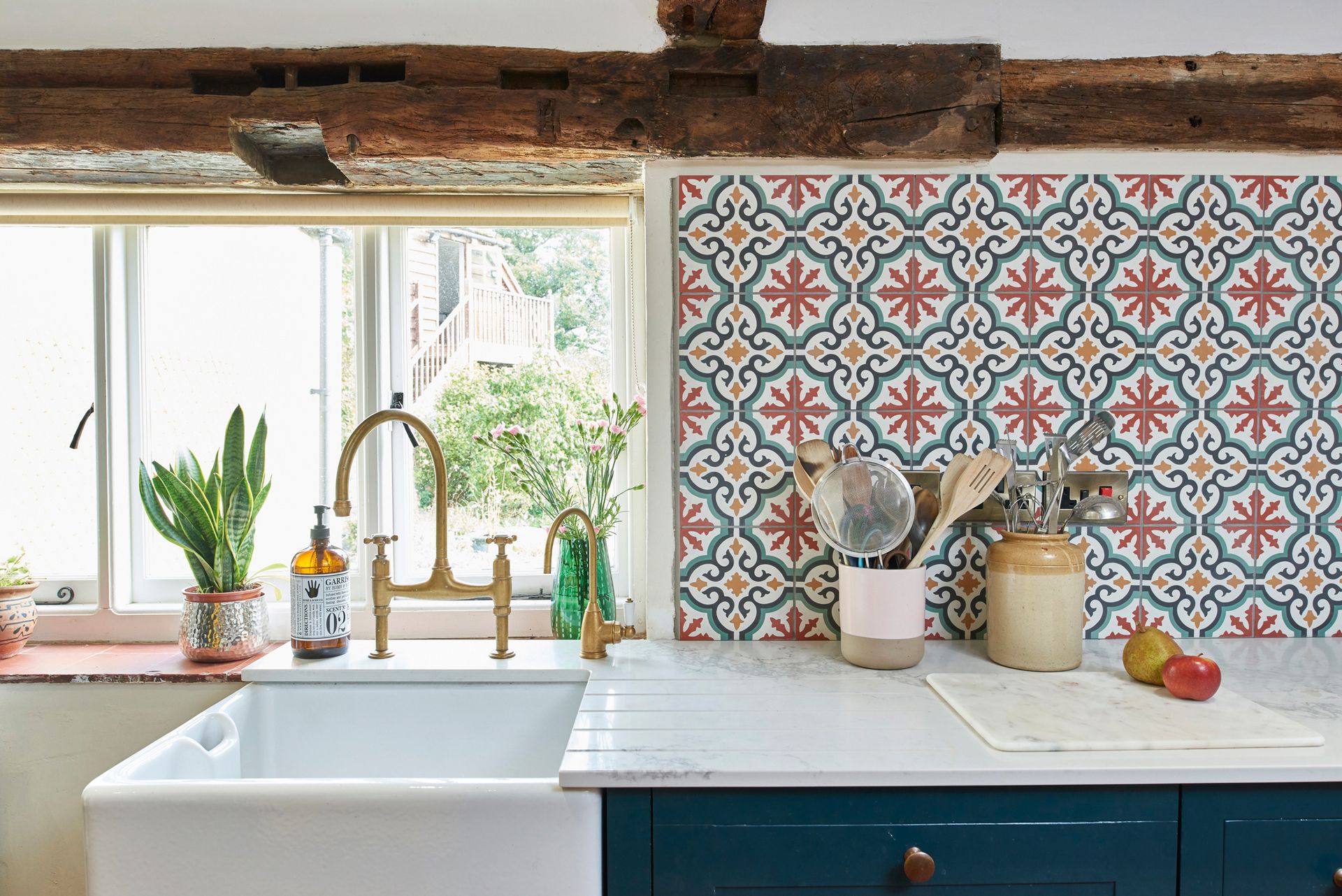 The worst part of any baking session is dealing with the mountain of messy bowls, spoons and tins that pile up – no matter how much you try to clean as you go. A deep utility sink, like this Belfast design, from £342 at Shaws of Darwen, can easily accommodate even the largest mixing bowl. It's paired with the aged brass Ionian mixer and instant hot water tap, from £626 at Perrin & Rowe, for the ultimate in practicality. Brighten up the area with a colourful tiled splashback, like these Salisbury tiles, £3.96 each from Ca'Pietra.
13. The ultimate kitchen island
A large island is every baker's dream, creating a social preparation area at the heart of the kitchen. Offering copious amounts of worktop space, this classic island (above), from £30,000 at Smallbone of Devizes, will ensure that you are never short of space no matter how much mess you like to create. Plus, the nine drawers and cupboard units are ideal for storing all your baking tools and supplies. An island is also a great way to bring a burst of colour to your kitchen without having to overhaul the entire scheme.
14. The retro fridge
A large fridge is essential for keeping milk, butter, eggs, jams and fruit close to hand, and providing extra space for cooling your cakes and setting your decorations. Set in
this elegant country kitchen, designed by Charlie Kingham, this Smeg fridge-freezer, from £1,125, boasts a spacious design with multiple shelves, racks and drawers to enable you to always find what you're looking for – plus, its retro design is perfect for a period home.
More kitchen inspo from Period Living: