It's not surprising that a bad bed = bad sleep. I'm sure you can remember (or not) the time you slept on your friend's couch after a night out, looking for literally anything to work as a blanket. Or after a post-hook-up sleepover being very aware that you're in a bed that's seen much better days. We've all been there.
These uncomfortable sleeping situations might be few and far between, but what if it's a daily prob caused by your own bed? Then it might be time to reconsider what you're sleeping on. It could be just your mattress or a need for some fresh sheets, so we spoke with several sleep experts to help you figure out what's behind your bad night's sleep and how to fix it.
While we can't magically cure your insomnia, there are a few things to look out for if your sleep setup just isn't it. It's easy to blame your roommates or partner for a crappy night's sleep, but let's get to the (actual) bottom of it.
3 common sleep problems and how your bed can solve them
1. Can't get comfy? Start with your mattress
Not many of us get to choose the mattress we sleep on. You might be snoozing on a mattress your landlord deemed "good enough" or one your mom thought was best back in the day. Either way, it may not be best for you. Sleeping on a memory foam mattress that's too soft or a pocket-sprung one that's too firm — or even one that is simply too old — can have you waking up with aches and pain.
"Older mattresses are particularly likely to cause sleep disruptions," says Dr. Michael Grandner, a Casper Sleep advisor and director of the Sleep and Health Research Program at the University of Arizona. "It may be comfortable at the beginning of the night but not in the morning when it has changed shape as you have been in it for several hours."
If you have control over what you get, it's worth investing in a mattress that matches your sleep style. If not, a great mattress topper can be an ideal short-term solution. Adding a foam topper to a sleep surface you find too hard, for example, will up the comfort level.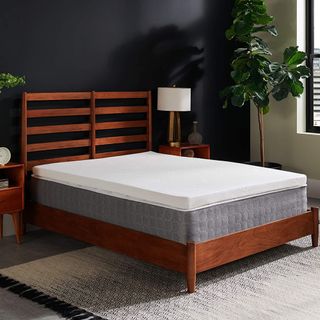 Tempur-Pedic Tempur Supreme mattress topper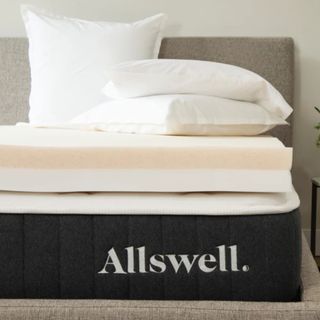 Allswell Memory Foam Mattress Topper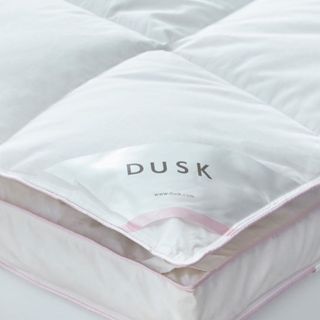 Dusk Supreme Goose-Down Topper, double
The best-quilted topper for cushioning
This is the topper that transformed my uncomfortable mattress — read my Dusk mattress topper review.
2. Hot sleeper? Try something temperature regulating
If you find yourself overheating at night and kicking a leg out of the bed to cool down, it may be as simple as swapping out your bed sheets. "For those who run hot at night or for warmer months, sleeping under the wrong style of bedding can lead to more tossing and turning and overall poorer quality of sleep," explains Katie Elks, director of product design and development at Brooklinen.
Certain materials can be temperature regulating, helping you stay warm in winter and cooler in the summer. The most breathable bedding? A set of luxury linen sheets will do wonders for helping you sleep better.
In addition to changing your bedding with the season, Elks also suggests reconsidering your comforter. You can swap heavier comforters for quilts or lightweight comforters (and vice versa). If you have no storage space to store an additional comforter, there are some amazing duvets that are split tog or made for all seasons to keep you at the correct temperature year-round.
3. Neck pain? Your pillow is to blame
The wrong pillow can cause neck and back pain and contribute to snoring —all of which can cause sleep problems (even if you're not the one who snores). It may surprise you, but a pillow is not a one-size-fits-all product. Sure, it may seem like a pillow is a pillow, but your sleep position, how tall you are, and whether you need additional support can make a difference.
For example, pulling from his own experience, Macy's vice president and director of home Roberson Keffer suggests that side sleepers pick up a firmer pillow to get their spinal alignment in order. "I would seriously wake up with the worst lower back pain in the mornings and at first I just thought it's age," he says. "But I decided to purchase a firmer pillow, and honestly, it changed my life. The next morning, I was a changed man."
Pillows have a shorter lifespan than a mattress and need to be replaced a little more often. Luckily, this shouldn't hurt your budget too much. That being said, don't simply pick cheap pillows because of the price. There are five steps to help you choose the perfect pillow and price is only one factor.