Admired for its temperature regulating qualities, the best linen sheets offer year-round comfort and add extra style points to your bed, thanks to the effortless, relaxed look it creates.
Linen bedding offers tons of desirable characteristics: it's breathable, absorbent, and hypoallergenic. It's also a sustainable choice, being a biodegradable material that can rapidly grow and requires less water to process than cotton.
Linen comes from the stem of the flax plant. Most of the world's flax farming, comes from Western Europe, such as France or Belgium due to its overall temperate growing conditions, limiting where it can be grown.
Owing to that, we won't be the first to admit, that linen is on the pricey side. Linen production is also more laborious than other textiles, even with the inclusion of modern technology.
But, we sure do think it's worth the investment. When cared for properly, linen gets better with use, and softer with each wash. Linen is even considered more durable than cotton; it's certainly far more breathable.
If you're after your new favorite set of sheets, we've slept on nearly a dozen sets from a number of the best places to buy bedding to whittle it down to these six top contenders. Sweet dreams.
Best linen sheets 2022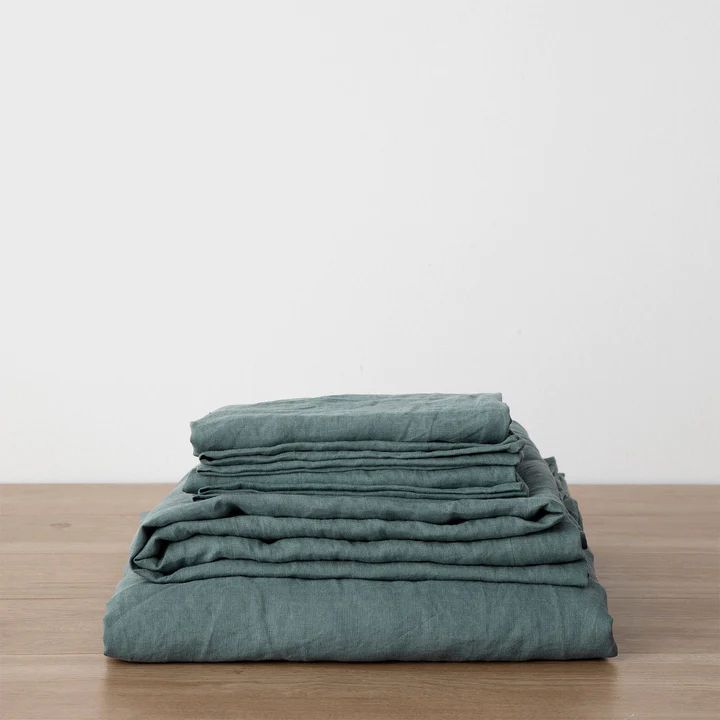 1. Cultiver Linen Sheet Sets
Best Linen Sheet Set Overall
Sizes: Twin, full, queen, king
Colors: 18
Type: European flax
GSM: 165 GSM
RRP: $325–$420 / £245–£310
+ Soft enough to use straight out of the packaging
+ Tons of colors
+ Sustainably made in Australia
- Sheds a bit and produces lots of lint
Very few linen sheet sets are soft enough to go straight on the bed out of the packaging, but Cultiver's are cozy and comfy right out of its linen bag. Available in a ton of colors, the fabric is both weighty and breathable, making it suitable for year-round use. The envelope closure design of the pillowcase keeps your pillow secure, while the brand also offers a mulberry silk front linen pillowcase option as well, as linen is not always the friendliest to hair and delicate skin.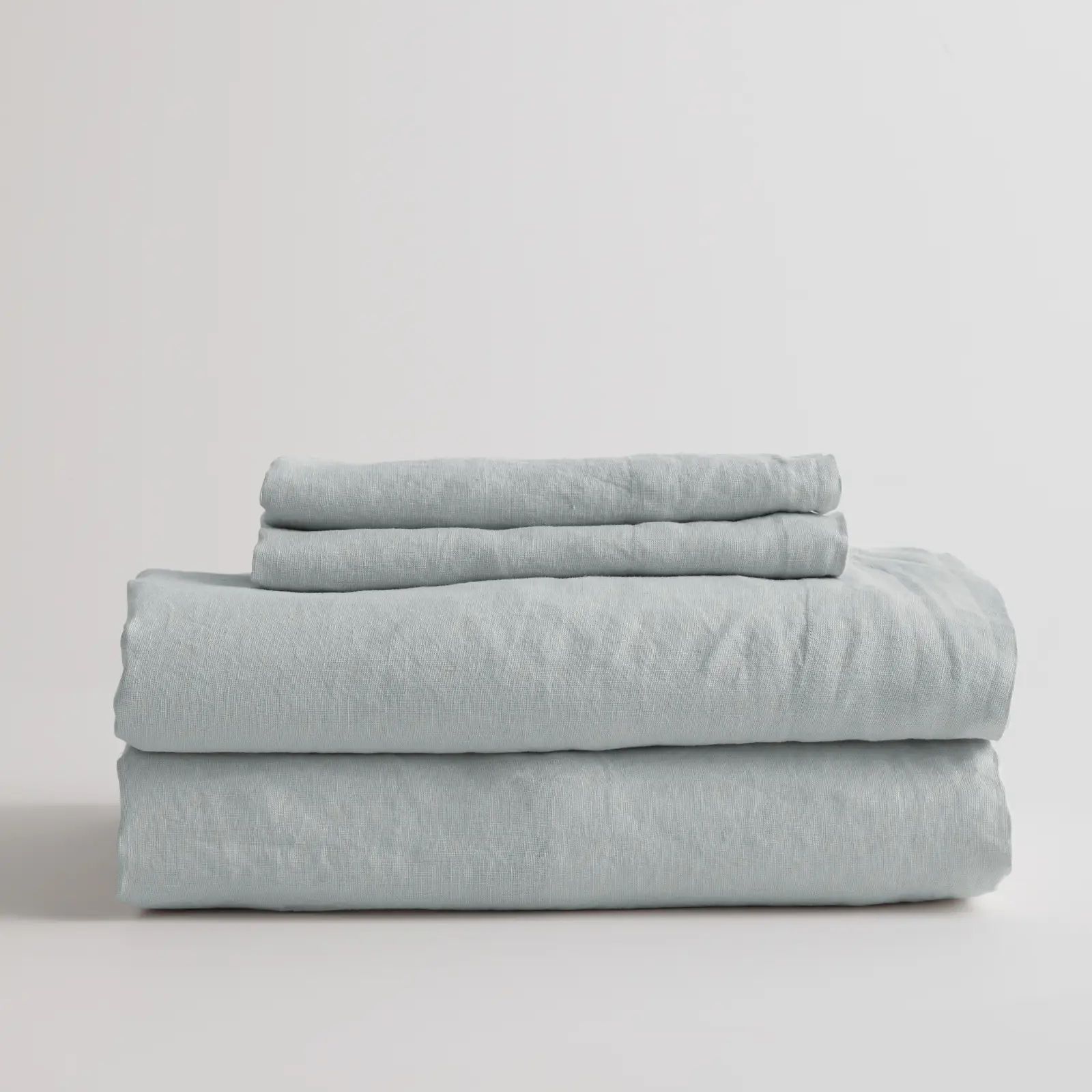 (opens in new tab)
2. Quince European Linen Sheet Set
Best Linen Sheet for Value
Sizes: Twin, full, queen, king, Cal king
Colors: 11
Type: European flax
GSM: 150 GSM
RRP: $120–$190
+ Affordable
+ Fits mattresses up to 16"
+ One-year trial
- Takes a few washes to get soft
- Only available as a set
Linen sheets are definitely an investment, but Quince has managed to take away the sticker shock with European flax sheets comparable to sets from Brooklinen, Parachute, and even RH. Give these sheets a wash before you put them on the bed, they're a little stiff at first, but they get softer with each wash, and they offer a generous year-long trial period.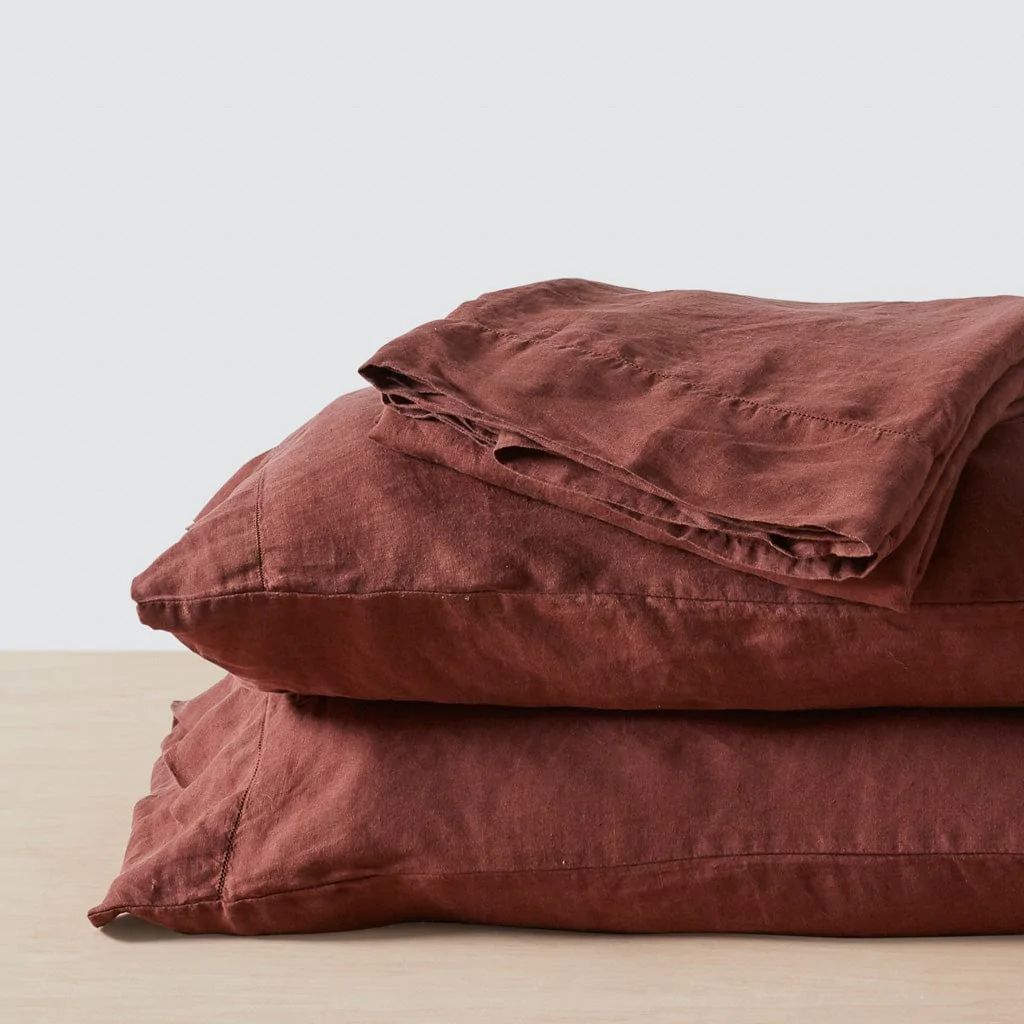 (opens in new tab)
The Citizenry Stonewashed Linen Sheet Set
Best Looking Linen Sheet Set
Sizes: Full, queen, king, Cal king
Colors: 18
Type: French flax
GSM: 160 GSM
RRP: $275–$325
+ Made in Portugal
+ Pretty hem detail
- May shed
Not only are The Citizenry's sheets sourced from one of the oldest family-run mills in Portugal in a Fair Trade environment, but they're also stonewashed for added softness and feature a beautiful eyelet detail on the hems of the flat sheet and pillowcases. In addition to solids, they're also available in a beautiful gingham and stripe offering too.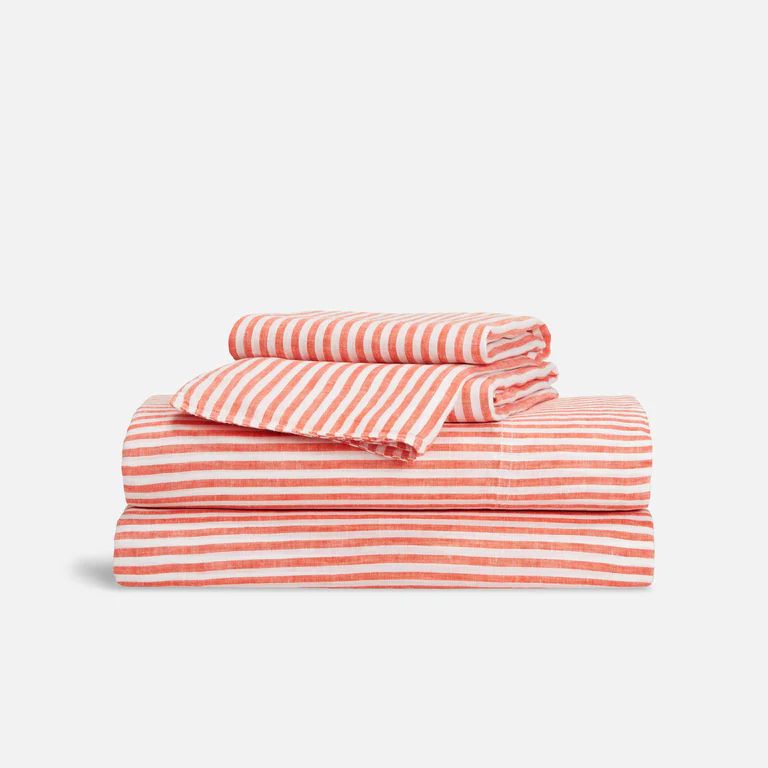 Brooklinen Linen Core Sheet Set
Best Garment Washed Linen Sheet Set
Sizes: Twin, twin XL, full, queen, king, Cal king
Colors: 13
Type: European flax
GSM: 145 GSM
RRP: $259–$339
+ Soft and airy
+ Available in various sets and colors
+ Individually garment dyed
- Delicate
- Sheer can reveal logos on protector/ pillows
- Limited edition colors can sell out
Brooklinen's linen falls more on the lightweight side, making them great for the summer. They do get significantly softer with each wash and are OEKO-TEX certified and made in Portugal. The core color options are of a pretty neutral palette, though limited edition colors are charming, they can sell out. If you get a light color they can feel a little sheer if your mattress or pillow has any color or logos.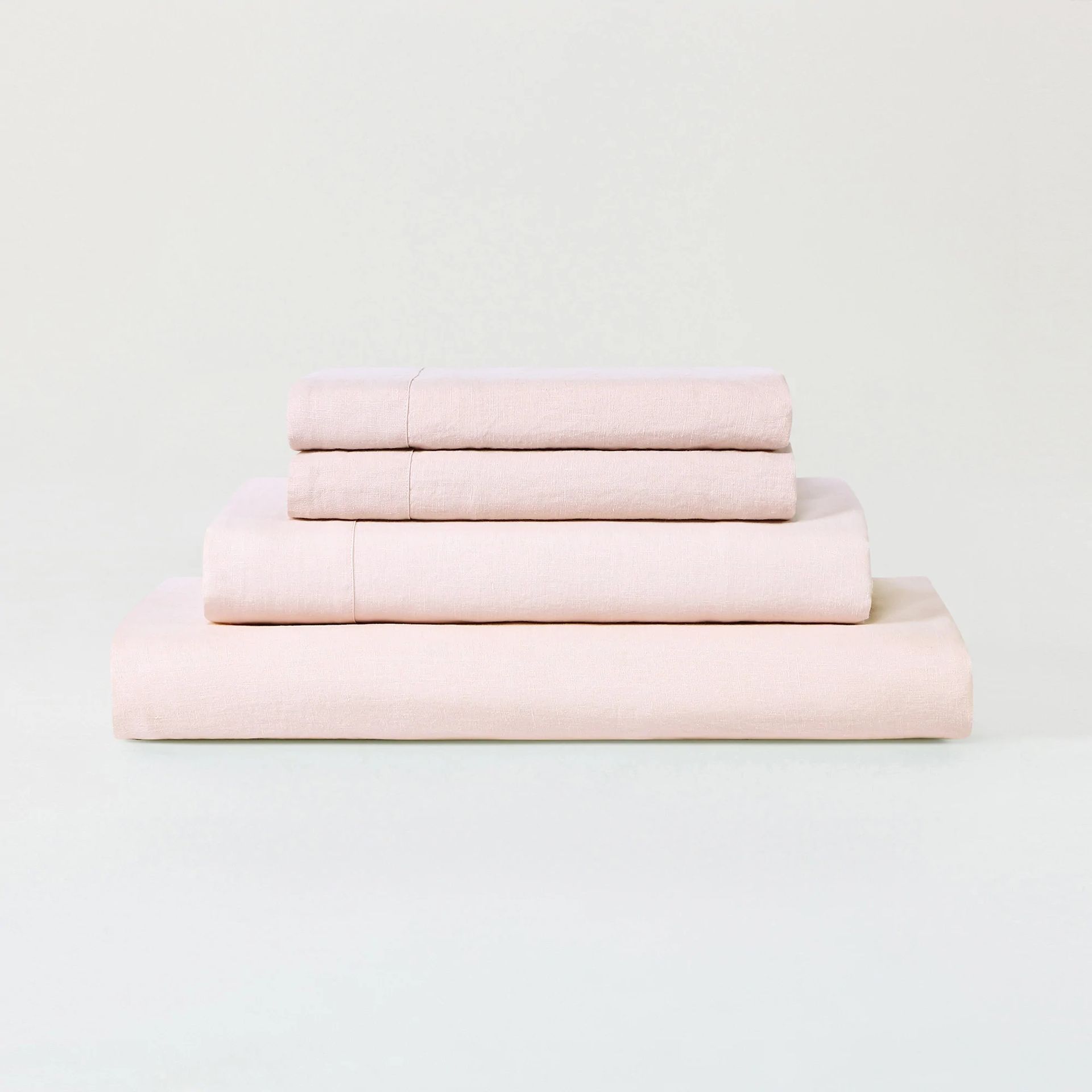 (opens in new tab)
Sijo French Linen LuxeWeave Linen Sheet Set
Best Small-Batch Sourced Linen Sheets
Sizes: Full, queen, king, Cal king
Colors: 7
Type: French flax
GSM: 165 GSM
RRP: $155–$275
+ Flat sheet optional
+ Made in small batches from French flax
+ Sustainably produced
+ Perfectly soft
- Prone to shed
The 100% flax linen is sourced in small batches from Burgundy, France with the final production in Shanghai. It's stone-washed for added softness – perhaps even soft enough to go straight on the bed – sustainably produced and OEKO-TEX certified. Though I'm team top sheet, you can decide whether you want it in your set or not, lowering the price significantly if you forgo. It's perfectly breathable and a great first set, if you're new to the world of linen.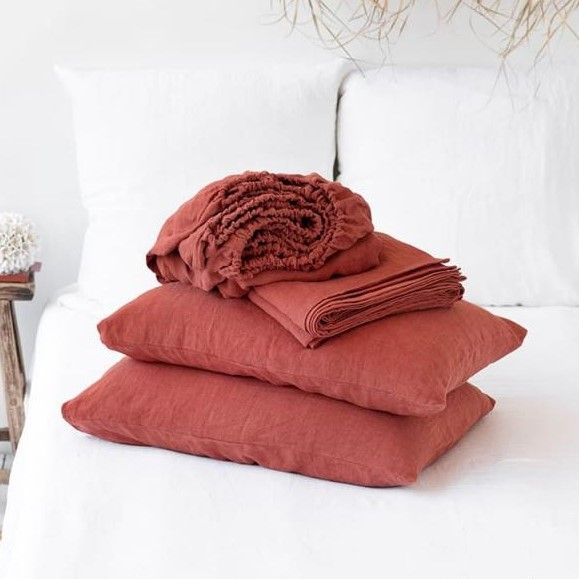 (opens in new tab)
Best Linen Sheet Set for Color Options
Sizes: Twin, full, queen, king
Colors: 19
Type: European flax
GSM: 165 GSM
RRP: $238–$350
+ Available in standard and deep pocket options
+ Available in US, UK and EU bed sizes
+ Made in Lithuania
- Lint collects on bed sheets
Along with a beautiful color selection, Magic Linen sheets are available in two depths: regular and deep pocket. They look beautiful on and sleep comfortably, but the fitted sheet left lots of lint on my bed from where my body mostly lay, as a result of the friction of moving in my bed... I had to get out my hand vac to clean it up. Sustainability is a major emphasis. In addition to Oeko-Tex certified (opens in new tab) fabric, the sheets arrive in a protective linen drawstring bag, and some items are made to order to minimize overproduction. The mailers are made out of corn starch and a bio-based polymer, which means they do not leave behind any of the damaging residues that plastics do when they break down.
Are linen sheets worth the money?
In short, yes. If you can afford the initial outlay for linen, you get bedding that is durable, softer with every wash and generally made to higher sustainability standards than other materials. This is without mentioning the temperature regulating properties of linen that make it great for summer nights (yet still cozy enough come fall).
What is GSM
You may have noticed in our specs that we list the GSM. Similar to the way you may think about thread count, GSM or 'Grams per Square Meter' is a measure of textile weight, with thicker textiles having a higher GSM. When it comes to linen, we've found that a GSM between 140 and 190 provides adequate softness and heft; though a lower GSM may feel more breathable than a heavier one.
What to consider when choosing linen sheets
Linen origin: You're after high-quality linen, and most of the world's linen comes from places in Europe like France and Belgium. We like to see transparency around flax's origins.
Breathability: Linen is naturally breathable and temperature regulating by design.
Durability: Linen is an extremely durable fiber, but GSM can also denote better durability.
Feel: Linen does get softer over time with each wash, but stonewashed designs have been pre-washed for added softness.
Color and size options: With linen being considered a specialty item, you'll want to confirm that your bed size is available, paying attention to extra depth if you have a thick mattress. Some brands offer a tight color edit while others will offer an entire rainbow.
How to care for linen sheets
Linen sheets will typically follow the wash care instructions of the bed sheets you're used to using. In general, you'll want to wash on a delicate setting in lukewarm water and avoid any bleach, harsh detergent, or any particularly heavy items like denim or towels.
Of course, a few tips and tricks will prolong the life of your sheets for the better.
Magic Linen offers a wonderful linen care guide (opens in new tab) with expert tips on caring for it. In the event of a stain, be sure to get it out as soon as it develops; any dirt, oil, or grease can immediately absorb into linen fibers and become difficult to remove.
They also advise removing them from the dryer when they're still slightly damp, and hanging dry or laying flat if possible to finish. This can help reduce wrinkles and keeps them from getting too stiff. Linen should also be stored in a cool, dry place and away from direct sunlight. Use the included linen bag or store it in a pillowcase, as opposed to plastic.