Small Scandi living room ideas are great ways to make your place look cozy and inviting, with a natural touch. From useful furnishings to neutral colors and textures, it really is a style that's timeless.
This design trend is all about being practical and stylish, which are two things that are important in smaller homes with not a lot of space. The living room is a key area to decorate in this style, as it's the area you likely use the most and the area that guests see.
Have you been looking through small living room ideas, and have decided that the Scandi style is the one for you? I've spoken to design experts to find out how to incorporate it into your place, plus picked out buys so you can get the look in your home. Your place is going to look really hygge once you've followed these tips.
7 small Scandi living room ideas that interior designers love
First of all, what exactly is Scandinavian design? "When I think of Scandi style what comes to mind are linen curtains, materials like wood, leather, and wicker," says Soledad Alzaga, interior designer and founder of Soledad Alzaga Interior Design.
Soledad Alzaga is the founder of her eponymous business, a boutique residential and commercial interior company based in San Francisco, which was named one of the top 15 best interior design companies in the city. It assists in all aspects of the design and build process of residential and commercial properties from start to finish including consulting and working with architects, builders, and engineers
She also thinks of natural neutral colors, a few throw pillows, chunky knit throw blankets, and lush rugs. "It's about clean simple lines, functional but still beautiful and comfortable." Here's how to bring these into your small living room. I've also shopped buys for each point that I'm absolutely eyeing up for my own place.

The prices below were correct at the time of publishing this article.
1. Use light, cozy fabrics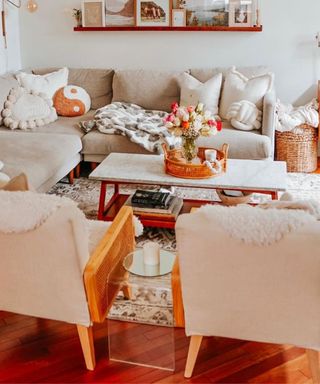 Being thoughtful when choosing materials is a key part of getting the Scandi look. Instead of going for heavy curtains in dark materials, opt for the complete opposite.
"Use linen curtains or shades that let the light in, and are a natural material," suggests Alzaga. This will help lighten up your small living room. She also suggests going for chunky pillows, ottomans or throws in light neutral colors to add texture to a space but not make it cluttered or overstuffed.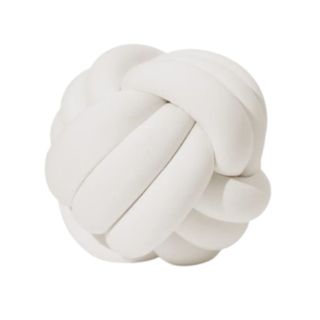 As seen on social
Bearby Hugget Knot Pillow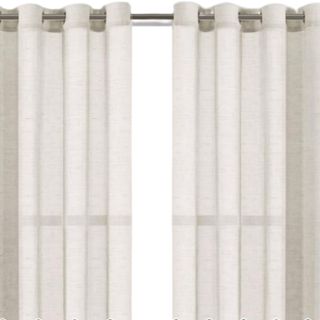 Sheer
H.Versailtex Linen Curtains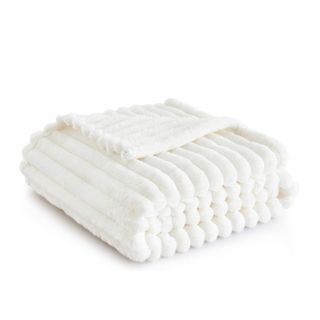 Amazon's choice
Bedsure White Throw Blanket
2. Choose multi-purpose furniture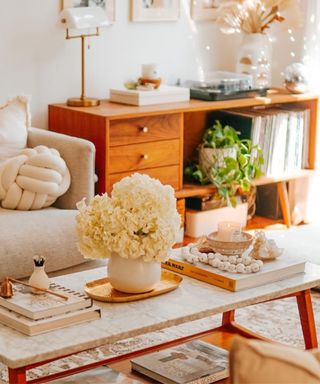 Scandi style isn't just about aesthetics — it's about practicality and streamlining how you use the space, too. "Look for clever, dual-purpose furniture, such as a coffee table with storage like a lift-top coffee table or a daybed that doubles as a guest bed," says Artem Kropovinsky, interior designer and founder of Arsight.
"It's about smart choices that work twice as hard." This is also useful budget-wise, as you won't have to spend more if you have a furniture piece that does the job of a few.
Artem Kropovinsky is an interior design expert and founder of Arsight, an award-winning interior design studio based in New York.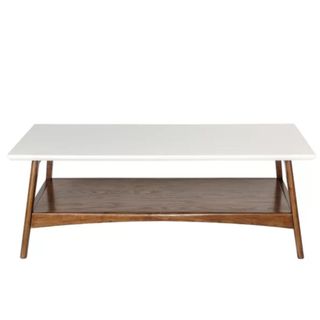 One year warranty
AllModern Soho Coffee Table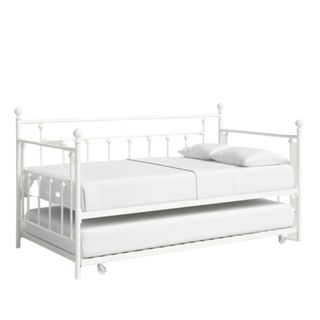 Assembly tools included
Andover Mills Ione Daybed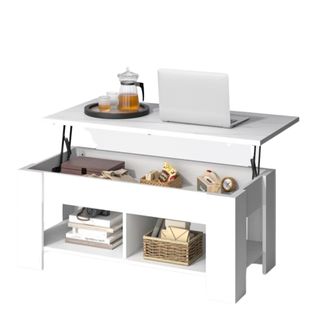 Stain resistant
Millwood Pines Coffee Table
3. Paint the walls white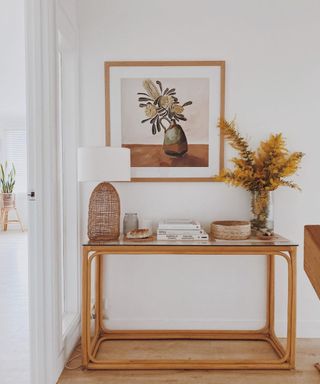 Scandi style is all about keeping your style as clean as possible — which is where painting your walls white comes in. "This will give you versatility and a blank canvas," explains Alzaga.
If you aren't able to paint your walls white if you're renting for example, hanging up wall decor and art is a smart way of making your small living room look bright. "Light hues reflect light better, making your small room appear larger," adds Kropovinsky.

Oaty Pink undertones

Illuminating
4. Incorporate natural materials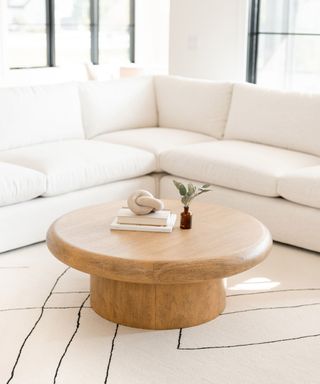 Natural materials and textures will bring a Scandi softness into your space and are a critical aspect of Scandi design. "This can be achieved through wooden furniture, woven storage baskets, and textured rugs," explains Ricky Allen, interior designer and director of Ever Wallpaper.
Ricky Allen is the interior designer and director of Ever Wallpaper. It sells high-quality wallpapers and murals, using non-toxic, odorless, and environmentally friendly materials.

Want to know where to start with this? "A round wood coffee table is a great way to introduce warmth in a neutral Scandi living room," says Vivianne Chow, interior designer and co-founder of Viv and Tim Home.
"In my living room, this round pedestal coffee table creates a beautiful focal point in my otherwise neutral space." This is also the best shape coffee table for a small living room.
Vivianne Chow is an interior stylist and founder of the home decor blog, VivandTimHome.com. She's passionate about sharing the best modern home decor to buy and recently built a dream custom home with her husband Tim. Together, they're tackling decorating room by room and sharing design tips and ideas along the way.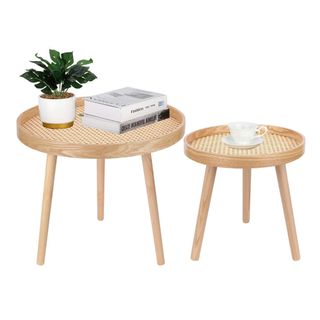 Easy assembly
ZYBT Small Round Coffee Table Set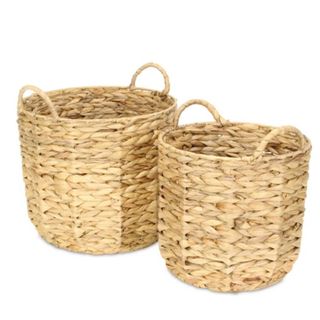 Handmade
Highland Dunes Wicker Basket Set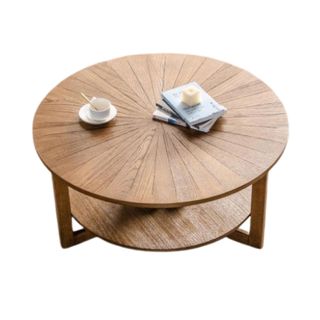 Dual-tiered
DS-HOMEPORT Round Coffee Table
5. Bring in plants
As well as going for natural colors, bringing in indoor plants will add a touch of vibrancy to your small Scandi living room. "Introduce plants to add a dash of color and life," suggests Kropovinsky.
"Even a single plant can transform the feel of a room." You could also take the Scandi approach of making them work as hard as possible for you by choosing air-purifying plants that will freshen up the space.
6. Choose a few statement pieces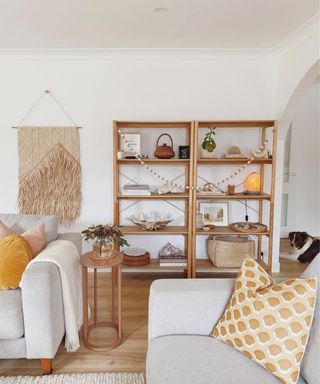 Regarding decor, less is more when it comes to Scandi living rooms — especially small ones, when you don't have a lot of space to play with. "Choose a few statement pieces, such as a large artwork or a sculptural lamp, to add visual interest," says Allen. Make sure that whatever piece you choose doesn't overwhelm the space with its size or color.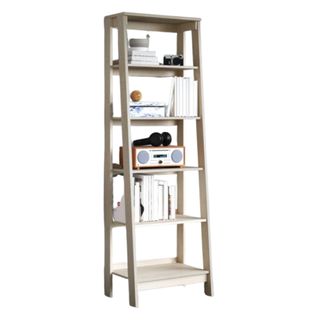 Scratch resistant
Mercury Row Ladder Bookcase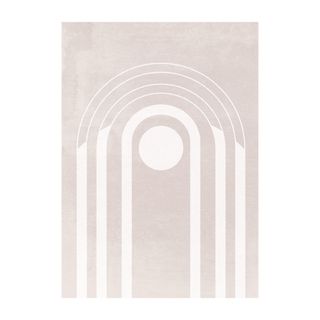 Modern
White Arches No.2 Wall Art Poster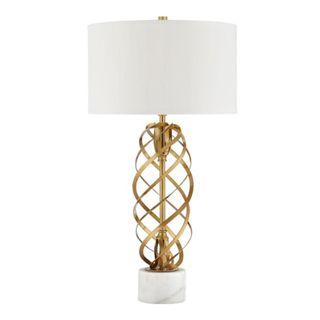 8 ft. cord
Possini Euro Design Modern Table Lamp
7. Keep windows unobstructed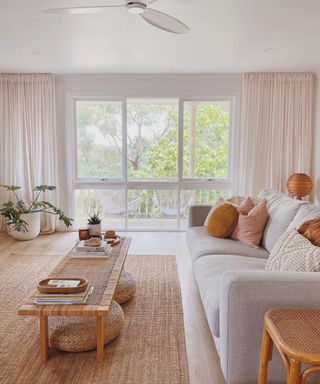 When living in a small space, it can be easy to put all your furniture wherever it fits, and not think about the effect it's having on the room. However, for Scandi style, you'll want to make sure your windows don't have any heavy furniture in front of them.
"Be sure to maximize natural light by keeping windows unobstructed," says Kropovinsky. "This design style is all about making the room feel as open as possible."
FAQs
How to style a small Scandi living room?
To style a small Scandi living room, bring in natural textures such as wood and rattan, as well as choose neutral colors for your decor such as white, beige, and brown. Be sure to add in a couple of plants too, to add vibrancy.
Can you mix Scandi and modern small living room ideas?
You can mix Scandi and modern small living room ideas by choosing darker wooden textures and sleek metallic touches. If you wish to do this, you may want to look at mid-century design ideas, as this balances the two well.
---
Once you've styled your small living room with Scandi style, be sure to keep on top of maintaining it. "Remember to declutter your small space regularly, as this is key in maintaining the minimalistic look of Scandi design," Allen finishes by saying. Clutter is a small space design mistake, as it will make your room appear smaller.
Want to style other rooms in your house in the same way? Scandi bedroom ideas are perfect for creating a relaxed place to rest.