If you're looking for some small apartment entryway ideas, you may be wondering — how much effort should we put into this space? If you're anything like me and live in a rented apartment that's, well, on the petite side, you probably don't have much of an entryway to speak of.
But, does that mean we should just forget all about them? I think not. Cause, the entryway is the first thing we see when we get home and the first impression anyone visiting will get of the space. Adding a small table to keep essentials, a mirror to reflect light and open up the space, or even a piece of furniture would all help give your home a more considered look.
Here, I've spoken to interior designers and experts in the industry about these small entryway ideas. They gave me plenty of design and advice tips for upgrading your space. Getting home's never been so good.
Small apartment entryway ideas
If you're looking to get started on your small entryway, you're probably wondering where to put everything first. We found some small entryway storage ideas for hanging up coats, storing shoes, and more.
1. Give your handbags the throne they deserve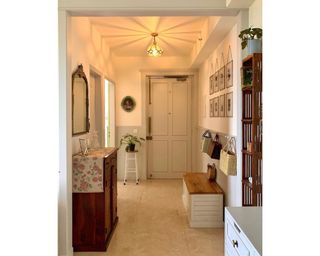 Step number one of making your small apartment entryway space work for you is thinking about what you reach for when leaving the house. For me, it's one of my many handbags (got to have a different one for every outfit, right?) and so, while we all know about coat hooks, have you considered a handbag hook instead?
I love this example from interior stylist Lipi Moitra, who has fitted her handbag hooks at the perfect height. Try installing some of these Threshold faux marble and gold hooks available at Target for a luxe finish. So cute.
2. All hail the floating shelf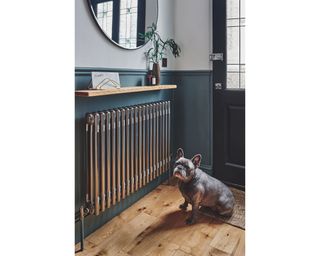 A classic space-saving technique is the floating shelf which is perfect for keeping all of the essentials close to hand, without taking up too much room. For even even more minimal look, you can grab these upsimples acrylic shelves on Amazon.
Chloe Weller, designer for online interior design studio Topology, explains that this is a great option for a small entryway: "A floating shelf instead of a console table will save space and give the illusion of a larger room by keeping the floor area exposed, while still providing somewhere to put keys and also be styled to reflect the rest of the home."
3. Open up the space with a large mirror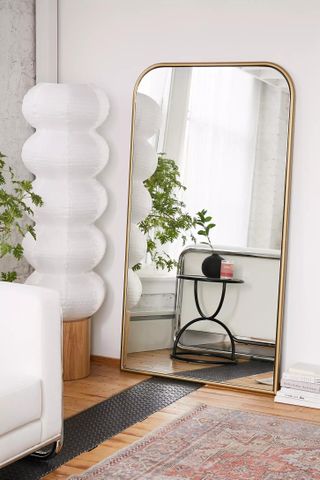 Now, you might not be able to fit a huge mirror in your entryway — I definitely couldn't! But, a long mirror like this Selene floor mirror from Urban Outfitters, is an easy way to open up a small area because of the way it bounces light around, creating the impression of space. Not only that, but it means you can check your outfit one last time before heading out. Genius.
4. Add an accent chair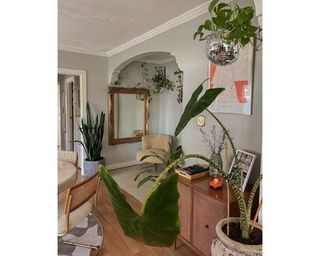 If you love thrifting, an accent or occasional chair, is one of the best things you can pick up. The idea is that it looks a little kooky, with an interesting shape or patterned upholstery, like this Threshold rounded accent chair available at Target, designed to work as a solo piece.
Pop it in a spare corner to make the space more interesting, like an entryway! Here, Katie and Cody use a large gold mirror and cozy chair opposite their front door to add some more atmosphere to the space.
5. Paint your own wall mural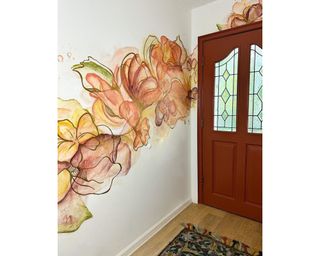 All you need to make a feature of your entryway are the walls themselves! I'm obsessed with this artistic mural from influencer Baker Blooms. Especially the way she matched the colors within the botanical design to her door frame.
Why not paint your own mural at home and surprise your guests as soon as they step foot in the door?
6. Use natural colors for a spacious feel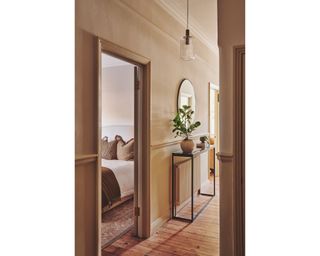 If you want to give your entryway a lick of paint but aren't feeling too daring, then don't worry, just keep things neutral. Chloe Weller, designer for online interior design studio Topology says one of the best things you can do is opt for calming, natural tones.
She explains: "Use light paint colors such as a neutral or soft pastel across the walls and ceiling to make the hallway feel more open. If you want to try something a little different, though, try painting the lower half of the wall a darker color for contrast."
7. Accessorize to distract the eye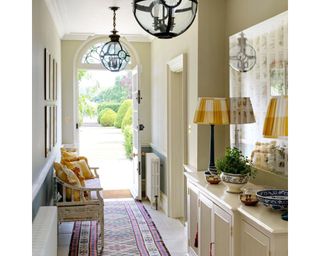 "If you have a small entryway and you're unsure of the best approach to make the most of the space, our advice is to distract the eye," says interior design studio, Salvesen Graham.
"Do something unexpected. Use a patterned wallpaper or opt for a dramatic paint color, and then hang lots of pictures on the walls. Make it a nice place to be, rather than somewhere to hurry through."
8. Disguise your radiator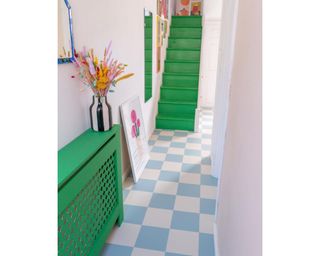 I love this picture of influencer Lindsey Isla's entryway which is a joyful kaleidoscope of color. While there are so many things I'd love to try at home, inspired by Lindsey's entryway, I particularly love her nifty radiator solution.
This technique of creating a fixture around the radiator is not only aesthetically pleasing but actually saves space by offering a little side table, too.
9. Make a statement with overhead lighting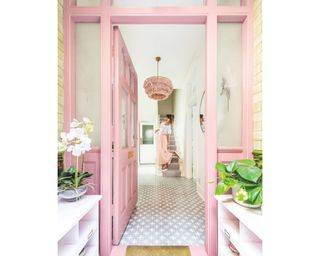 If you're stuck for space in your entryway but want to make a statement then simply, look up. A beautiful, overhead light fitting can squeeze into any entryway, no matter how small, and can really make a statement.
Go for a style with some length that dangles down into the space, like this gorgeous fringed light.
10. The 'no entryway' entryway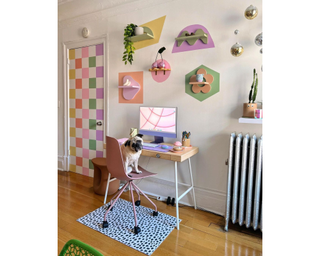 What do you do if you don't have an entryway? Make like Brooklyn renter Maitri and paint up your door for some pizazz.
On her Instagram account, Maitri shares that her front door opens straight into the living room but she still wanted to make it a feature, so she used a checkered pattern to give this area some personality — and I love it!
Meet the experts
Chloe Weller is an interior designer for online interior design studio Topology.
Mary Graham and Nicole Salvesen are the co-founders of London-based interior design firm, Salvesen Graham.
---
We think these small apartment entryway ideas show that whether you have a cozy nook to decorate to your heart's content, or literally just the door itself, there's always a way to make the space your own. All you need to finish it off is a cute entryway rug to catch any dirt you might track in. Handy!