These side yard ideas will help you transform this often dead outdoor space into a fully functional and beautiful area for all to enjoy. Side yards are inherently tricky spaces. Often narrow and somewhat dark, they can end up being neglected or even completely unused. When actually if you get clever with how you design and arrange the space you do have, you could consider squeezing in patio furniture or even your best grill...
So in the same way that clever backyard ideas can transform even a tiny space, good side yard ideas can add a lot of interest and extra room for relaxing, socializing, or even growing produce in. Let's explore the options.
1. Side yard in the shade? Plant shade-tolerant plants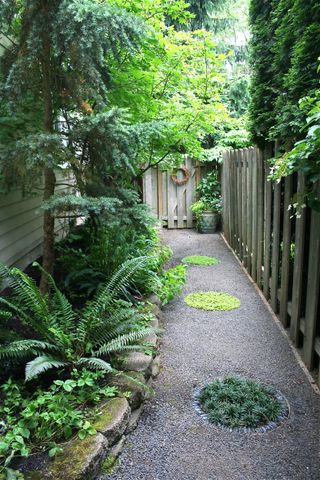 Many side yards have a difficult aspect, either in part or full shade. If this is true of yours, it doesn't have to mean a side yard without plants. Choose shade plants that will thrive in low light. Ferns, hostas, and acers are just several examples of plants you can grow in a shady side yard, as demonstrated in this beautiful example designed by Visionscapes NW Landscape Design
2. Create a low-maintenance design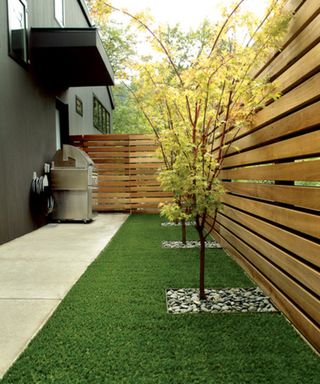 If you aren't planning on actually using your side yard much and just want it to look nice, or if your side yard is difficult to access and you want to not have to do much to it, consider a simpler design with low-maintenance plants, gravel, and a contemporary garden screening idea.
This striking yet low-maintenance side yard design is by GSW Architects.
3. Start a vegetable garden in your side yard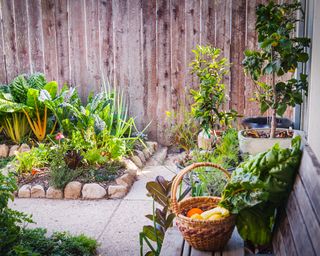 If you are lucky enough to have a side yard with a sunny aspect, why not start a kitchen garden? A sheltered side yard is ideal for growing all kinds of vegetables, including tomatoes, cucumbers, and peppers, but you could even grow citrus trees if you live in an area with hot, dry summers.
This pretty and productive kitchen garden in a side yard has been designed by Sweet Smiling Landscapes.
4. Add a water feature for contemporary appeal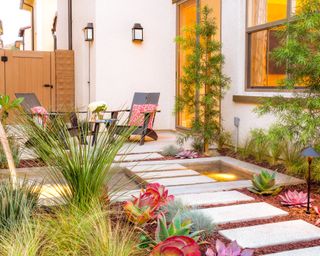 If you want to use your side yard purely for relaxation, then a water feature can go a long way to creating a zen vibe. You can simply buy a freestanding water feature, or, if you are getting your side yard redesigned, have one built in for a sleek, contemporary effect.
This stunning side yard with a built-in water feature has been created by Studio H.
5. Use the area as outdoor storage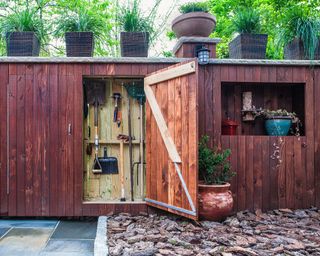 Side yards are great candidates for experimenting with clever garden storage ideas. If your space is far too small to accommodate a shed, you may be able to create the storage you need on a DIY basis if you know how to work with wood, or do what real estate investor Donald Olhausen, owner of We Buy Houses in San Diego, does. Olhausen says: 'for more narrow side yards, there are always outdoor racks and other space savers that can help you get the most out of your side yard. Look at different storage ideas that will work with your space, that way you can utilize every part of your lot to its highest and best use.'
6. Grow flowers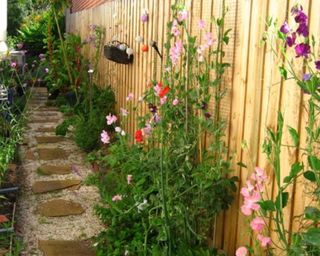 You don't have to restrict yourself to ferns and evergreens. Many side yard can accommodate flowers, although you may have to be clever about the type of garden plants and flowers you choose to grow. As David Martinez, of Gardener's Dream, tells us, you'll need to choose plants 'that can thrive depending on how much sun or shade there is along the day. Remember that if you don't have much space, you can always use containers instead of planting the flowers in the soil.'
Sweet peas have been planted in this pretty side yard in Melbourne designed by Gardens in Abundance. Sweet peas look great against a fence as they grow quite tall, but they don't need much space to grow. Tall, narrow containers are best for them.
7. Create an outdoor kitchen in your side yard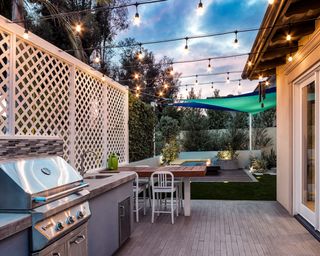 If your side yard is a bit more spacious, or even if it's just a small square space rather than a very narrow one, you can use it to create an outdoor kitchen. This can be as simple as lining your bbq, side table or workspace, and a dining table against the wall or fence.
8. Elevate the design with a large container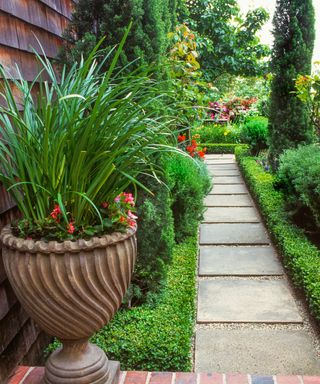 Container gardening can be a great solution to side yards that don't have any soil for planting. If you are choosing between one large planter and several smaller ones, go for the large one. It will make more of an impact and help prevent the space from looking cluttered.
9. Create a relaxation area with a pool and deck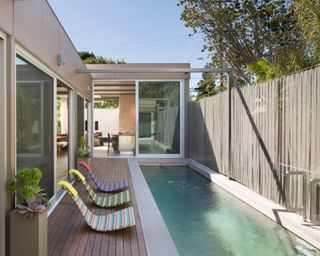 Side yards can be brilliant spaces for exploring pool deck ideas. If your side yard gets even a bit of sun, say in the morning or the afternoon, it has the potential to become a relaxing space for swimming and lounging. Bear in mind that if you have a pool put in, you won't have much room for anything else and will need to get slimline sun loungers. This gorgeous side yard with a pool and deck is by Dawson Clinton.
What can I do with a narrow side yard?
Decent-sized side yards present far fewer issues than narrow ones. If your side yard is narrow, Michele Chambliss, of Perennial Garden Consultants, advises that 'The first thing to determine is how the space is used--a side yard used for access from the front of the property to the back would be designed differently than one cut off by a wall or fence. Sometimes a side yard is visible from windows inside the home. Projects often present the challenge of creating a prettier view than just a side yard wall.'
If this is you, then layered planting is a must. 'Shade tolerant climbing vines are very useful in these tight spaces, creating a layer of green to soften side yard walls. A small patio tree, such as a standard wax leaf privet Ligustrum japonicum 'Texanum,' can provide a focal point, with an understory planting making up the final layer.'
If you'll need access through your side yard, 'Start with a pathway, allowing for planting space on both or either side of the walkway. Then add in shade-loving plants, including vines, small shrubs, perennials, and ground covers, as space allows. Don't want plants getting too large and growing over the walkway? Knowing the mature sizes of plants prior to purchase and installation helps curtail future maintenance headaches.'
How can I make a side yard more secure?
Properties with unsecured, dark sideyards are more vulnerable to burglaries, so thinking about making yours more secure is important. Kristen Bolig, CEO of Security Nerd, recommends installing 'some kind of outdoor lighting, whether it be pathway lights or an overhead light, at each side yard so that burglars are not able to slip into your backyard without being seen. It is also never a bad idea to put up security cameras at these locations.'