On the hunt for lovely attic bedroom ideas? Well, you are in the right place because we have rounded up all our fave looks to get you inspired. We get that loft bedrooms can be a bit tricky to style and decorate – often you are dealing with awkward angles and slopping roofs, but it's these quirks that make loft spaces so lovely in the first place. For these ideas we have obviously taken in the practical side of working with a loft space, but also want to show that loft bedrooms can be some of the most gorgeous cozy, bedrooms around so never let funky proportions put you off.
Keep reading for five loft bedroom ideas to inspire a revamp of your space, and don't miss our bedroom ideas feature for plenty more looks to copy.
Just starting out your loft conversion project? Head over to our loft conversion guide for all you need to know
1. Decide on the best layout for your attic bedroom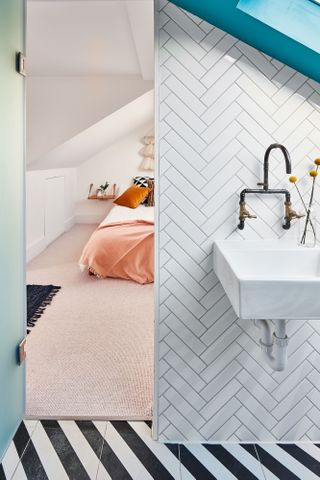 Deciding on the best layout for your attic bedroom can be tricky as often there is only a small portion of the room that is full height, meaning you have to be clever in where you place the furniture.
'A loft bedroom can take many different sizes, shapes and layouts, depending on what type of loft conversion you have. Most typically, a loft bedroom would have an en-suite shower room situated under the sloped eaves at the front of the roof, and the bedroom would fill the remaining space around this with windows facing out into the garden or rear of the property.' explains Robert Wood, Managing Director Simply Loft.
'The best layout is the one that works for all of your needs, whether that is a bed under the skylights, or a work area under the eaves with in-built shelving.'
Draw up a plan of your space first, and include measurements of the ceiling height in that plan. Then you can start to figure out where your bed would fit best (remember your bed doesn't really need a full-height ceiling above it), where storage would fit and any extras like a dressing table or a desk.
2. Bring in plenty of light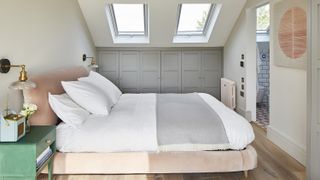 Our favorite design feature of attic bedrooms is how lovely and light-filled they can be. A loft space can be as small and awkwardly shaped as it likes but if it's got plenty of light is always going to be inviting.
The best way to bring in plenty of natural light? Skylights. As many as your design can handle. In this bedroom, windows run all the way down each side of the roof, ensuring maximum light no matter what time of day.
3. Plan your loft bedroom lighting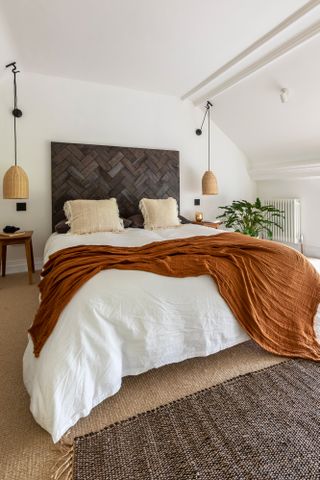 Now, if windows aren't an option or if you trying to update an attic bedroom on a budget you can still create a glorious light-filled space with artificial lights. The key is to have plenty of different light sources.
You'll definitely want to add some spotlights or downlights for warm but direct lighting. Then add in some ambiance with wall lights (either side of the bed works well in a loft bedroom), table lamps, and you can never go wrong with a string of fairy lights too.
You could also add a pendant light as a focal point. Plus they can create the illusion of height too. Just be sure to check your pendant isn't too big for the room and can hang at a practical height.
4. Go for a minimalist feel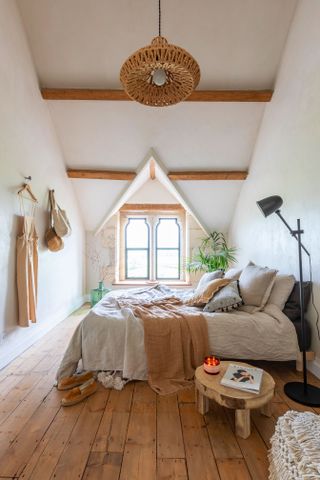 Okay, semi-practical stuff out of the way. Let's focus on the good stuff, the decor.
How dreamy is this attic bedroom? And yes, we know, not all of us are blessed with a space of this proportion and all these gorgeous architectural details, but that's not to say you can't create this rustic, minimalist vibe.
Keep the color scheme quite neutral, a nice warm light grey on the walls, or a soft cream and then bring in plenty of texture with wooden and natural accents. This will make the room appear more spacious (design 101 white walls = more 'space) but still keep it feeling cozy and inviting.
5. Build stylish storage into an awkward space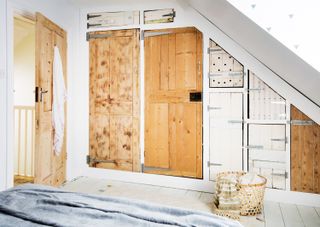 Built-in storage is the best bed with a loft bedroom because you can really make the most of that space under the eaves that would otherwise go unused. But your built-in storage needn't always look the same as everyone else's! Get more creative with your design than just flush doors and drawers.
We love this loft storage idea. It's actually built using a shelving unit from Ikea and then the cupboard fronts have been created with reclaimed doors cut to size. Very cool.
6. Enhance the coziness of an attic bedroom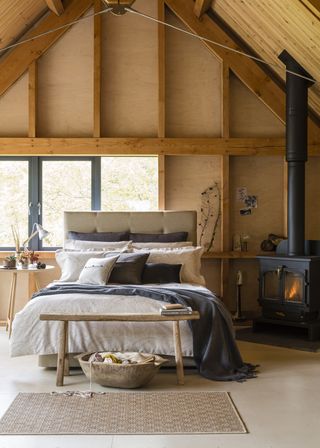 High eaves, plywood walls, a log burner and lots of beautiful textures are all conducive in creating this fabulously cozy attic bedroom. It epitomizes country style, the hand-crafted wooden bench at the bottom of the bed and the foraged finds are all great ways to give it a natural feel that suits the rustic nature of the space.
Layer up your textures - slubby linen bedding with a button backed headboard teamed with a coir woven rug at the foot of the bed all help. Keep your color palette simple, off whites, taupes and buff shades with charcoal to match the window frames and source earthenware pieces to complete the look.
7. Paint all over with a single color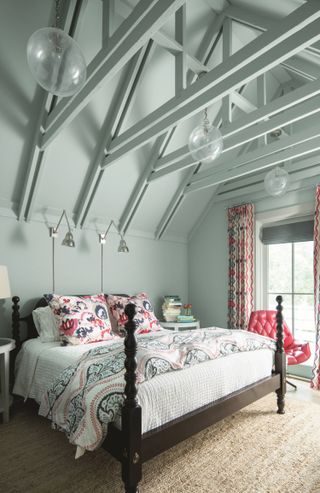 In recent years painting everything the same color has become a bit of a trend, and it's easy to see why. It gives a space a modern twist even if the house has period features – in fact, deep skirtings and wooden beams lend themselves to this look and the appeal of not having to paint the woodwork in a contrasting color is rather fabulous!
In this attic bedroom the allover paint offers a refreshing and striking aspect, and we love how the color comes from the patterned furnishings in their bold prints.
Find more bedroom color ideas in our gallery.
8. Pick a bold wallpaper for an attic bedroom ceiling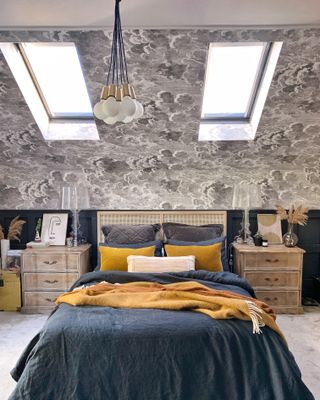 Wallpapered ceilings are all over Pinterest right now, and if this look is going to work anywhere it would be in an attic bedroom. When you convert an attic you can be left with vast expanses of sloping walls that can look rather plain if left bare. Adding a highly patterned wallpaper creates a fabulously striking focal point and it works particularly well when you extend it onto the ceiling.
Who wouldn't want to lie in bed and look up at a funky wallpaper? Keep the rest of the scheme simple so the wallpaper remains the 'star' of the room and choose a pendant light that enhances rather than competes with the wallpaper design.
Check out more bedroom wallpaper ideas in our gallery.
9. Decorate with a gallery wall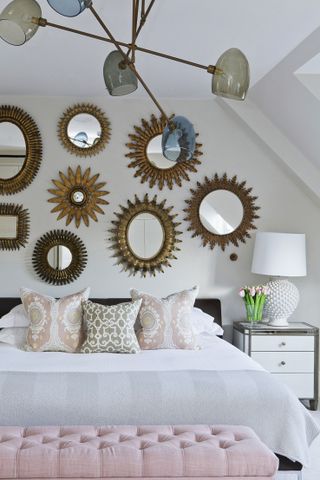 If wallpaper isn't your thing, but you want to have some kind of decorative aspect on your walls then check out this stunning display of mirrors! Each one is unique – you can source your own vintage collection from eBay, antique shops or car boots, and hang them up to create a super stylish wall.
To balance out the look keep your attic's sloping wall plain so the eye is drawn directly to your mirror display - they will bounce the light around the room too! We have a whole gallery of mirror ideas so check that out if you love this look.
10. Add panelling for interest and texture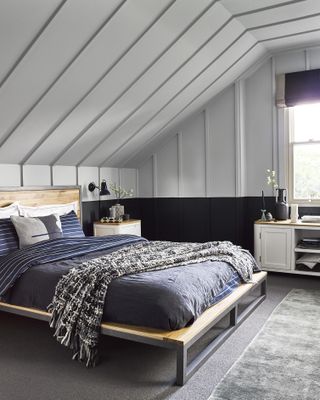 We're partial to a bit of wall paneling - it can give an otherwise characterless space an instant boost and when used vertically it will give the illusion of height. The idea of painting up to dado rail height in black and keeping the rest and the ceiling in a paler shade is genius as attic rooms can be dark so being clever with your color choices is key. Use your accessories to tie your chosen paint colors together for a cohesive look.
11. Create a mini living room in your bedroom space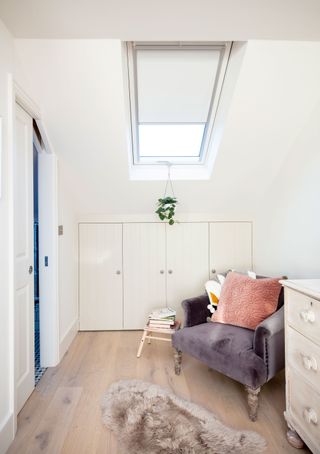 You'll often find there are lots of nooks and corners of loft bedrooms that can be tricky to know what to do with. We love the idea of a cozy reading area – all you need to create this look is a nice armchair, some loft lighting, throw down a thick rug and voilà, an instant space to hunker down with whatever book you've picked up because everyone on Instagram was reading it.
For more reading nook ideas head over to our feature.
12. Incorporate a dressing room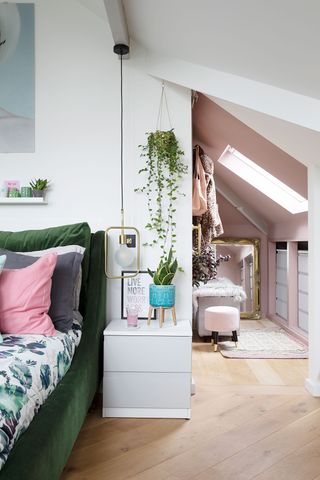 Always dreamed of a walk-in closet? Well, attic bedrooms are the perfect spaces to add a small dressing area and wardrobe, as, as we have mentioned a fair bit so fair, it can be tricky to know what to do with that awkward space under the eaves. Using this area for clothes storage is a clever use of space as you won't have to worry about fitting a wardrobe under a sloping roof. Plus it means the main part of your bedroom can be clutter-free.
13. Ditch your bed frame for more space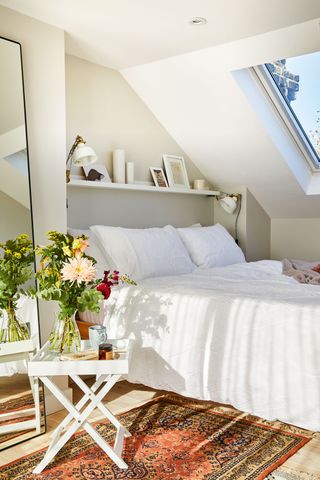 When we say ditch the bed frame, we don't necessarily mean start sleeping on a mattress on the floor, but switching a traditional bed frame for a platform bed without a headboard is a great option for an attic bedroom.
By keeping your bed lower to the ground, you create less of a claustrophobic feeling, especially if your bed is under the eaves. The lack of a headboard allows for more space to add some storage too, like a little shelf to house some cute prints and handy bedside lighting.
Where should a bed be placed in an attic bedroom?
Where a bed should be placed in an attic bedroom totally depends on the size and shape of your space. A popular option is to place the bed in the center of the room where the roof pitches and it is at its highest. This allows for space on either side of the bed for bedside tables and makes the space feel bigger than if all the furniture were pushed up against the walls
However, if that's not an option for you, say if your attic bedroom is in a mansard loft conversion a bed under the eaves can have a cozy effect. Plus it frees up the rest of the room where the ceiling is full height for bigger pieces of furniture like wardrobes and drawers.
For more loft conversion ideas make sure you check out our guide too.