We've just been scrolling through all the mud kitchen ideas on Instagram. Honestly, it's amazing how creative people can get when it comes to making mini outdoor kitchens for their kids. And it has inspired us to pull together our fave ideas too, so that you can get the family out in garden – even as the weather gets cooler. What's more, mud kitchens actually look very cute in your garden too, much more aesthetically pleasing than a trampoline...
We've covered some really simple DIY mud kitchen ideas if you are after a bit of a weekend project, but if you'd rather just buy one, you'll find our top picks that you can just order online here too.
If you are after more garden ideas just head over to our gallery.
1. Choose a natural timber kitchen even adults will want to use
This gorgeous mud kitchen idea hails from _fraeulein_ , and we really like the rustic, natural timber finish. This is quite easy to recreate, too, using pallets, old crates, or pre-bought wood planks. Use stainless steel mixing bowls to replicate the 'sinks'. If the wood you're working with is a bit rough, you might want to sand it down before your kids use the mud kitchen.
2. The £10 mud kitchen made from pallets
Can you believe this mud kitchen cost sherynpottsxoxo only £10 to make?! All you need is two pallets and some paint, which is how the smart look has been achieved. Use our buying guide to exterior wood paint to pick the one for your DIY project.
3. The repurposed BBQ table
This repurposed BBQ table by harrysmudkitchens is another mud kitchen that will equally accommodate children and adults (just remove the alcohol bottles while the kids are using it, obviously). Mud kitchen during the day, outdoor bar during the evening? Perfect for smaller gardens.
And for more small garden ideas check out our feature.
4. The plant table cum mud kitchen
Want to encourage the little ones to garden while they're playing in the mud kitchen? This Instagrammer's idea from the_ft_times is the perfect combination of a plant table, a DIY station for making bird houses, and mud kitchen. Made entirely from recycled materials including old pallets and shelves, it's an eco-friendly design, too.
5. The French-style boho mud kitchen
This super cute style by _.lotta.leben._ involves a bit more work than the other designs on our list, but it's so worth it if you like a touch of French rustic style in your garden. The devil is in the detail: the cupboard door, the pull-out drawers, and the fancy hooks make this a dainty design. If you're a keen DIYer and know how to work with wood, this is a great weekend project to explore.
6. Decorate your mud kitchen with the seasons
What a lovely mud kitchen idea from @prinzessinnessa (check our her account for the most gorgeous kid's room and nursery ideas). Decorating your mud kitchen not only makes it look cuter in your garden but you can get your kids to help as a nice weekend activity. Pick out things that are in the garden to add to it – at this time of year, we are thinking leaf garlands, piles of conkers and of course a pumpkin!
Go to town with your autumn plants with help from our lovely feature.
7. Turn a mud kitchen into a potting area
We love this mud kitchen idea! Turn it into a little potting area to get your little ones into gardening. Summer might be over but there are still plenty of things you can pot up , just head to our guide to autumn gardening for some tips, and of course you can always plant up herbs and bring them indoors. Make it even more fun by painting the pots together before adding your plants.
8. Add a recipe board to you mud kitchen for inspiration
Nawww how cute is this? A fun recipe board to inspire your kids to cook up some 'tasty' dishes. This would be really easy to recreate to, just pop a chalkboard on the wall behind you mud kitchen, or even just prop one up and write some seasonal ideas up.
Pstt. check out @mudkitchens on Instagram for well... loads more mud kitchens.
9. Personalise your mud kitchen
Add a personal touch to your mud kitchen by having it personalised. You could do this yourself easily with some stencils and paint, but do check out Mud Kitchens which make the most lovely kitchens, all hand built in the UK and come fully assembled, personalised and with selection of utensils.
The best mud kitchens to buy right now
DIY just not for you? Here are the best mud kitchens you can buy online right now: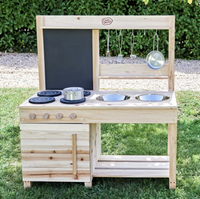 Argos mud kitchen, £100
This Argos mud kitchen has got more features than our own kitchen! There's a hob, two sinks, an oven and comes with loads of play utensils too. You could also put your own touch on this with paint.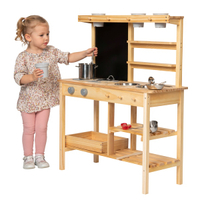 Smyths Toy Superstore mud kitchen, £49.99
LOVING this little bargain from Smyths! This outdoor play kitchen features a reusable chalkboard for writing up today's special: sand sandwiches, obvs. With switches to turn, decorative flowerpots to fill and lots of hooks and shelves for kitchen accessories, this mud kitchen is built to inspire creative play.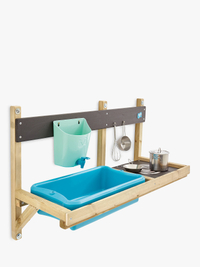 TP Toys Mud Kitchen Play Set | £49.99
This is a really cute mud kitchen if you have a small garden because you mount it to the wall. You still get all the features, and again definitely one you can give a bit of an upcyle (personally we would paint it, and get some gold spray paint on that sink).