Are you passionate about preserving historic homes? Perhaps you are planning your own restoration on a listed building? Read on to hear about the Hadleighs' loving and sensitive restoration of a 17th-century thatched cottage that once faced demolition and the discoveries they made along the way...
Inspired to tackle your own project? We have masses of ideas and helpful advice on what to do and where to start in our feature on house renovation. For more real home transformations, head to our hub page.
We have plenty of information on listed buildings in our guide if you fancy learning more about them, plus in every issue of Period Living magazine (opens in new tab) we include expert advice on the restoration, care and maintenance of period properties.
THE STORY
Owners Brian and Denise Hadleigh live here with cocker spaniel Rosie
Property A Grade II-listed two-bedroom thatched cottage dating back to the 17th century with later additions, set in the New Forest
What they did Brian and Denise hired skilled craftspeople to restore original brickwork including walls, fireplaces, chimneys and the original well in the garden. They redecorated throughout to preserve and complement the period of the cottage and installed authentic fixtures and fittings. They also re-landscaped the garden, installing extra drainage and creating a kitchen garden
With its picture-perfect façade, daffodil-lined path and manicured lawns, it's hard to imagine that until recently this adorable chocolate-box cottage could barely be seen behind the tangled undergrowth of a neglected garden.
Time had taken its toll on the house, too; at one point it was in such a poor state of repair that it was in danger of being demolished before the issue of a Grade II listing saved its fate. Luckily, it later caught the eye of heritage enthusiasts Denise and Brian Hadleigh and couldn't have fallen into better hands.
While some looking to downsize prefer low-maintenance, modern properties, seasoned period property owners and renovators Brian and Denise were fully prepared for the challenges involved with owning an old home. Besides a project, they were looking for three important things: 'a pantry, wood-burners and a garden large enough to grow our flowers, fruit and veg,' says Denise.
The couple spotted the 16th-century cottage online and decided to take a look. 'We thought the ceilings would be too low for Brian and that it would just be a day trip out.' But as luck would have it they completely fell in love with the property and bought it after their first viewing.
The previous owner had done some renovations, which included replacing a lean-to with a new kitchen, pantry and bathroom extension, so the property was livable, with a layout that suited the Hadleighs' requirements.
While no structural work was needed, they soon discovered problems that required urgent attention. 'We'd lived in enough period properties to know that there's always more that needs doing than meets the eye,' says Denise.
Indeed, during their first winter the garden became heavily waterlogged, so land drains needed to be installed across the front of the property, bringing prized period features back to life in the process. 'To our delight we uncovered the old well so we had it restored,' says Brian. 'The drains and water butts now flow into it and we use it to water the garden.'
Inside, the couple discovered damp problems, which they suspected could be rising. Luckily a survey confirmed the cause to be hygroscopic salts, which was not as bad as feared. In order to control it plasterboard added in the past had to be carefully removed from the original walls.
The couple left the task in the safe hands of master brick layer Neal Cooper of Trowel Craft, who had worked on the likes of Hampton Court and Kensington Palace and lived locally. 'He did such a magnificent job,' says Denise.
'It's so important to use experts for specialist renovation work.' As he was working on repairing the original lime mortar he made the unusual discovery of a mummified rat. 'From its position it had to have been placed there; expert opinion is that it may have been by superstitious people during the Great Plague,' says Brian. 'We returned it with a note for future generations.'
Neal's team also set to work restoring the bricks in the inglenook fireplace. They were covered in bitumen and many had been rendered over with concrete so required replacing. As they worked they found what Denise recognised as a bread oven and this now forms a prized feature. Keen to protect it, the pair contacted English Heritage to update the listing with the find.
Throughout the house the couple have striven to preserve the unique character by uncovering and reinstating period features wherever possible, all the way down to the light switches. White paint was stripped from the floorboards to reveal beautiful pine, authentic radiators and light fittings were restored and replaced, and modern white plastic switches were replaced with traditional Bakelite ones.
Brian and Denise knew that they had to take care when choosing paint, as many of the modern formulas are not suitable for use on lime plaster. After sampling numerous brands they settled on Edward Bulmer's Natural Paint as it was breathable but also came in an array of subtle shades, which suited the house as well as the numerous collectibles.
'We're not minimalists,' says Denise. 'We do like our embroideries and artworks, and these paints made the perfect backdrop.' For years the pair have been picking up pieces from auctions, antiques centres and fleamarkets. 'We love their history and the subtle colours.'
If not antique, then items are more than likely to be bespoke made, including all the soft furnishings, which Denise made by hand. 'I don't like using a sewing machine,' she says. 'I find hand stitching much more relaxing.' That said, it's not often Brian and Denise relax, as there's always a project on the go. 'Our children say we make them tired!' Brian laughs. His latest project is converting the roof space of the garage into a craft room for Denise.
'We don't go in with a specific vision,' reflects Denise. 'We work with the building; everything has been done slowly as and when we have time and money. This is us now, we're happy here.'
When they're not busy on the upkeep of the property Denise loves to cook, spending time in her favourite room, the kitchen, making homemade preserves and even her own butter, while Brian likes nothing better than reading a good book by the fire.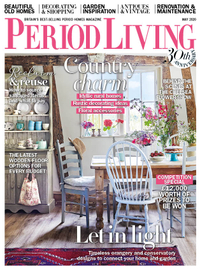 (opens in new tab)
Get the best period home inspiration, ideas and advice straight to your door every month with a subscription to Period Living (opens in new tab) magazine
More inspiration from Period Living: