At home with... Sophie Robinson
Interior designer and judge on The Great Interior Design Challenge, Sophie Robinson, reveals her favourite moments in her home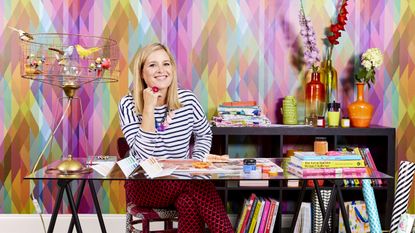 (Image credit: Sophie Robinson )
Are you part of our growing #sorealhomes Instagram community (if not, check it out, it's pretty awesome)? Ever wondered where your favourite Instagrammers pick up their amazing homeware? Or what their best dinner party recipe is? Or even just what their most used colour is?
Well, we are nosey like that too, so in this new monthly series, we ask quick fire questions to some of our favourite authors, chefs, bloggers and stylists to get the inside scoop on their home life.
This month, we are at home with interior designer and judge on The Great Interior Design Challenge, Sophie Robinson, finding out some of her favourite moments in her home. Here's what she has to say.
On Friday night you'll find me...
Curled up on the sofa with a takeaway and a box set.
My fail safe dinner party recipe is...
Everybody brings a dish!
Monday mornings are...
Manic! I usually wish I could stay in bed. I love sleep!
To sum up my home in six words...
Colourful, eclectic, homey, merry, artistic, imperfect.
If I could only choose one colour...
Pink, because it has such range in every shade.
My perfect weekend is...
Hanging out at home and having friends over.
The best way to add personality to a space is...
Fill it with things you love.
Want more interiors inspiration?