Great British Bake Off star Helena Garcia is characterised by her friends as single-minded, optimistic and determined, and it's a description that certainly fits the way she went about securing this charming Victorian home for herself and husband William.
Read on to find out how she breathed fresh life into this gorgeous cottage, then browse the rest of our real home transformations.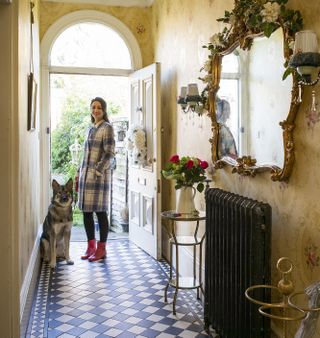 Ten years ago, when Helena noticed the house was up for auction, she knew she couldn't afford to buy it. The trouble was, she'd fallen in love with the characterful red-brick villa with its open view of the park, not far from the centre of Leeds. 'So I asked around to see if anyone would invest in it with me as student accommodation,' she says.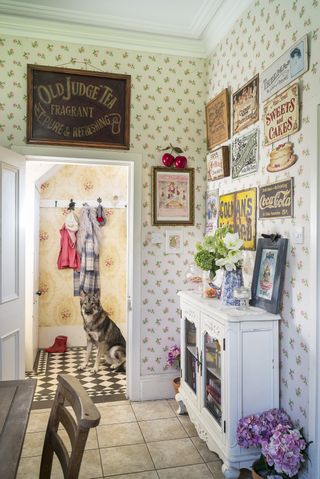 The Story
Owners Helena Garcia, who runs an online jewellery and accessories business, and William Briggs, a product manager
Property A three-bedroom red-brick property built in 1814 as a Sunday school for a convent
What they did The property had been split into bedsits and had to be converted back into one home. Gutters, windowsills and rotten floors had to be replaced
'Luckily, my friend Max and his mother agreed that it had investment potential and I went along to the auction and put in the winning bid. Undaunted, Helena systematically worked through the property, painting the walls magnolia, installing a basic Ikea kitchen and preparing the house for its first group of students.
All the while, however, she harboured a desire to make it a home for herself and William one day. 'But I knew I was going to have to be patient and wait until I could afford to buy Max's share,' she says.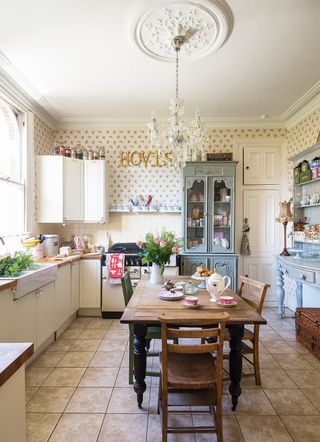 It took four years of student lettings before the couple finally owned the whole place and relocated from their small two-bedroom property nearby. They moved into the villa in June 2010, and at last Helena could transform it into a home.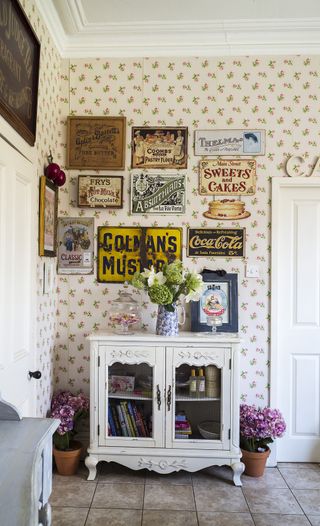 Divided into separate bedsits, the interior was disjointed and Helena felt it needed a harmonious theme to make it whole again. She wanted to keep the décor true to the building's Victorian origins and was intrigued to learn that the property had started life as a Sunday school for a nearby convent.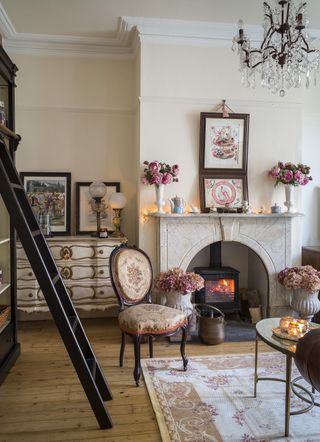 For the kitchen, Helena chose a classic floral print Cath Kidston wallpaper, and is also gradually replacing the basic Ikea units with freestanding furniture. Find out how to design your own vintage kitchen with our helpful guide.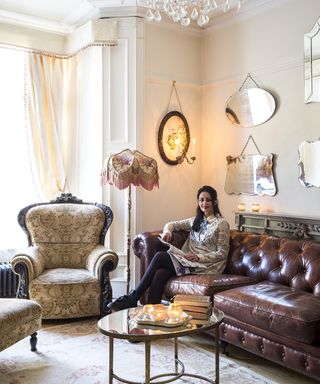 'To look at it now, it's quite difficult to imagine the house ever being used for that purpose,' says Helena. 'But in the cellar there are still the original lines of hooks for the children's coats.'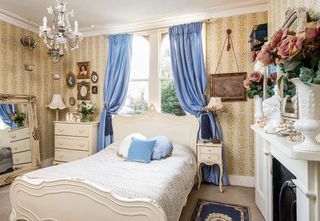 Thankfully, she'd taken care of major structural work before the students moved in, so the roof, gutters and fabric of the building were sound, and damp was no longer an issue. However, as she ripped up the carpets, she discovered that many of the floorboards needed replacing, which was a painstaking task. In the hallway, there was a simple fix: to lay reproduction Victorian-style tiles, which look as if they've always been there.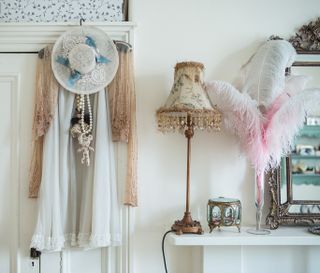 Helena also papered over the student-friendly magnolia walls. For the hall and landing, she found the perfect cameo design, but there was a slight logistical problem: it was only available in the United States. True to form, she wasn't going to give up on the perfect wallpaper, so had it delivered to a friend's address in New York then patiently waited for her next visit and brought the eight rolls home in her luggage.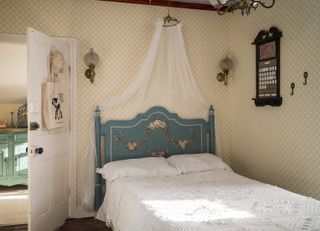 In the evenings, a chandelier casts soft light over the old oak dining table, which Helena found in Leeds' famous Swiss Cottage antiques centre. Chapel chairs give a nod to the home's ecclesiastical past, while a collection of vintage advertising signs makes an interesting display.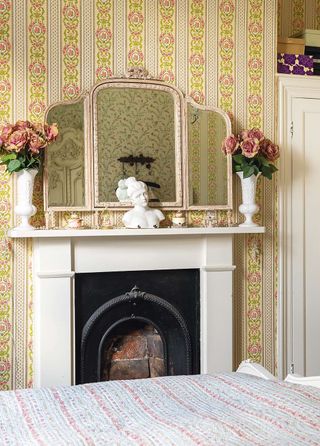 Upstairs, the master bedroom is a calm space, with white walls and a cast-iron bed from Laura Ashley, dressed with cushions collected by Helena over the years. The décor in the spare bedroom was inspired by a trip to Versailles. 'You have to have fun with your house. There are no rules,' she says. The magnificent Louis XVI-style bed was an Ebay find, while antique-print wallpaper and carefully grouped portraits and cameos, together with grand mirrors, give an opulent feel.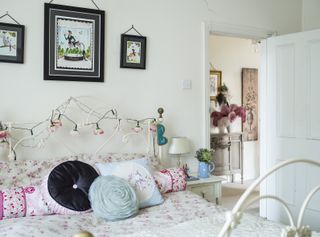 For the bathroom, it took a bit of shopping around before Helena was happy with the look. 'I wanted a darker space,' she explains, 'and I've always preferred brass fittings to chrome, but they are so hard to find. I found the roll-top bath on Ebay and it took me eight months to decide on the tiles, but I'm really pleased with them now.'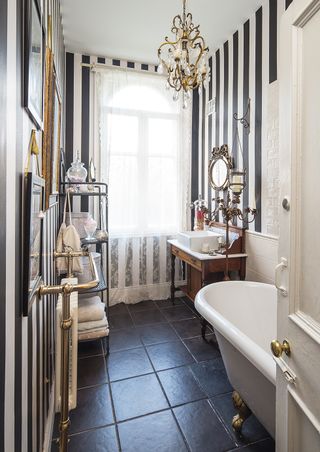 In a small bedroom at the top of the house is one of Helena's treasures: a bedspread that once belonged to her great-grandmother. With a heavenly blue headboard painted with swags and garlands, and a romantic voile coronet, it's a restful sanctuary.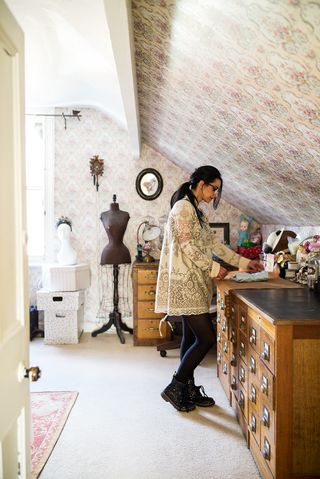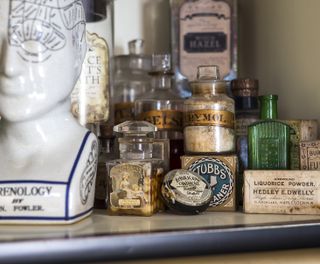 MORE FROM PERIOD LIVING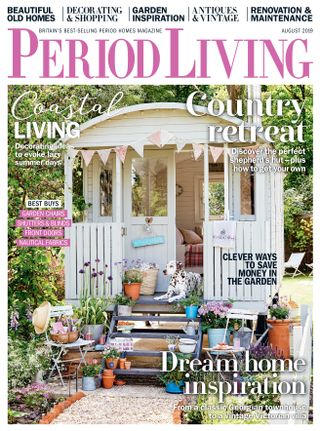 Get the best period home inspiration, ideas and advice straight to your door every month with a subscription to Period Living magazine
'My workroom is just on the other side of the landing and if ever I'm feeling stressed or tired, I come in here for a few minutes' break, and I soon feel better,' she says.
The workroom Helena is referring to is the place where she masterminds her accessories business. With dormer windows overlooking the city, the room makes an inspiring space to work.
In one corner is a Victorian corset mannequin. 'I'd had my eye on it for a while at the Swiss Cottage antiques centre and eventually decided to buy it,' she says. 'The wife of the owner was out at the time and when she came back, she was annoyed that it had sold because it was just for display. But we've since become friends and she always teases me about how I pinched her favourite mannequin!'
Then again, Helena had set her heart on it, just as she had with her home, and, as her friends know, she finds a way of making things happen.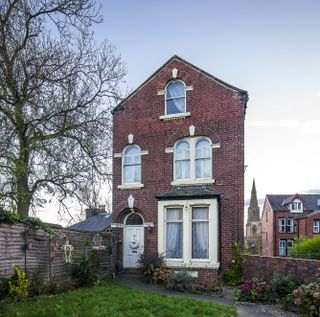 Originally published March 2015, all information was correct at time of publishing
Get more from Period Living: