After years of fruitless searching, Chantal and Rob Powell were starting to wonder if their dream home even existed. 'It was a big ask,' admits artist Chantal. 'Rob had a long-standing desire to buy some land and initiate conservation work on it, reseeding wildflower meadows. Working as an artist I wanted an on-site studio space, so that was another consideration.'
Find out how the couple found their dream home in the heart of Dorset then browse the rest of our real home transformations. Read our guide on renovating a house, too, for more guidance.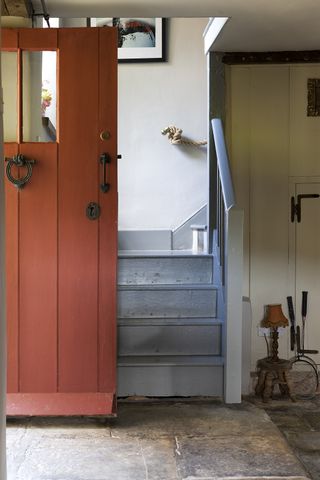 THE STORY
Owners Chantal and Rob Powell live here with their children Oliver, 14, and Bella, 11. Chantal, an artist (chantalpowell.com), runs creative arts project Hogchester Arts, as well as a holiday let. Rob is in involved in agricultural conservation projects and is training as a psychotherapist.
The property The Grade II-listed four-bedroom home in Axminster, Dorset, originally dates from the 12th century, and is set in 75 acres.
What they did Work on the house was largely cosmetic, using materials sympathetic to the existing ancient structures. The shearing barn was converted into an art studio for Chantal.
The couple signed up with lots of agencies. 'But our exacting criteria of 50 to 100 acres of varied landscape with a house that felt like a family home seemed to rule out almost everything,' says Chantal, and although they were looking for a long time they only visited four properties in total.
That all changed when they spotted Hogchester Farm, nestling in rural Dorset. The farm is the 75-acre remnant of a dairy farm with views to the Jurassic Coast.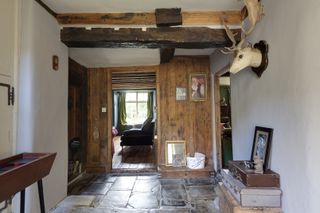 'It was just perfect in every way. There is a long driveway that leads off the road, through the land to the house, and as we drove down it we had our breath taken away by the beautiful landscape,' recalls Chantal. The farmhouse was full of romantic character and had a warmth that lent itself wonderfully to being a family home.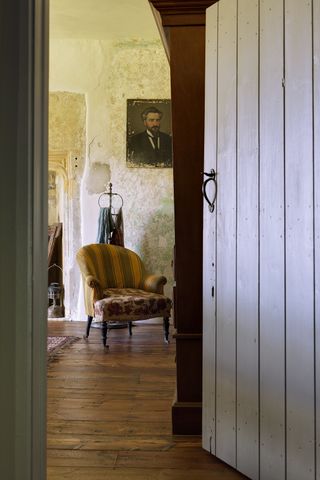 The oldest part, which is split level, consists of a medieval hall on the first floor. This had been divided into bedrooms – one of which has a stunning original Tudor fireplace. At ground level there are inglenook fireplaces, beamed ceilings and flagged floors.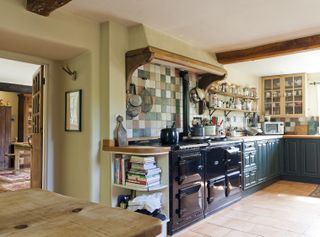 As its new keepers, Chantal and Rob could now fulfil their dream of maximising the conservation potential of the site alongside founding a contemporary arts project. The house was structurally sound, so they were able to settle in right away and start turning an old shearing barn into Chantal's studio.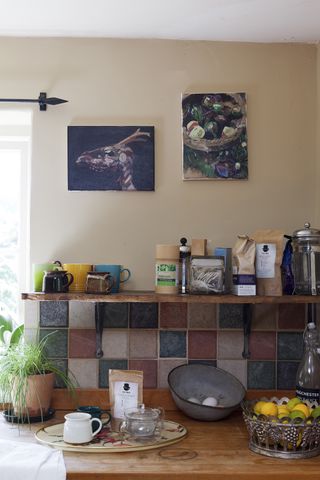 The work required planning permission and building regulations approval, and it was listed, so replacing like for like was essential, as well as retaining the original appearance as much as possible.
If you think your renovation might need planning permission check out our beginner's guide.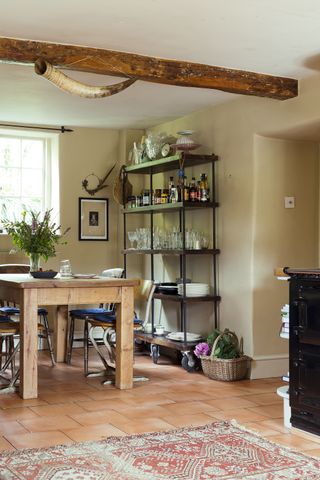 The timeworn timbers are a strong feature in the living room, made all the more striking by the ruby red and sapphire blue sofas and cushions. The vintage red sofa, bought on Ebay, has been reupholstered, and the blue one is from Loaf. The walls painted in Hague Blue by Farrow & Ball and are the perfect foil to the rustic tones of the old woodwork.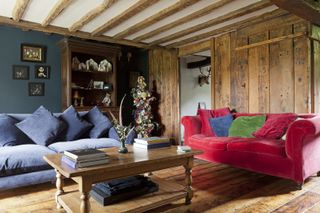 The glass doors had to have wooden doors built that could be closed in front to replicate the original barn doors. 'It had quite a lean to it and was in imminent danger of collapsing completely so that was a priority to fix.' says Chantal.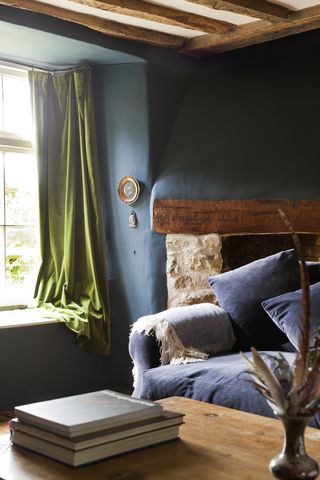 'But I loved the open, high-ceilinged space inside and knew that fitting over-sized glass doors in the sides would keep the connection to the stunning nature outdoors,' she explains.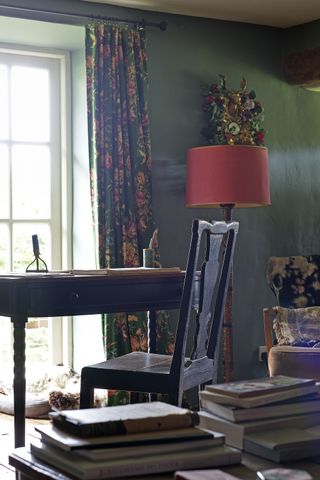 Glass was also fitted to the existing windows, which were originally open so that the dust and wool fibres from the sheep could escape. Next, they swapped the old light bulbs for a chandelier made from collected antlers. The end result is an organic space full of light and texture.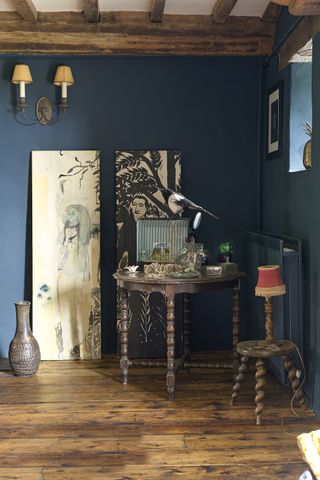 'The house itself was in good order when we bought it, so it was more about decorating than renovating. We updated the bathrooms and made small repairs throughout,' explains Chantal.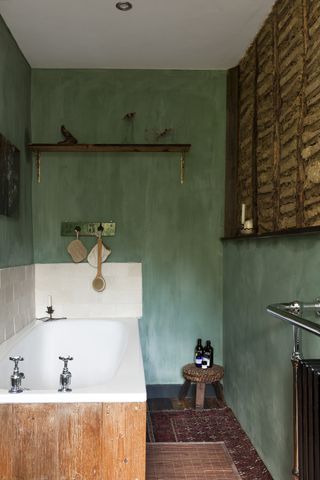 Looking for more bathroom inspiration? Take a look at our 19 traditional bathroom design ideas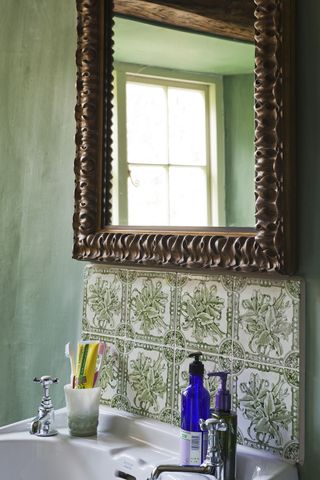 The largest job Rob and Chantal tackled was the flooring. There were beautiful original flagstones in the hallways but most rooms were carpeted. They lifted the carpets and found some of the original boards, but in many rooms the floors were in bad repair and had to be replaced. 'We found some antique original boards with great patina to them and they now look like they are part of the original house,' says Chantal.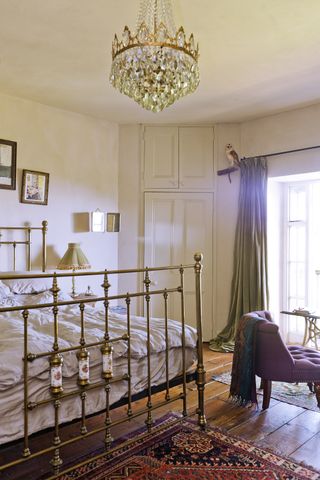 But it didn't all go to plan. When they removed the old wallpaper in the bathroom, the plaster underneath started coming away in chunks. 'It turns out we had woodworm living in the wooden frame behind the plaster so it all had to come off so the wood could be treated,' says Chantal.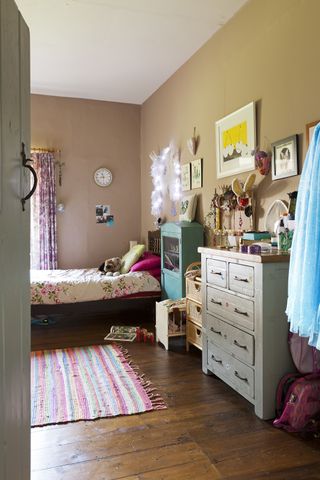 MORE FROM PERIOD LIVING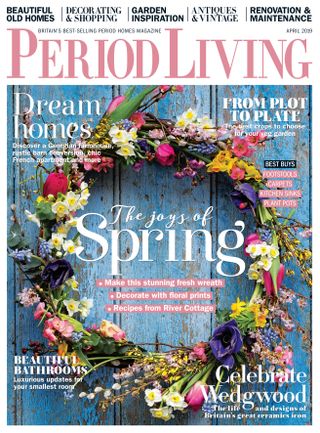 Get the best period home inspiration, ideas and advice straight to your door every month with a subscription to Period Living magazine
In the master bedroom they removed the wallpaper and uncovered areas of old plaster. 'It had such a stunning texture that we decided to leave it exposed. Using a modern lime paint alongside these areas has left us with walls that look as if they've been like that for hundreds of years,' says Chantal.
Chantal's eclectic furnishing style marries her growing collection of curios and this ancient setting. 'I love collecting beautiful aged items and interesting artefacts, and curating a room around them.
'This house and the land around it allows mental escape and fantasy. In fact, Hogchester is now a registered charity that exists to maximise the conservation potential of the site and to provide unique ways for people to enjoy, get close, and be inspired creatively by nature.
Most importantly, though, Hogchester is our home, the one we thought we'd never find. And for us, that makes it unique.'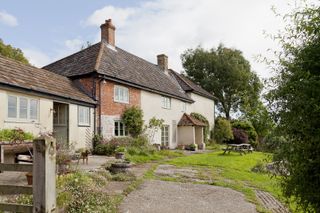 MORE FROM PERIOD LIVING: