Are you taking on the renovation of a Victorian property? Take inspiration from Tina Fewster's project: she transformed a unloved Victorian shell into a cosy family home.
Renovating this handsome Victorian villa was a labour of love in more ways than one for Tina Fewster. She attributes the early arrival of her second child to the shock of receiving a high estimate for wet rot treatment. 'It was 1992, I was hugely pregnant and about to buy a house in need of considerable work. But the "worst case scenario" from the timber preservation expert was a step too far,' she recalls. 'My blood pressure went through the roof, the doctor sent me to hospital and I gave birth that night – two weeks early!'
Find out how she got on and browse the rest of our real home transformations. Read our guide on renovating a house, too, for more guidance.
THE STORY
Owner Tina Fewster, a community centre manager, lives here with her black Labradors Betty and Hattie.
Property A handsome four-bedroom stone villa, built in 1895 in Strathpeffer in the Scottish Highlands.
What they did Tina and her late husband John had to treat the house for wet rot, then rewire and repoint it. The kitchen was enlarged by removing small pantries and a hidden alcove was revealed to accommodate an Aga. All the fireplaces were replaced and walls replastered.
Luckily son Jay was none the worse and with his older brother Lewis, enjoyed growing up in the pretty village of Strathpeffer, just north of Inverness. The village flourished during the latter part of the 19th century, when wealthy Victorians flocked from London believing its natural springs would cure their ills. Each house in the village's Conservation Area has its own Victorian grandeur and eccentricity.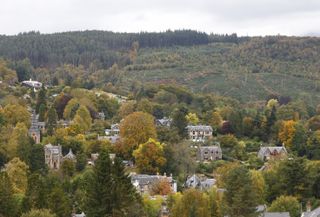 'We were living in another house in the village but had always coveted this one, which was empty for a couple of years before it finally came on the market,' explains Tina. 'It was in a sad state, poorly maintained, cold and very damp, but we'd wanted the house for so long, and could see it would make a wonderful home in the village we loved.'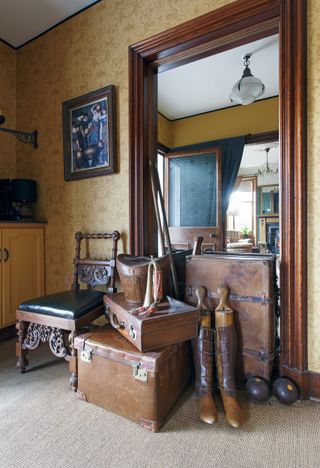 The house needed rewiring, replumbing and repointing; in fact, everything needed attention apart from the roof. 'We had a five-year plan,' says Tina, 'but first we had to concentrate on the emergency works to make it habitable and safe.'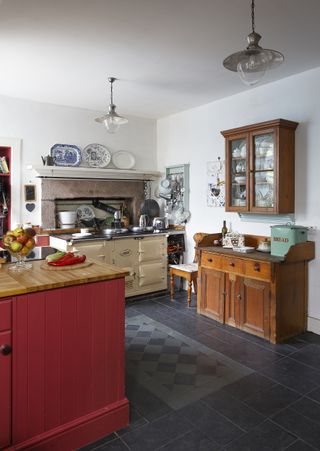 Once the contractors had completed the main works, the couple were able to put their DIY skills to the test. 'I wanted to refurbish it sympathetically and in keeping with its history, but I didn't want it to look like a museum or too fussy and it had to suit the needs of a family.' As the plan progressed the six-bedroom house became a family home with four bedrooms, three bathrooms, a study, sitting room, living-dining room and new kitchen.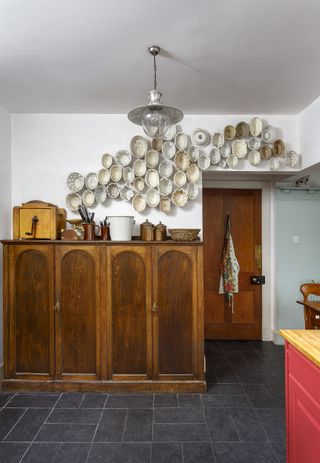 Tina and John were keen to create warmth in the kitchen at the back of the house. 'An Aga was the obvious answer, but thousands of pounds beyond our budget so we didn't consider it seriously. Then a year or so later, I was walking the dogs through the village and there it was, a four-oven Aga lying out in the rain. I couldn't believe my luck.' Tina paid £100 for it, and a further £700 to get it refurbished and converted from solid fuel to oil.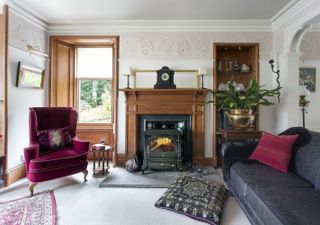 The original chimney surround was another lucky find, discovered behind old boarding – a massive space that would originally have accommodated a kitchen range. Once the bitumen paint had been ground off the pink sandstone, it became the perfect setting for Tina's 1930s Aga bargain, now the warm heart of the house.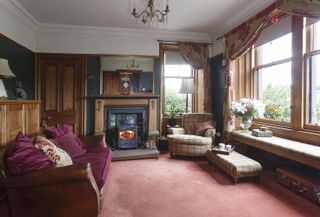 Next, some practical kitchen flooring. 'The existing joists were sound but the floorboards were past redemption. We chose Spanish black and Cumbrian green slate because we wanted a natural material with more 'heft' than wood. We laid plywood and then a flexible screed on top,' says Tina. 'Initially the slate had a riven surface but it has smoothed off under years of family traffic.'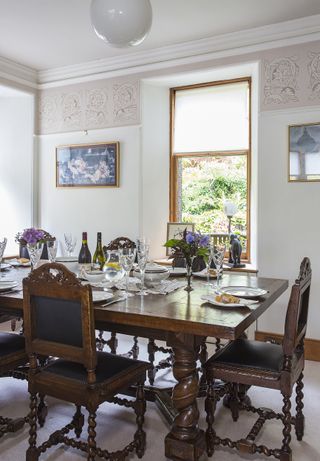 Finally the couple tackled the fireplaces. 'They all had awful 1940s beige tiles,' says Tina. 'John didn't feel they were a priority but when he was out one day I asked a builder to take a sledgehammer to the one in the living room. Before John came back I drew a fire on a piece of paper and taped it over the hole. His mother took pity on us and gave us money to buy the restored cast-iron grate and pitch pine surround to fill the gap.'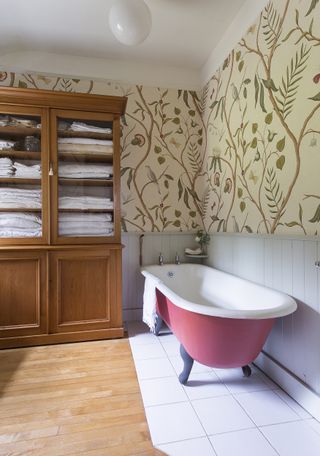 MORE FROM PERIOD LIVING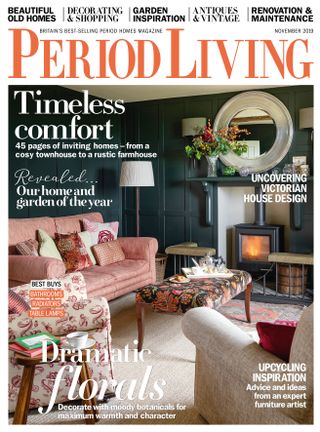 Get the best period home inspiration, ideas and advice straight to your door every month with a subscription to Period Living magazine
Weekly visits to nearby Frasers Auction Saleroom in Dingwall and trips to junk shops all over the country have helped Tina to transform the villa from an unloved shell to a stunning Highland home.
Its walls have seen her two boys grow up and become independent, though sadly John passed away in 2011. However, the house continues to resonate with John's humour and confidence, and to be a venue for the parties he always loved.
Between Tina's work and being 'managed' by her two dogs, Betty and Hattie, she doesn't have a lot of time for further projects. However, she recently fell for some Sanderson wallpaper, which led to a makeover for the en-suite bathroom.
'Working on this house has been, and still is, huge fun for me,' says Tina. 'Every feature has a memory and an experience behind it and I think that's what we wanted to create – a continuing story as much as a lovely place to live.'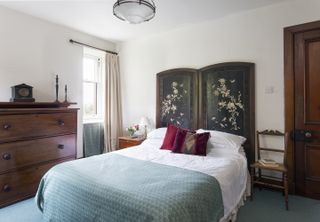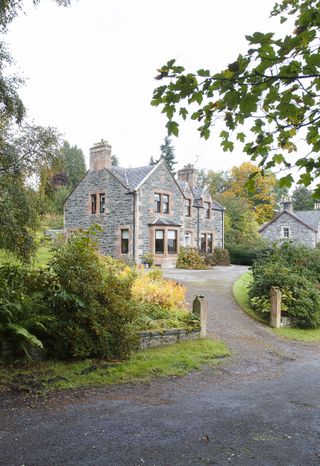 More on renovating Victorian homes