'Love at first sight' isn't exactly the phrase Alex and her husband, J, would use to describe their initial reaction to this 1970s house in a village near Leeds. Having sold their previous home, and with Alex pregnant with their second child, they were under pressure to find a new place to live – quickly. 'We ultimately bought this house for the location,' says Alex. 'The village has a good school and we have a really big garden – but really, the area we live in was the nicest thing about the place. Sometimes I'm not sure why we took it on!'
Considering the state of the property when the couple bought it, it's not surprising that it felt a little overwhelming. The house needed a complete renovation. 'The last owner was the only person ever to have lived here, and you could tell,' says Alex. 'There wasn't even central heating – just warm air heating, no radiators. That's how dated it was!'
Profile
The owners Alex Watson-Usher (@alexandralouisewu), who works in restructuring and insolvency, her husband, J, who works in NHS management, and their children Nolita, six, and Delphi, four
The property A four-bed 1970s detached house near Leeds
Project cost £80,000
By Alex's own admission, she and J set about 'messing it up' pretty quickly. 'We knocked out all of the internal walls downstairs, leaving it unlivable,' she says. 'Our renovation story is more like an example of what not to do!' The entire ground floor was opened up into one big space with the help of steel beams. 'The intention was always to extend out the back, so we did the initial renovation work with that plan in mind,' Alex adds. 'In fact, we got planning permission for the extension this January, so we're pretty much ready to go now.'
The house feels considered and pulled-together, but Alex isn't one to mood board. 'I don't use Pinterest and I'm not a planner,' she says. 'I've always just had a strong idea of what I like. I've started using Instagram more recently and have found inspiration for our extension there, but I largely go by what I love.' For now, until the extension gets underway, she says her favourite place is the sofa spot by the doors. 'The girls play with their toys and games here,' she says,' and I love sitting here in the morning, looking out to the garden.'
1. Make your kitchen design flexible (so you don't have to do it all again later on)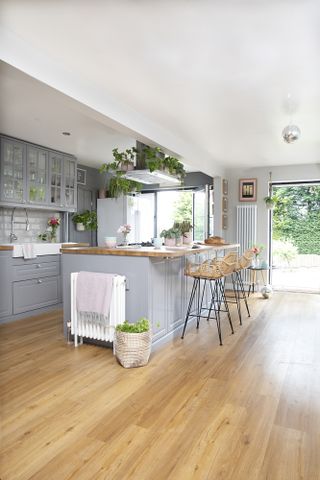 If, like Alex, you know you'll be extending later on, it doesn't mean you can't create the kitchen of your dreams right now: you'll just need to make sure it works for the present and the future. Alex's kitchen is a simple Ikea job: her husband J planned it using the online planner, ordered in store and fitted it himself. It's been designed with the future extension in mind. 'The island is huge because it ties into those plans, so it will become more proportionate,' says Alex. 'When we have friends over, they crowd around here – it's very sociable.'
Can't afford to add a kitchen island or not sure how it's going to fit with your future plans? Check out our portable kitchen island ideas for something even more flexible. In addition, make sure you choose a colour that'll go with a change in scheme later on, or opt for a kitchen you can repaint. 'We were under a lot of time pressure when we chose the kitchen, and in hindsight I might not have picked grey,' says Alex. 'I did think it would be timeless, though.'
2. Create budget-friendly Crittall-style doors with electrical tape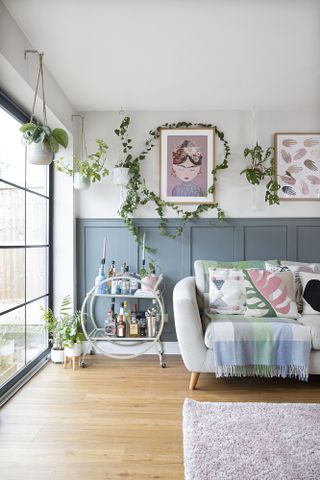 Opposite Alex's kitchen, a sofa set next to glazed doors provides a nice spot for a morning coffee. 'The doors are actually the original white uPVC doors,' says Alex. 'Eventually the extension will go here, so we didn't want to replace them. Instead, we painted them black with Rust-Oleum paint and used electrical tape to create a Crittall-style look.' It's a simple update that's incredibly effective. 'The difference it made was amazing.'
To get the look, first paint the frame of your door using a specialist uPVC paint. Then, use a tape measure and a Sharpie to mark the sections you want to tape. Hold the tape taut while you apply it, and then warm the glue up with a hairdryer and smooth out any air bubbles.
3. Use panelling to add character to a featureless home (we're looking at you, new builds)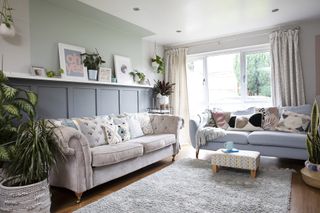 On the other side of the room, the living area is decorated with the panelling that's characteristic of Alex's home. 'There are no period features in this house, so the panelling adds character,' she says. 'We did it ourselves with MDF and No More Nails. It makes every room feel less boxy.'
If you're handy or fancy giving DIY wall panelling a go, it's a great project to help you get started and build skill.
4. Improve your home's health and inject some mood-boosting greenery with houseplants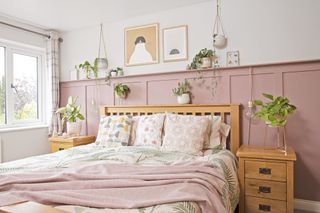 Anyone who has greenery in their home will tell you all about the benefits of houseplants: they help purify the air, increase productivity and even aid sleep. 'Everyone always asks, "Have you really got that many plants?"' says Alex. 'I have! I hang them to get more in.'
If you want to add more houseplants to your home, take a leaf out of Alex's book and think outside the box to make space. If you don't have many surfaces to place them on, try one of our DIY plant stands – it's a great weekend project. Additionally, put hooks in your ceiling or walls and use macrame hangers for added texture.
5. Don't make this key mistake with your bathroom flooring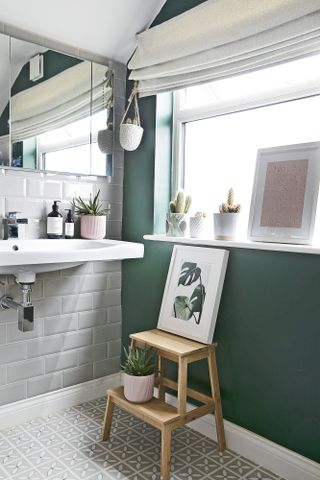 'The room above the garage – now our family bathroom – was dilapidated: bare brick walls and filthy,' says Alex. 'When the owner gave us the tour, he actually didn't want to show it to us initially because it was where he stored his collection of guns!' Transforming it into a family bathroom was one of the trickier tasks of the renovation. 'The garage has an apex roof, so we had to build stud walls to create a more sensible space,' says Alex. 'It was difficult to manage – we had to get the shower in the highest point of the room, and the bath is tucked under the eaves.'
The couple had a bit of a disaster with the flooring, too. 'It's luxury vinyl tile, and we had it fitted on the hottest day of the year, so when the temperature returned to normal, it shrank,' says Alex. 'If you took up the flooring there now, you'd find the remains of our first try underneath.' The moral of the story? Never attempt a new floor fitting on the hottest day of the year.
6. Use wall decals to create an on-trend scalloped effect without the faff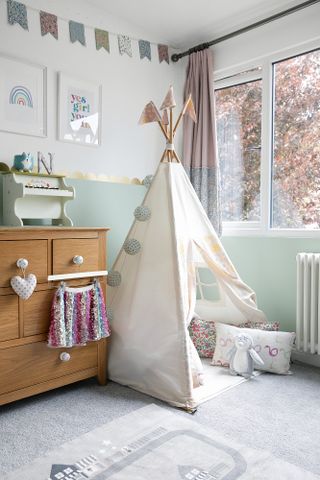 Spotted the scalloped trend and fancy having a go yourself? You could painstakingly paint it on by hand – or take a leaf out of Alex's book and take a savvy shortcut. 'Everyone was doing half-painted walls and scalloping,' she says. 'These are gold decals cut in half – I think they're really effective.'
To recreate the look, simply paint your wall up to your desired height (dado height is a good idea), then buy circle or half-circle decals, cut the former in half, and place along the top of the painted section, using a measure to make sure they're aligned.
7. Include a daybed in your spare room for bedtime reads and sleepover fun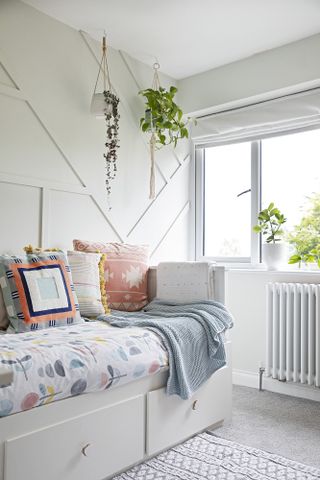 The daybed in the spare room pulls out into a double bed when the family has guests. 'Sometimes we'll read to the girls in here,' Alex says. 'The panelling was a lockdown project – when I told J I wanted to do it, he was like, "Oh, for God's sake!"'
Multifunctional furniture like a daybed or sofa bed is perfect for a small spare room where you don't want to take up valuable space with a full-sized bed. Opt for furniture that can fold away when not in use, or try investing in pieces that come with built-in storage – like a side table or ottoman that hides away spare throws.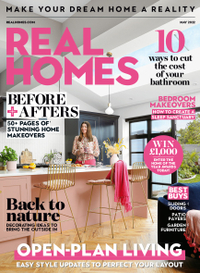 Subscribe to Real Homes magazine
Want even more great ideas for your home from the expert team at Real Homes magazine? Subscribe to Real Homes magazine and get great content delivered straight to your door. From inspiring completed projects to the latest decorating trends and expert advice, you'll find everything you need to create your dream home inside each issue.