Back and batter than ever, The Great British Bake Off has finally returned to our screens. The nation watches in awe each week to guess who will eventually be crowned 2018's winner... but why not have a little fun of your own at home? Invite your friends round and let the star baker be revealed. Soggy bottoms not welcome.
From kitchen scales to piping bags, here's everything your kitchen needs to recreate your very own Bake Off at home. On your marks, get set… BAKE!
1. Bakers gonna bake personalised apron
First thing's first, an apron is a necessity for ensuring minimal clothes get ruined. And it's not only for those who are messy in the kitchen, as who doesn't love a personalised item? Print your name, signature slices and level of experience if you really want to sink your teeth in.
2. Drop D600A kitchen scale
It's a well known fact that one of the main pieces of equipment you need before you get your bake on is a pair of kitchen scales. These high-tech scales connect via bluetooth to your phone allowing you not only to weigh your food, but to also view hundreds of recipes at the touch of a button. Almost out of sugar? Drop Scale has a resizing feature so that (God forbid), if you do run out of any ingredients, it'll balance all of the other ingredient amounts out too. You can even swap ingredients such as butter for olive oil and it'll give you the measurements of how much you should use.
Discover more kitchen scales here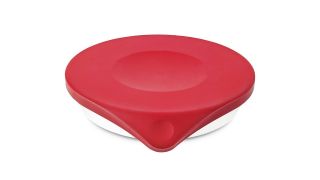 3. Mason Cash ceramic mixing bowl
Pretty much a given, there's nothing a baker needs more than a bowl to mix their ingredients in. Perfectly high walled, this ceramic bowl is just the one for those who tend to spill flour over the edge, and is renowned for lasting and lasting. It comes in two sizes: 4.3ltrs and 5.5ltrs.
4. KitchenWarePlus recipe book holder
Fitting both a tablet and a recipe book, this handy bamboo stand not only ensures you don't lose your page, but its protective splash back guard makes sure cake mix doesn't cover the entire kitchen. Although not bad looking, for those who want to stash it once they've finished baking, it folds away easy as pie.
5. Get A Grip disposable piping bags
Decorating your creation is just as important as baking it, and these Lakeland piping bags aren't only disposable, but unlike other piping bags, they've got a lot of grip. You can cut them to fit if needed, and they're strong enough to hold a lot of icing. As perfect for beginners as they are for experts, just snip the end off and get piping.
6. Re-usable cake tester
Putting a fork in your cake just doesn't cut it any more, so grab yourself a cake tester and never under-bake or ruin a cake again. This handy little gem from Lakeland isn't only re-useable, it actually turns a different colour when your cake is ready. If that isn't precision, then we don't know what is…
7. Kitchen Craft non-stick stackable bakeware set
Beginner, expert or just a hobby baker, you can go a long way with a good set of pans. A lack of space is one thing to put to the back of your mind as this Kitchen Craft seven-piece set easily stacks together into the largest tin, and includes every piece you'll need. Non-stick is one thing we love, and for a bonus, they're BPA free.
8. Kitchen conversions wall art
For those who don't know kitchen conversions (guilty), don't worry about getting flour all over your phone screen after Googling what you need to know, as this handy print helps you work it out by yourself. Hang it in your kitchen and you'll become a master in no time.
9. Sage The Bakery Boss stand mixer
Who says your arms have to be tired of mixing after you've made a cake? Introducing the Bakery Boss, your newest best friend. A serious machine for a serious baker with a whopping capacity of 4.7ltrs and a range of attachments, you can't really go wrong. Making it easy to create anything from thick dough to delicate and fluffy meringues, it also has a timer to allow you to become the ultimate multi-tasker.
Find more mixers and food processors here
10. Canton cake stand
What better way to show off your marvellous creation than with a glass cake stand? This one from Wayfair does the job and plenty more when it comes to keeping your showstopper fresh, and in terms of ease-of cleaning, it's dishwasher safe.
Once the cake has been eaten, you can even turn the lid the other side up and use it as a cocktail glass. You're welcome!
Main photo courtesy of Channel 4
READ MORE: