Owning one of the best steam ovens will give you a healthy alternative to cook food in its own juices to retain nutrients and flavour, which is essential given our current lockdown situ. Cooking with steam has been an emerging kitchen appliance trend over the recent years, which has soared in popularity as more brands jump on the bandwagon.
This relatively new piece of kit now comes with all manner of smart tech, helpful capabilities and varying energy efficiencies to boot. And is one which will make a great addition to the kitchen for everyone; from health buffs to family cooks, too. So whether you're looking for a basic model or something a little smarter, check out our top picks below.
Looking for an oven which is freestanding, or prefer to cook with gas? No worries: head over to our best ovens guide for more best buys.
What is the best steam oven?
Why you can trust Real Homes Our expert reviewers spend hours testing and comparing products and services so you can choose the best for you. Find out more about how we test.
If you want the best steam oven (in our opinion), then we wouldn't hesitate to buy the Fisher & Paykel OS60NDB1 Built-In Combination Steam Oven. It has nine functions and is easy to use, plus easy to clean, making it a great choice for a busy household.
Want to keep looking? Keep scrolling to see more of our top picks from the likes of AEG, Miele and Neff.
The best steam ovens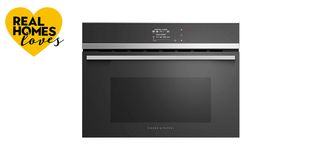 If you're looking for the best built-in steam oven then this one should fit the bill. This option from Fisher & Paykel is compact, easy to use, easy to clean AND easy to install.
Buy the Fisher & Paykel OS60NDB1 Built-In Combination Steam Oven
Nine functions
With nine functions, you can choose from a variety of pre-set temperatures including Roast, Pastry Bake and Fan grill, introducing a sense of ease into the kitchen.
What's more, it's easy to navigate through each of these functions when using the intuitive display. This shows the time, plus useful information about functions along with a refill alert.
Suitably sized
This compact oven can be placed pretty much anywhere in your kitchen. It's just 60cm wide so it can sit alongside companion products at a convenient height, so you create a cooking space which works for you.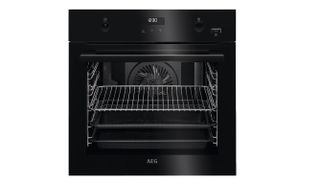 A close runner up, this model from AEG is the perfect choice for you if you are after a single oven that can handle anything.
Buy the AEG SteamBake BPE556220B Built-In Steam Oven
Perfect results
In addition to the standard oven functions, you can use the PlusSteam functionality to add steam at the beginning of the baking process to keep food , like dough, moist on the inside and create a crispy crust on the outside.
Gadget lovers like the food sensor that measures food's core temperature so you can cook to taste ( mega handy for the Sunday roast).
And the touch buttons on the clean glass display will give you yet more control over your cooking. A timer can even be activated by entering the start / stop through the LCD screen.
Effortless cleaning
If there's any spillage or bubbling-over, the Pyrolytic cleaning function will convert an grease, dirt or food residue into ash. This can happen with just one touch of a button, so you needn't dread cleaning the oven anymore.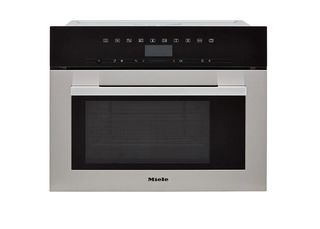 This Miele oven is a steam oven and microwave combi which makes it ideal for busy households who enjoy food cooked to perfection, quickly.
Buy the Miele DGM 7340 Built-In Steam Oven with Microwave
DualSteam
This is a feature unique to Miele which will achieve all-round, even results when you cook a multitude of foods. With quick heat-up times and speedy cooking duration combined with an even steam distribution, foods can be cooked they way you like them. You can even cook various food types at the same time whilst retaining all the distinctive flavours and aromas.
After the oven has finished cooking, another exclusive feature, will automatically keep the food warm for up to 15 minutes until you're ready to serve up.
Microwave power
And a new feature for the German brand, Quick&Gentle, enables infinite adjustment of the microwave power level from 300 W to 1000 W. This will save time during defrosting and cooking, and ensures that food is cooked to suit your requirements.
Networking
This combi microwave and oven is smart, too. You can control it remotely using the Miele&home app. This is a networking solution which brings together MobileControl, SuperVision, recipes and WiFiConn@ct which offers you the freedom to operate all your smart Miele appliances when you're not even at home.
View a selection of steam ovens at AO.com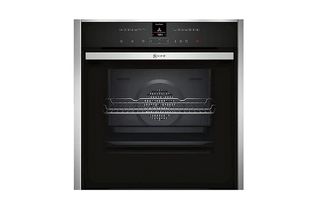 This built-in oven comes stacked with useful functions and functionalities which will cook your foods to perfection, and it even comes with pyrolytic cleaning programmes so it will clean up after itself.
Buy the Neff B57VR22N0B Built-In Steam Oven
Slide&Hide door

A design unique to Neff, the door on this oven provides unrestricted access to the oven interior which eliminates the risk of burning yourself as you go to take food in or out of the oven. There is also the rotating handle which rotates smoothly for easy handling, and neatly tucks away beneath the oven so it doesn't get in the way.
CircoTherm

This smart hot-air solution provides simultaneous baking and roasting on up to four levels, in one go. This high-speed, targeted airflow means that dishes retain their flavour, yet remain distinctive in flavour.
VarioSteam

This model is a fine example of an integrated oven which uses steam to keep foods crisp, yet tender. Simply hit a button and the oven will quickly and evenly release steam. Or, use one of the automatic programmes for convenience.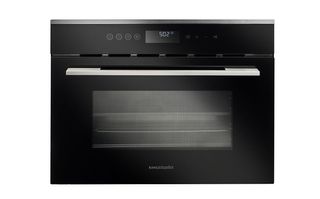 Utilising the latest in premium steam tech, this oven from Rangemaster means that you can have your 'range', built in, and cooking your food to perfection.
Buy the Rangemaster RMB45SCBL/SS Built In Compact Steam Oven
Steam power
Tailoring the steam delivery is a forced steam system which will provide the perfect results on any dish. And, an entire meal can be made in a single cooking process with no taste transfer across the three shelves.
Useful functions
It's style with substance on this model. The Rangemaster RMB45SCBL comes with a descaling programme so it's easy to clean after use. There's also an easy-to-use control panel where you can select from a choice of eight programmes. Better still, a water tank indicator is on hand to automatically let you know when if needs a refill to keep steaming.

What are the benefits of a steam oven?
Flavoursome, healthy food
'Once a niche product, steam is now a must-have "accessory" for cooking delicious food that retains flavours brilliantly,' says Martin Wilson, product manager of built-in hot appliances at Electrolux. 'Using steam is a healthy way to cook, too, since fat doesn't have to be added to keep the food moist and because steam's lower temperature helps preserve nutrients.'
Food loses fewer vitamins and nutrients, too, compared to any other method of cooking, and holds just the right amount of moisture without becoming saturated.
Precise cooking techniques
Steam can also help you control surface textures. By alternating moist and dry air, you can precisely control browning to get the perfect colour and crust on the outside, whilst the natural vitamins, minerals and flavours remain intact. Breads and gratins, for instance, stay moist and fluffy on the inside, while joints of meat stay crispy on the outside but succulent in the middle. Vegetables retain more colour, better flavour and a much better texture, too.
Fast food
Cooking with steam is significantly faster than traditional methods of baking or roasting.
Moist, reheated food
Steam ovens will reheat food without drying it out.
Easy cleaning
Cleaning the oven not the top of your list of favourite jobs? Steam cookers and ovens are easier to clean than conventional ovens. You simply need to wipe away condensation after cooking.
What are the downsides of steam ovens?
Poor results with browning or crisping
Steam ovens are not good at browning or crisping, food, so your roast chicken won't get that golden crispy skin, and home made bread will be pale and soft. The solution? Opting for a combination steam oven.
The price
Combination steam ovens in particular are expensive – although budget options are available (see below).
What is a combination steam oven?
A combination steam oven cooks with both steam and conventional heat, so you can combine all the benefits of both cooking methods. AEG's SteamBake BPS352020M electric steam oven from Curry's is an affordable option.
What to consider when buying a steam oven
Size: both steam ovens and combination steam ovens range in capacity from around 20ltrs to 50ltrs, the latter being a good choice for large families or cooks who love to entertain.
The space available: particularly relevant if your steam oven is an addition to your conventional oven. Usually, they are around W60cm.
The temperature range: steam ovens generally have a temperature range of 100°C to 300°C.
Topping up the oven: cold, fresh drinking water will need to be added before you use the oven; a water tank indicator is a handy feature to tell you when to refill.
The glazing: most have double-glazed doors; others have triple or even quadruple glazing. The better the glazing, the more heat stays inside the oven, the more efficient the appliance. It will also keep the oven door cool – a useful safety feature if you have small children.
Buying a steam oven on a budget
If your budget is low or you rent your home but still want the benefits of a steam oven, consider a countertop steam oven – choosing a multi-functional model makes sense, particularly if you have a small kitchen design to work with. Panasonic's NN-CS894SBPQ combination steam microwave oven from John Lewis, for example, although pricey, is a family-sized microwave with convection, grill and steam functions, and is neat enough to sit on the worktop.
Making the most of your steam oven
For those who want to take full advantage of their steam oven, Hotpoint's steam built-in single oven with added steam function has a generous 71-litre capacity, the perfect size to cook a family roast. The three dedicated steam programmes offer you a helping hand, making cooking with steam effortless and effective. Its meat, fish and bread programmes ensure that everything is cooked to perfection.
Multi-flow heat distribution is a handy feature when it comes to getting even cooking results, and its cooking functions – conventional, convection bake and eco forced air – can all be used to your advantage to produce perfectly cooked dinners.
How do steam ovens work?
Steam ovens work by boiling water in an in-built reservoir to produce steam, which is then injected into the oven cavity to circulate around your food, cooking it without the need for fats or oils. As well as the usual fish, rice and vegetables, you may be surprised to hear that steam can also be used to prepare meat, pasta, bread and even puddings.
Most steam ovens come as compact appliances that can slot in nicely into a bank of built-in appliances with single or double oven, coffee machine and warming drawer and you can always up your game with a combination steam oven, which uses both steam and a fan for quicker cooking times and a little browning.
More on ovens...