Snagging a Target dresser should be a priority if you're setting into a new bedroom, in my opinion. Where better to start than one of our favorite stores, currently home to some 1,062 dressers (and counting)? And yes, we know what you're thinking: that's a lot — like *A LOT* — of product listings to wade through. Well, the good news is that we've got it covered.
Student, young professional, or first-time buyer — whatever stage you're at, life as a late-teen or twenty-something in the 21st century is far from easy. As such, your self-care and home comforts can suffer. But, dear reader, taking decor seriously counts. There's nothing worse than coming home from back-to-back lectures or meetings only to find clothes and rags strewn across your bedroom. Order and harmony are key.
Sure, you're young, but you're an adult, which means it's time to do big-person stuff. Life admin? Check. Closet organizers? Double-check. A neatly ordered Target dresser that you can dip in and out of to pick your daily fits? Absolutely. Here, you want to spend wisely, especially as it's a relatively large sum of money. Follow our lead for the best small dressers available to buy online.
12 of the best Target dressers to clutter-bust your bedroom
Why you can trust Real Homes Our expert reviewers spend hours testing and comparing products and services so you can choose the best for you. Find out more about how we test.
Look, you're going to need one of the small bedroom storage ideas at some point, and it's only right you nail your pick the first time around. It's better to invest wisely on the best Target dresser you can afford than impulse buy your way into a nightmare of broken drawers.
As your resident interior buff, I've come to the rescue, highlighting the pieces that are both within budget and actually well made. If I could wind back the clock to that very moment I pulled the trigger on one poorly designed dresser — a fatal mistake that haunts me to this day — I would.
Now, with a vested obsession for home design, I'm doing my best to save the likes of you from making those same small bedroom storage mistakes.
Black Target dressers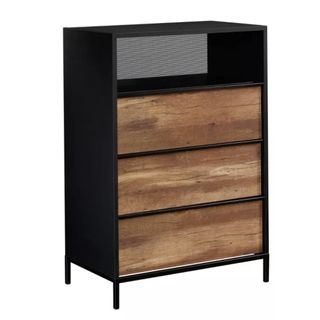 Vintage vibes
1. Sauder Boulevard Cafe Chest
Price: $244.99
Color(s): Black and brown
Material: MDF
Size (in): W29.13 x H42.68 x D17.48
Storage: 3 drawers
These days, second-hand can cost more than new, especially when it's an iconic design. Fortunately, we've found signature styles in brand-spanking-new condition at a price that won't break the bank. Take this little number, a roomy furnishing in an impossibly chic shade of oak. How could you not? IMO, it wins the (unofficial) award for best bedroom storage furniture in this guide.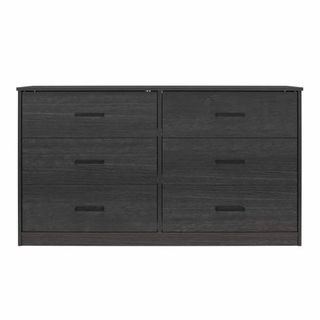 Quiet luxury
2. Room & Joy Weslar Drawer Dresser
Price: $249.99
Color(s): Black
Material: Particleboard
Size (in): W53.54 x H29.7Hx D15.6
Storage: 6 drawers
Sometimes, less is more. This laminated design is no exception to the rule, providing major space for your fashion collection and room to display your favorite prints and family photos on a spacious surface. Inside each drawer, a linen finish prevents unwanted snagging on your precious knitwear. Smart and subtle! Indeed, as a small bedroom idea, this doesn't shout about its looks, rather it whispers elegance.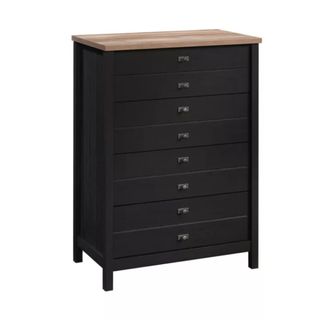 Investment piece
3. Cottage Road Drawer Chest
Price: $349.99
Color(s): Black
Material: MDF
Size (in): W32.44 x H44.92 x D19.29
Storage: 4 drawers
If you're after something to see you through plenty of use, this specially tested design is a must. Offering roomy drawer space for T-shirts, sweaters, and underwear, it's also an understated statement (it's a thing), serving rich looks on what is still a relatively low budget. Granted, it's our most expensive choice, but that will pay for itself in quality.
Wooden Target dressers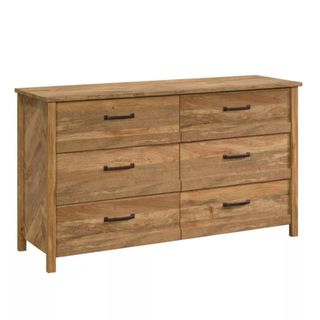 Go large
4. Cannery Bridge Drawer Dresser
Price: $129.99
Color(s): Brown and back
Material: MDF
Size (in): W55 x H25 x D16
Storage: 6 drawers
Bigger isn't always better, but in this case, it absolutely is. Offering unrivaled drawer space, this spacious piece is as versatile as it is handsome. With smooth metal runners, it's a piece of cake to transport and acts like the perfect spot to store clothes and trinkets on top. Guess where my lamp is going?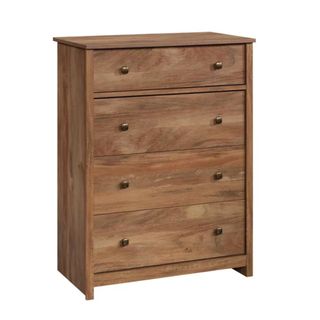 Strong
5. River Ranch Drawer Chest
Price: $299.99
Color(s): Natural
Material: MDF
Size (in): W31.73 x H42.13 x D17.87
Storage: 4 drawers
When it comes to sturdiness — this is up there. Having been trialed for function, it's a trusty piece that's both an absolute breeze to set up and exceptionally chic. Exquisite woodgrain surfaces and antique-style hardware all come together to make one simple but delightful dresser.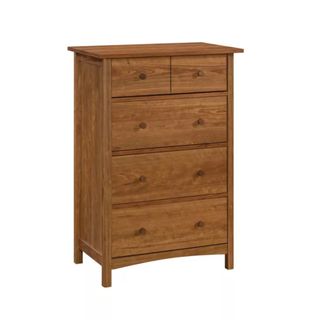 Looks expensive
6. Union Plain Drawer Chest
Price: $286.99
Color(s): Ginger
Material: MDF
Size (in): W29.92 x H43.23 x D18.5
Storage: 4 drawers
That rusty hue of wood is *everything* your room had been crying out for. Immediately imbuing a space with warmth, the deep-drawer design is virtually topple-proof and ideal for keeping all your sartorial necessities, whether that's underwear or seasonal essentials. The best part? It looks like it cost three times the actual price.
Fabric Target dressers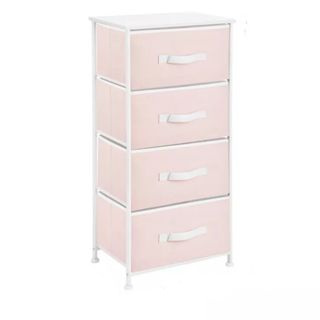 Cheap and chic
7. Mdesign Vertical Dresser Storage
Price: $57.99
Color(s): Pink
Material: Fabric, MDF, and steel
Size (in): W17.75 x H37 x D12
Storage: 4 drawers
Did somebody say adorable? Yep, this pastel pink number is everything you need for a soft girl Fall and is definitely a dorm essential. After all, the nights are drawing in, so it's only natural to lean into some cutesy home comforts. This small but delightful design does just that, all while providing serious drawer space.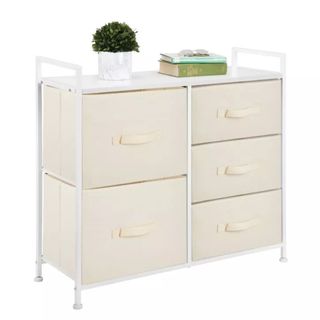 Organizer
8. Wide Dresser Storage Tower Organizer
Price: $68.99
Color(s): Cream
Material: Fabric, MDF, and steel
Size (in): W32.6 x H30.3 x D11.4
Storage: 4 drawers
With both big drawers and more slender ones, this tower design is perfect for separating your garb into sections. Satisfying hack? Add some drawer organizers and dividers in there, and you'll never lose your lucky underwear again. And yes, that fabric style is always a smart way to soften a cold or clinical room.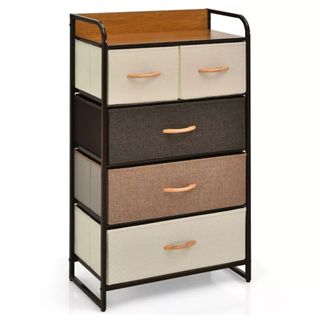 Tonal design
9. Costway 5-Drawer Dresser
Price: $81.99
Color(s): Beige and brown
Material: MDF, solid wood, fabric, and metal
Size (in): W23 x H39 x D11.5
Storage: 5 drawers
With a slick (and waterproof) wooden top, this fabric tower comes in a whole spectrum of browns, perfect for soft and subtle decor. Serving up plenty of room to store your drip, this is just what the modern aesthete needs. Oh, and don't worry about setting it up. It's light work thanks to the interlocking design.
White Target dressers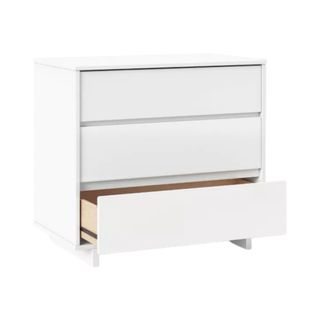 Minimalist
10. Room Essentials Modern Dresser
Price: $120
Color(s): White
Material: Particleboard
Size (in): W32.2 x H29.7 x D19.45
Storage: 3 drawers
It doesn't get much sleeker than this. Replete in polar white, this exercise in design restraint is, quite frankly, *chefs kiss.* Granted, it's not huge, but neither is your dorm, making this a perfectly sized little number. The best part? It chimes seamlessly with any decor.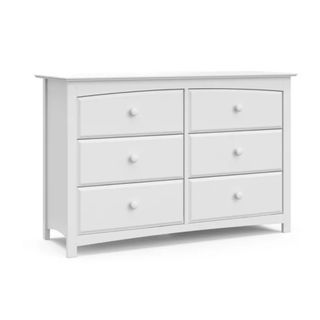 Smooth operator
11. Storkcraft Kenton Drawer Dresser
Price: $246.99
Color(s): White
Material: Pine and wood composite
Size (in): W50 x H32.4 x D17.99
Storage: 6 shelves
In terms of functionality, this scores high. Why? Well, for starters it's crafted with premium wood framing and composites. The drawers literally glide. And it's super easy to assemble, so even the most basic DIYers can manage. Add to a bright and airy room STAT.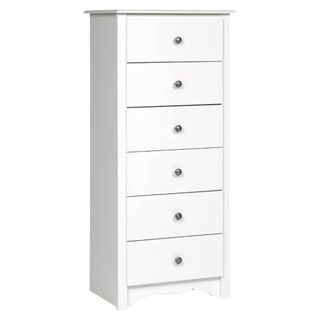 Aim high
12. Prepac Monterey Vertical Dresser
Price: $182.99
Color(s): White
Material: Wood composite
Size (in): W23.25 x H53 x D17.75
Storage: 6 drawers
Suitably slim for tight quarters, this dresser makes use of vertical space, providing a power tower for your everyday fits. As for its antique-inspired hardware and seamless construction, these are easy aesthetic wins. Another reason why this works? Well, one rule designers use when styling a small bedroom is to play with proportion, so height is your BFF here.
How we chose
While we do our best to test as many products in real life ourselves, we aren't always able to trial each one. In such instances, we look to the harsh but honest words of reviewers the world over, scouring through their feedback and ratings to ensure you're being presented with only the hottest stuff out there. Rest assured, as your resident guide, I know my way around Target like the back of my hand. If it's less than four stars and or doesn't get gleaming references, it isn't making my pick.
---
Now that you've looked through our edit of Target dressers, learn where to put a dresser in a small bedroom when space is scarce.