Home chefs rely on the best kitchen knives to make meal prepping easy. Whether it's chopping vegetables or carving a chicken, the best kitchen knife will be perfectly sharp and ergonomically designed for use every single day.
As the saying goes, a sharp knife is a safe knife. The best kitchen knives will stay sharper for longer and sit pretty on your kitchen counter when not in use. This is where the best knife blocks come in, because these knife sets need somewhere to live safely when not in use. Every knife set in our guide is housed in a knife block that can make it more accessible and out of the way when not in use.
Below you'll find the best knife sets for under £100, as well as some seriously premium opinions for as much as £300. Want more great recommendations for cooking? Get your hands on the best knife sharpener to keep your new set of knives in top condition.
The best kitchen knives
Why you can trust Real Homes Our expert reviewers spend hours testing and comparing products and services so you can choose the best for you. Find out more about how we test.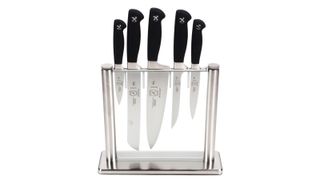 This Mercer knife set offers great value for money, its RRP is a fraction of many high-quality chef's knives, yet users can't seem to find anything negative to say about the blades, which makes us believe it's worthwhile considering. They are similar in appearance to the Robert Welch knives below which cost twice the price, with the Mercer branding embellished on the handle. The difference seems to be in the flat blade, which some chefs may prefer, and the lack of a carving knife and knife sharpener. The other big difference is that the Robert Welch block uses magnets to keep the blades from being blunted by their holder – not an essential feature, but handy when you don't have a sharpener included. However, for the saving of over £150 we are happy to give the Mercer top spot and buy a knife sharpener separately.
With the choice between a stainless steel or wood finish block, this is certainly one for modern, traditional and professional kitchens - a great all-rounder.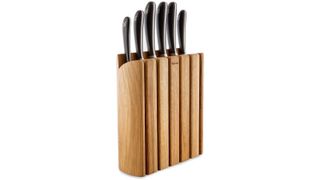 Robert Welch is a trusted brand within the world of fine cuisine, so buying this set of stainless steel kitchen knives is more of an investment than a generic purchase. If you love to cook or find chopping difficult, having the very best knives from a reputable brand is always money well spent. Featuring a black handle embellished with the Robert Welch signature, these knives are elegant as they are ergonomic and have been carefully chosen from the Signature range to ensure cooks have the necessary tools for dicing and chopping to filleting fish. A bonus is the knife sharpener, however, some users say that there are better ones out there if you're willing to buy one separately. As mentioned before, the block also uses magnets to keep the blades from touching the sides when in (or being taken out of) storage – so even if the knife sharpener isn't the best around, it doesn't matter as you should barely need one.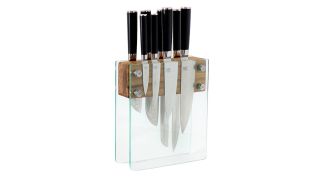 The old saying 'you get what you pay for' couldn't be truer when it comes to knife sets. Let's be clear – this set is a pricey purchase, but you are not only buying supreme quality, but a wider range of knives than many on our list. There are two sizes of Santoku knife and chef's knife, so these are fab if you take time and care over your preparation, or if you often cook with someone else and find yourselves swapping knives.
While you may only really appreciate the difference if you work in a professional kitchen, the fact that these ProCook knives rarely need sharpening is a homage to the amount of skill that has gone into their construction. Damascus knife sets are preferred for their strength and durability and are designed to withstand the tribulations of peak service in a professional kitchen. With its magnetic oak support and green tinted glass, the block, too, is refined in its design, making the extortionate pricing justifiable.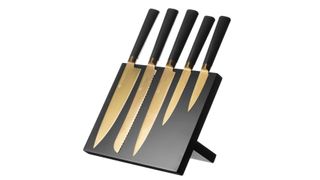 Some of the buys above might be too pricey for the average home chef, so we looked to quality brand Viners for something that would offer great craftsmanship without the hefty price tag. This set offers five of the most commonly used knives and a stylish storage block that shows them off – and when your knives look like this they deserve to be displayed. They come in the gold shown here, but also copper and are titanium coated stainless steel, for a rust-free finish. They are hand wash only, but if you buy the Viners Titan Gold Knife Set you are buying a statement utensil that needs to be kept looking its best – especially when it carries a 10 year guarantee.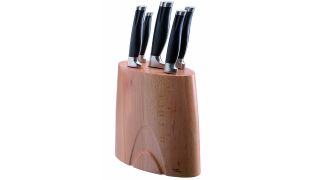 Any product with a chef's name tagged along with it should be of superior quality, and this Jamie Oliver Japanese steel knife set shouldn't let anyone down. Because of the construction of the steel blades, sharpening shouldn't need to be so frequent, and thanks to the embellished labelling on the tip of the knife, knowing which one is which when you come to use the set shouldn't be a problem. The beech wood block is traditional in appearance, and should complement most domestic kitchens. They're not particularly pricey, too.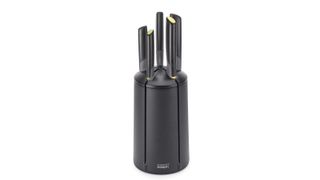 These are some seriously high-quality blades – at a really good price. The Joseph Joseph 10527 Elevate Knives Carousel Set is extra sharp and includes a spinning knife block base with slots for all five knives.. There's a good range of blades for every task in the kitchen, base it incredibly compact – a great choice for students or those living in shared housing.
How to buy the best kitchen knives
Most domestic kitchen knife blocks will contain the essential: an all purpose cook's knife for general chopping and slicing; a bread knife for making slicing through loaves less laborious; a small serrated knife for carving through veg skin, rind and peel; a carving knife for prepping the main event of your Sunday dinner; and possibly a Santoku knife, which has a blunt end for fine chopping and dicing.
But the knives are only one aspect of the product. Knife blocks come in all shapes and sizes, with traditional wooden blocks, ergonomic yet stylish blocks and transparent blocks all owning a place in the market.
A good set of quality kitchen knives is a hefty investment, and while you may ask why a basic unbranded set from a high street retailer hasn't been included in our list, we can safely say that you won't receive the same longevity or usability factor.
Typically, knives are forged from stainless steel, which is a strong, durable metal. People that cook regularly will tell you that they require sharpening fairly often, depending on the amount of use they receive. If your experience with stainless steel has you wondering about harder materials, Japanese Damascus steel is of a superior composition, thanks to its carbon steel core and stainless steel exterior, and requires sharpening less frequently.
What is the best kitchen knife set?
We can't fault the Mercer Culinary Genesis set. It includes five different blades, arranged in a transparent block that looks pretty swish and means you never pick the wrong one. If you have twice the budget though, the set from Robert Welch comes highly recommended by chefs. The difference is mainly because the block accounts for a fair whack of the cost – magnets hold the blades in place, avoiding contact with the block to prevent dulling of the blade. Very clever indeed.
Want more advice on the best kitchen gadgets? Check out our buying guides...