We have found a new love: green sofas. Truly, the green sofa is having a moment. From luxurious, deep teal velvet sofas to pale green sofas in delicate fabrics, we can't scroll through Instagram with our seeing them in some form or another. So to pay homage to this new hue on the block, we have rounded up the best green sofas that will suit every style and every budget...
Need to know the serious stuff before you buy a sofa? Alongside our tried and tested guide to the best sofas overall, make sure to check out our article on how to choose a sofa and head to our living room ideas feature for some lounge room styling inspiration.
1. Be forever on trend with a velvet green sofa
Why you can trust Real Homes Our expert reviewers spend hours testing and comparing products and services so you can choose the best for you. Find out more about how we test.
QUICK LINKS TO THE BEST PLACES TO BUY GREEN SOFAS
Top of our lust lists for a while, the velvet green sofa has got to be one of the most Instagrammable pieces of furniture going. The Scott sofa from Made.com is our favourite; its Mid-century style and neat square lines are what we are all about. It comes in a two seater variant, a three seater, a four seater, a corner sofa annnnd an armchair so you can definitely find the right Scott for you.
Love a velvet sofa? Check our round up of the best.
Shop all of Made.com's green sofas now
2. Pick a green sofa for under £500
Doing up a living room on a budget? You don't have to fork out a load of money for a green sofa. The Rupert sofa from Dunelm comes in at under £500 and is beaut. It's velvet (of course), has a lovely vintage-style shape and has cute gold wheels if you like to shift your living room layout around a lot. Find more great sofas under £500 in our guide.
Shop more green sofas from Dunelm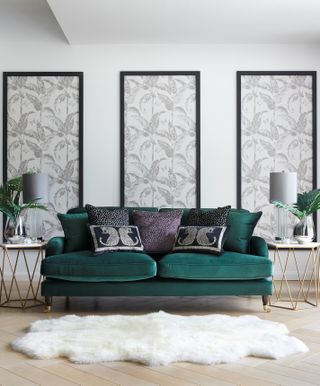 3. Go for an olive green sofa for a subtle look
Olive green is everywhere in interiors at the moment. Possibly the bravest shade of green out there, olive is ideal if you just want to add a touch of colour to your living room. With its sleek curved arms and button back, we love the classic appeal of the Otley sofa from Marks and Spencer.
If you love how all the different shades of green have been used in this living you are definitely going to want to check out these green living room design ideas.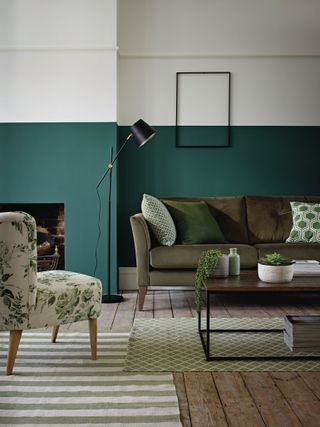 4. Go for a sage coloured sofa in a north facing living room
Would you look at that? A sofa that isn't velvet has made it into out round up of the best green sofas! Proving that not all green sofas need to be velvet to look cool is this Frankie sofa from Marks and Spencer. Its relaxed, loose cover design blends style with practicality making it ideal for families. The light shade would work perfectly in a north facing living room to give the space a bright, fresh feel.
Shop all green sofas from Marks and Spencer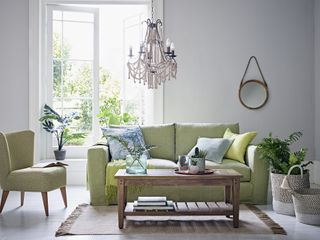 5. Get that boho look with a rattan green sofa
Before you start on this sofa not being green, we think you will find it's actually khaki and we love it! The design of the Delphes sofa from Maisons du Monde is really unusual, with a light-coloured wooden frame and a rattan back; there's also a built-in side table (which sounds hideous but actually looks really cool).
Love the boho vibes of this living room? Check out more boho living room design ideas.
Shop all green sofas from Maisons du Monde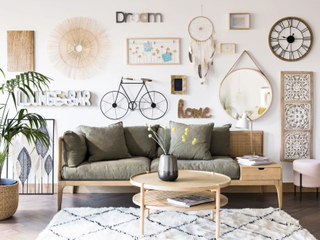 6. Lime green sofa? Yes, it can work
Definitely a colour we would normally shy away from, we reckon in a nice simple setting, a lime green sofa could work.
We love the classic shape of the Sloucher sofa from Loaf, definitely the kind of sofa you will just sink into and never leave. It does come in a lot of other colours if you are thinking this vibrant shade might be a little too brave for you.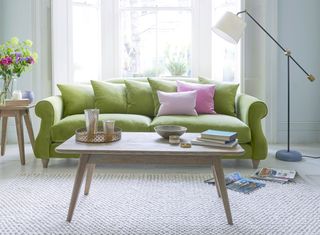 7. Pick a small green sofa if space is tight
Small living room? No problem. There are tons of compact designs out there meaning you can still invest in a snazzy green sofa. One of our favourites is the Perrian sofa from Swoon. Size clearly doesn't hold this sofa back: its sharply angled arms and winged back make a big statement, and yet this sofa is just 122cm wide!
Check out more sofas that are perfect for small living rooms in our buying guide.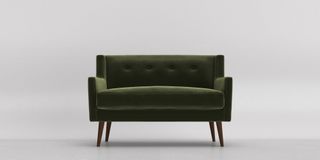 8. Make space for guests with a stylish green sofa bed
If hosting guests is something you enjoy, you might already be thinking about how practical it would be to invest in a sofa bed. You'll be pleased to know, as this moss green Chesterfield sofa bed proves, that doesn't have to mean sacrificing style.
With plump cushions and a timeless style, this Chiswick Sofa Bed, available at Next, would suit both a traditional or contemporary scheme.
For more advice and to ensure you choose the best option for your home, browse our guide to how to choose a sofa bed. You might find more inspiration in our guide to the best traditional sofa beds, too.
Shop all of Next's green sofas (we've got our eye on some gorgeous plaid designs)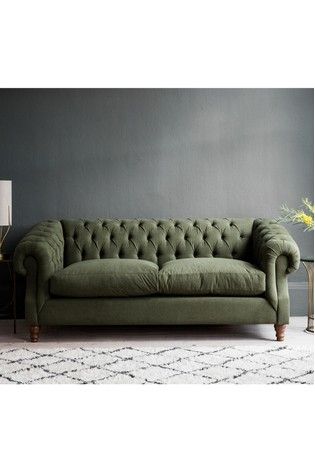 9. Moody interior? Get a dark green sofa
If you love the idea of the dark and atmospheric interiors trend but can't face the prospect of losing the light and bright feel that accompanies white walls, consider investing in a statement piece of furniture that will allow you to channel the trend, without transforming your entire space.
This Milano Chesterfield Green Plush 3 Seater Sofa from Oak Furniture Superstore works perfectly as part of an otherwise white scheme.
Our dark and atmospheric decorating ideas provide more inspiration for working the trend into your home.
Shop more green sofas from Oak Furniture Superstore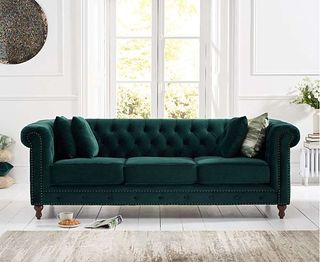 10. Pair a green sofa with on-trend, geometric accessories
While it's certainly easier to style a grey, white or black sofa, don't be put off green out of a fear that you won't know what to pair it with.
An easy tip is to seek out accessories that have a hint of the same shade, as subtle as that is. Geometric prints are an on-trend option that would work well with a green sofa if they're of a similar hue.
Find the Hendricks Sofa at Habitat. They have a great range of geometric cushions, too, if you're looking for something similar.
Shop more gorgeous green sofas at Habitat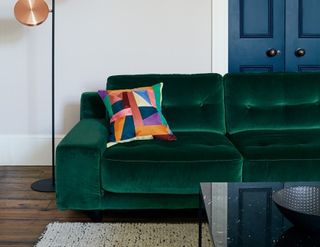 Read more...