If a variety of espresso-based drinks plus the ease of capsule coffee is what you're after, the Lavazza A Modo Mio Idola should be on your shortlist. How to decide if it's the machine for you? Easy – check out our guide to reveal whether it's the perfect fit for your household. I tested a wide selection of best coffee machines to see how much of your worktop they'll take up, how easy they are to use, how quickly they'll deliver your drink, which coffees they'll make, and – crucially – what the brews taste like. Can't wait to buy? Take a look at the Lavazza website or Amazon and check out our Lavazza deals page for the latest bargains.
Lavazza A Modo Mio Idola coffee machine specifications:
Why you can trust Real Homes Our expert reviewers spend hours testing and comparing products and services so you can choose the best for you. Find out more about how we test.
Type: Lavazza A Modo Mio capsules
Pressure: 10 bar
Capacity: 1.1 ltr water tank
Dimensions: H28 x W14.5 x D38cm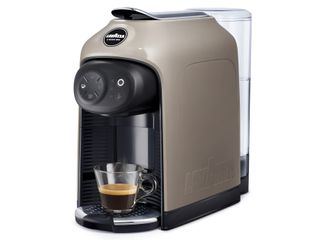 Who will the Lavazza A Modo Mio Idola suit?
Households where one-size coffee doesn't fit all but drinks must look and taste as if they're prepared by a barista.
What is the Lavazza A Modo Mio Idola like to use?
Fabulously easy straight out of the box, this machine will have you brewing the volume of coffee you prefer in double-quick time.
OK, we're talking black coffees here, but that said the Lavazza A Modo Mio Idola is fabulously flexible when it comes to the particular type with both preset and your own portion size possible without hassle.
Coffee options and taste
The Lavazza A Modo Mio Idola offers plenty of choice for fans of espresso-based drinks. Select between the espresso (30ml), long espresso (60ml), or long coffee (100ml) options, or create your own preferred brew volume with the free dose button.
The selection is one of the reasons why this is my top Lavazza machine. Whichever black coffee drink I was after (need for caffeine boost, time available to drink and so on), this machine provided it swiftly and simply.
All the coffees this machine brewed up for me could claim barista-style results with a good crema – or froth – on the brew, enticing aroma, and delicious taste.
Brewing up
Getting the machine ready was easy. Switch it on and there's a restrained beep: I found this a pleasant alternative to the clamour of many modern appliances. Prefer silence? You can turn this off.
The machine's ready-to-go time is around 35 seconds, which in practice felt like it was set as soon as I was. You can swap between cup or mug by moving the cup support plate, and loading the capsule is simple with the lever on top of the machine lifting for insertion and lowering to close. I found the selection buttons intuitive to use.
Once the coffee's made, I just needed to remember to unload the capsule with the lever.
Cleaning and maintenance
This machine should keep up happily with a demanding coffee-loving household. The used capsule drawer holds 10 pods, so I didn't find emptying to be onerously frequent, and there's a light to warn you the job needs doing if you're apt to lose track.
Removing the parts for cleaning and putting them back in place for the next round of drinks wasn't puzzling, nor awkward, and they can be washed in the dishwasher or by hand. Other maintenance? A weekly brewing procedure without a capsule didn't seem to me to be too much to ask.
The machine is also likely to require limescale removal: Lavazza suggests every two months, but there's a light to prompt you to do this, avoiding the need to remember. A reduction in water flow should prompt you, too. The company's own descaling agent is recommended.
What to watch out for
This streamlined design will complement modern kitchens and the colour choice of Red Fire, Black Ink or Greige Coffee is equally contemporary.
The machine is quiet in operation – another reason it's a top choice for me – and early risers or late homers shouldn't disturb the rest of the household with their coffee-brewing activities.
Although not as diminutive as the Lavazza A Modo Mio Jolie Plus, the Idola has modest dimensions of H28 x W14.5 x D38cm and avoids taking up unnecessary space. At 4kg, you won't mind moving house with it either.
When it comes to capsules, it's Lavazza's A Modo Mio you're after and you can shop online or in supermarkets. From November 2019, Lavazza A Modo Mio Eco Caps are available, and these are 100% industrially compostable. The bottom line? So long as your local council's rules permit it, they can go into the food waste bin.
Milk-based drinks your preference? This isn't the Lavazza model for you, but if espresso or varieties of are what you're after, it definitely could be.
How does it rate online?
Amazon buyers aren't numerous in their reviews, but there's a five out of five star consensus with the machine's quiet operation, flexible choices and the good capacity of the used capsule container all noted.
At John Lewis the overall verdict is 4.4 out of five stars. Once again, the low noise of the machine is commended, as is the taste of the coffee, and the ease of operation. The only negative note here? The fact that the machine isn't fully automated was a niggle for one reviewer.
About our review – and our reviewer
Sarah Warwick has specialised in homes and interiors for over 20 years. She was Executive Editor of Ideal Home magazine, and has written for nationals, magazines and websites including Real Homes, Homebuilding & Renovating, Grand Designs, Homes & Gardens, Houzz, The Guardian, House Beautiful and Country Homes & Interiors. She put the coffee machines to the test on a variety of drinks, as well as checking out how easy they were to set up, and to clean.
More reading for coffee lovers: