I'm in a love-hate relationship with my local coffee shop. The waft of ground coffee beans is amazing, but I don't care for the long lines, the (sometimes) sticky tables, or the loud grinding of a professional bean-to-cup machine. Like, excuse me barista, can you not bang the group head that hard to get rid of spent grounds, sheesh! Ick mode: activated.

So, mini rant over, if you want to become a one-touch barista at home, then you need the Lavazza Desea A Modo Mio Pod Coffee Machine in your life. This is an elegantly-designed pod coffee machine that delivers a really decent cup of joe, that can match your favorite coffee shop standards, in the comfort of your home.
The epitome of easy and delicious coffee, whether you're a wake-up-and-smell-the-espresso kind of person or just looking for lazy Sunday latte vibes, this machine does it all quickly, efficiently, and at a pretty affordable cost too.
It's definitely up there as one of the best coffee machines around this year. This pod coffee machine has been reviewed by not one, not two, but three of the Real Homes team at home and at our Future Plc test kitchen in Reading, UK.
TLDR: What we thought of the Lavazza Desea A Modo Mio
The Lavazza Desea A Modo Mio comes in an espresso brown color as well as black and cream. It can make five milk-based recipes or four different coffee sizes with a single touch and brews drinks between 90°C/194°F and 96°C/205°F to ensure they're hot, while not compromising on coffee taste. Because, c'mon, we've all been to a bad coffee shop when they've scalded the beans and you've paid top price for a cup of acrid-tasting java.
It has some quite intuitive features and will let you know if you haven't filled it with enough water, when the capsule bin is full, and when you'll need to give your coffee machine a little maintenance check-up (aka descale it). Our fave characteristic is that you can "queue" your coffee while the machine is heating up, so there's no need to wait if you want your go-go juice ASAP. Much like the order ahead sitch from Starbucks.
The compatible coffee pods are biodegradable and come from sustainable specially-selected sources across the globe. Each comes with up to 7.5 grams of coffee per capsule, which according to the brand experts is the ideal amount for a perfect espresso. Coffee takes between 20–27 seconds, depending on the extraction.
Noise-wise, it didn't exceed 43 dB, which is about as loud as birdsong and shouldn't offend. It also bleeps to let you know when your cup is ready!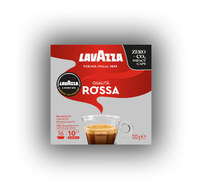 Lavazza A Modo Mio Qualita Rossa Capsules | $16.50 at Amazon
Made using a harmonious blend of natural Brazilian Arabica and Robusta beans, this creates an espresso that's balanced and full-bodied. Great for those that like their coffee strong, this is a 10 on the intensity scale. Depending on the length of your coffee, you can expect anything between 25 ml to 35 ml of espresso, which you can then top up with water and milk to taste.
Testing the Lavazza Desea A Modo Mio
Christina is our ecommerce editor who often travels from London to Reading to analyze small kitchen appliances in our test kitchen. She's reviewed more than a handful of bean-to-cup and pod machines and appreciates the benefits of both types of gadgets.

"I like coffee machines that calibrate the temperature at a slightly cooler water temperature to be mindful of the flavor. Often baristas assume I want a piping hot drink, but this often at a compromise to the coffee beans,"

"I appreciate that the Lavazza Desea A Modo Mio Pod Coffee Machine has a temperature boost button. However, if you do want a warmer coffee, I'd personally trial pre-warming your cups with hot water from the kettle first to get some heat running through them (similar to warming plates in the oven)."
"And, make time to savor it. Life's too short for poor coffee. So make sure you're investing in good-quality pods and drinking your beverage as soon as possible. Topping it up with hot water after it's gone cold only dilutes those subtle tasting notes."
Millie is head of reviews at Real Homes. Formerly our small appliances editor, Millie has reviewed dozens of coffee machines over the years and knows what to look for in a top-notch pod machine. Millie's go-to coffee is an oat milk latte, and she's not averse to a drizzle of caramel syrup.
She also enjoys espresso and occasionally breaks out her V60 to make a hand-ground drip brew. Millie tested the Lavazza Desea for a number of weeks in her own home and also worked with Christina to compare it to other leading pod machines in our test kitchen in Reading.

As Christina's partner in crime, she assists with setting up the machines and even helps with the dishes, too.
Camille is deputy editor of Real Homes and was one of the first to get her hands on the Lavazza Desea A Modo Mio coffee machine.
She says: "I loved testing this coffee maker. I'm not usually into pod machines but I liked that they were biodegradable, so I got past that fairly quickly. Otherwise, it was easy to use, really intuitive, and it just looks really smart on countertops. As someone who isn't great at frothing milk either, it took the faff out of that and I made some really nice cappuccinos!"
The techy stuff
RRP: £199
Coffee type: Pod (Lavazza A Modo Mio eco caps)
Dimensions (cm): W14.5 x D38 x H28
Weight: 4.5 kg
Pressure: 8–9 bars
Wattage: 1500 W
Voltage: 220 V–240 V
Frequency: 50/60 Hz
Cost to run (per hour): 22c / 51p
Heat-up time: 28 seconds
Water tank capacity: 1.1 L
Cups: 1
Cup sizes: 30 ml, 45 ml, and 90 ml
Adjustable cup rest grill: 2 heights
Cup grill material: Chromed metal
Removable components: Water tank, drip tray, cup grid, used capsule container
Minimum milk capacity: 80 ml
Maximum milk capacity for milk frothing: 175 ml
Warranty: Two- year warranty
Unboxing the Lavazza Desea A Modo Mio
For an average-sized machine, the Lavazza A Modo Mio Desea comes in a huge box. It's got a handle on the top which came in handy for our head of reviews when lugging it up the stairs in her London flat, and she was pleased when she opened it up to mostly cardboard packaging, with no polystyrene in sight.
Anyone else *hate* that squeaky sound from that white material? Makes my teeth feel funny — I cringe at the thought of it!
First impressions of the Lavazza Desea A Modo Mio
The design we received is modern and it comes in a cool red/brown color, which will look great on all kitchen counters or breakfast bars. Our deputy editor Camille Dubuis-Welch's favorite feature has to be the extra hot button. Select it so that it lights up before selecting your drink of choice if you like your coffee to stay warmer for longer. This machine is energy efficient and will switch to standby mode automatically after nine minutes of no use to conserve energy.
How to use the Lavazza Desea A Modo Mio
It's really very easy, whether you want a milky beverage or not. The first time you use the machine, you'll need to rinse the water tank out and refill it with fresh water to the max level. Plug it in and press the on/dispense button, which will light up all the indicator lights. It's very exciting. Once the on/dispenser button stops flashing white, the machine has completed its heating cycle and is ready. Before you use your very first capsule, you must dispense 0.5 L of water to clear the system. Hold the lever down, and press the free dose button until the water has passed through.
Once complete, the fun can start. If you just want a black americano, espresso ristretto, lungo — you name it — you can place your own mug or espresso cup of choice on the cup support, provided that it fits. Then lift the lever, add your pod, and lower the lever. Once the white light has stopped flashing on the on/dispense button, select the drink symbol of your choice and your machine will start brewing, until a final beep indicates that your drink is ready.
If you're in the mood for a cappuccino, latte, or cafe macchiato, or if you just want to steam some milk, you'll need to fill the milk jug up to the corresponding drink symbol and seal it with the lid and attached frother. Slot this into the machine, ensuring it levels up on the cup support. As above, lift the lever and insert your pod of choice. Lower the lever, select the coffee you want, and smell the coffee brewing.
Making espresso with the Lavazza Desea A Modo Mio
Lavazza eco caps deliver great taste and a well-balanced brew. Depending on which you go for, you can enjoy sweet, bitter, or fruitier notes. The eco caps are biodegradable, which is brilliant.
We set the stopwatch on our phones to see how long the crema would last. It held out for around two minutes, which is pretty good!
Making a cappuccino
While all the milk-based coffee drinks have a lovely smooth finish to them, you may lose a bit of the crema and heat when you transfer your cappuccino to your own mug from the jug.
This is more of an issue for plant-based milk drinkers but doesn't affect the taste of your coffee whatsoever. It just may not look as Insta-perfect as you'd hoped! Otherwise, for big coffee drinkers, you may want to double up on espresso caps when making large cappuccinos to ensure you get the perfect coffee (and caffeine) to milk ratio.
How to clean the Lavazza Desea A Modo Mio
There's no guessing when you need to clean your coffee machine, as there are handy warning lights for all the machine's main maintenance needs. We touched on the first use of this machine. Dispensing water on a regular cycle without a capsule can be used to clean the machine after the first use also. Note that you should also clean the milk frother and jug before first use.
Otherwise, you can use your dishwasher to clean all removable components (even the jug and wand). Just be sure to wash them separately and at a low temperature. If the capsule tray is full, the warning light (in the shape of a capsule) will shine red. Simply pull out the tray using the small handle (it may need more of a tug), empty it, clean it, and re-insert it.
Descaling Lavazza's Deseo A Modo Mio coffee maker
When it comes to descaling, the symbol will flash. Lavazza recommends using its own-brand descaling agent, and the process set out in the manual is very easy to follow. Put simply, you need to take out the water tank and empty it. Then go through this seven-step guide.
Fill it with 250 ml of the solution (a whole bottle's worth) and 250 ml of fresh water.
Plug the machine into the power socket, but don't turn it on at this stage.
Pop a heat-proof container under the spout and press the espresso and long espresso buttons simultaneously for at least five seconds.
Press the free dose button to begin the descaling cycle. This is the cup button on the bottom of the left wheel. The machine will dispense the fluid you filled it with until it's completely empty.
Remove the vessel and dispose of the hot water safely. You'll then want to fill the tank again and replace it.
Use the same heatproof container, place it under the spout again, and press the free dose button to run a rinse cycle.
Once the program has finished, remove the receptacle, get rid of the dirty water, and wipe the machine down with a soft cloth.
Throughout the year, you'll need to do this every three months or so. However, if you live in a hard water area, you might need to do this chore more frequently.
How does the Lavazza Desea A Modo Mio compare to other machines?
The brown color might not be for everyone, but this machine also comes in black and cream, too, so don't let that taint your decision if you've liked what you've read above but aren't keen on the chocolatey hue.
If you do like this sort of aesthetic and want to look at alternate brands which pride themselves on ethically-sourced coffee, I'd suggest reading my Hotel Chocolat Podster review. Yes — it is lighter and feels a little plastic, but this is reflected in the price point (and sometimes you can get the Velvetiser and Podster for under £100 when the Chocolatier holds offers).
But, if you don't want a separate milk frother on your countertop, it's a close call between the Breville One-Touch CoffeeHouse II and the Nespresso Latissimma One.
Get a snapshot of their specs below. Here, we've priced them low to high.


Best for budget and ethical coffee pod selection

Dimensions: L35.1 cm x W15.9 cm x H23.6 cm (13.8" x 6.3" x 9.3")
Temperature: 70°C (optimized temperature for best-tasting results)
Power: 1140 W–1365 W
RRP: £149.95
Colour(s): Charcoal and copper/rose gold
Breville One-Touch CoffeeHouse II
Best hybrid ground coffee/pod machine with milk frother

Type: Ground coffee or Easy Serve Espresso (ESE) pods
Pressure: 19 bar
Capacity: 1.4-liter water reservoir / 0.6-liter milk reservoir
Dimensions: 32.4 cm x 22.1 cm x 37.1 cm
Colour options: White, navy, or gray
Settings: Pre-set espresso, latte and cappuccino, manual milk frother, manual espresso, cleaning
Best compact pod machine with built-in milk frother

Dimensions: 6.05" W x 12.75" D x 10.07" H
Weight: 9.3 pounds
Pump Pressure: 19-Bar Pump Pressure System
Heating Prep Time: 25–40 seconds
Warranty: Two years
Is the Lavazza Desea A Modo Mio Pod Coffee Machine right for me?
The Desea will be a lifesaver for anyone who works from home full-time or who wants to give their guests something nicer than a cup of soluble coffee. It's faff-free and has (fairly) quiet frothing, so much so that you may even get away with making one on a work call (shh!)
About this review, and our reviewer
Christina is our ecommerce editor and resident foodie. You're bound to hear from her on a Monday morning telling you about the latest culinary adventure she embarked on during the weekend, whether it's trying out a restaurant she'd finally got a reservation for or stumbling across a food market in London or Essex. Her favorite coffee shop is Monmouth Coffee in Borough Market, though if she's in Spitalfields she opts for a spicy Masala Chai from Chai Guys.
We were able to obtain this sample from Lavazza and have been allowed to hang onto it to see how it compares to other pod coffee machines on the market.