If you're a lover of espresso (or illy coffee) and can't function without your morning caffeine dose, this Illy Y3.3 Espresso coffee machine is ideal. Illy is a popular coffee brand best known for great-tasting, Italian coffee but will this Illy Y3.3 machine live up to its reputation?
In addition, the illy Y3.3 Iperespresso coffee machine is incredibly simple to operate and user-friendly. What's more, there are no complicated features or any 'work' you'd need you do to make your daily espresso shot. A plus for those with busy schedules!
After putting it to the test, (and drinking copious amounts of espresso!), here is the verdict…
Setting up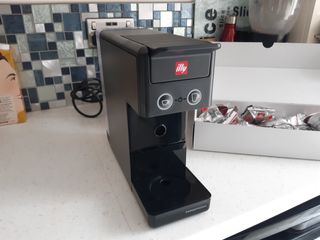 Unboxing and setting up was pretty easy, with no complicated parts or attachments to faff about with. The main feature of the illy Y3.3 coffee machine is its slimline and lightweight design. This makes a great space-saver and ideal to move around small kitchens. In fact, with its minimalist, sleek style, it wouldn't look out of place anywhere around the home!
Simple to operate with just two touch buttons on the front for a short cup and tall cup. It's worth noting that switching on the machine can be a tad tricky at first. Once powered on at the back, you would need to press and hold down both 'cup' buttons at the front until they start flashing. This essentially means it's prepping the machine, and will stop flashing once it's ready to roll!
How easy is it to use?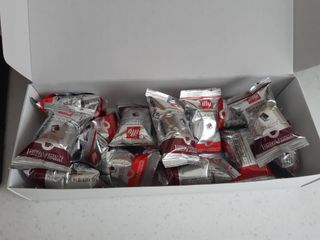 The set comes with a box of illy capsules with a classico roast option or a more intense brew. I decided to try the classico first, by lifting up the lid at the top to insert the capsule before pressing down. I touched the tall cup icon button at the front of machine, and within 45 seconds (yes, I counted!) I had delicious, aromatic coffee. Admittedly, I'm not a huge fan of espresso, favouring the more milky types, but I absolutely loved the smooth taste of the rich-tasting espresso. You can always opt to add frothed milk to the espresso though.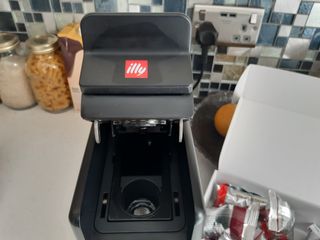 To make another cup, simply lift the top lid again to release the used capsule into the pull-out box below for easy disposal. One thing to note is sometimes the used capsule would often get stuck and not easily release into the box below. This meant I'd have to take it out by hand. In any case, this isn't a major issue rather a case of convenience.
Features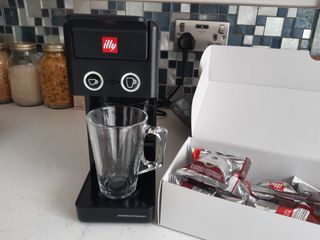 The lack of features can be rather limiting. It has a very basic flip-down tray for the short cups, and a drip tray that is not removable. There is also no feature for milk, or any other coffee style option.
You are also limited to using illy capsules only, so unable to try out different brands if you fancied a change. But for those who love the illy brand, this shouldn't be a problem!
Reasonably priced at £110, it also comes in four stylish colours to suit every kitchen style.
Cleaning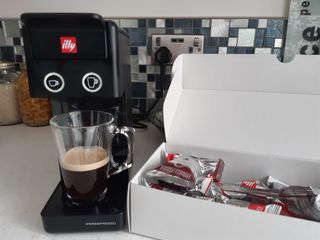 Compared to most coffee machines, this is a breeze to clean with a sponge wipe-down. After each use, you can easily remove the tray with your used capsule and give it a quick rinse under the tap. My only criticism is the drip tray is not removable, so you can't wash it in the sink or dishwasher. So be sure to give it a thorough clean.
A descale of the machine would be needed every two months, but this depends on how often you use it. The machine will cleverly let you know by flashing the cup icons alternately, then follow the instructions in the guide for descale process.
REAL HOMES VERDICT: SHOULD YOU BUY THE ILLY Y3.3 ESPRESSO COFFEE MACHINE?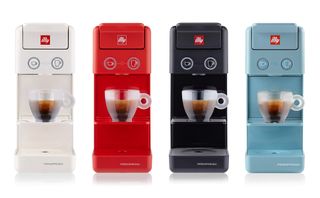 The illy Y3.3 Iperespresso coffee machine is the perfect, basic machine for those who favour convenience and practicality. Its slimline design and lightweight size makes it easy to move around and place in any compact kitchen. It's also incredibly easy to use and maintain, so you won't have to spend time with any major prepping that usually comes with high-end coffee machines. Simply insert your coffee capsule into the top, press the button and go. You can't get much fuss-free than that!
As to be expected with illy coffee, the quality of espresso tasted smooth and aromatic. Definitely a great way to start the day! The illy Y3.3 Iperespresso machine really is a no-brainer, and simple to make a great-tasting espresso within seconds.
The machine gives you the choice of selecting a short or tall cup, but that's where it ends. If you're after fancy features or even a milk frother, this is probably not the one for you. However, it is perfect for first-time coffee machine users or those who literally prefer the simple, espresso-making life!
ABOUT THIS REVIEW – AND OUR REVIEWER
Cynthia Lawrence is a freelance lifestyle and homes/interiors journalist, and writes for various national publications. With an unhealthy obsession for all things homes and gardens, she also has an interior design blog. When she's not spending time surfing online for decor inspiration to revamp her 1930s home, she is busy reviewing some pretty awesome home appliances.
A regular contributor to Real Homes, she has written for Livingetc., Gardeningetc., Ideal Home, T3.com, Top Ten Reviews and House Beautiful amongst others.
The illy Y3.3 Iperespresso coffee machine was tested extensively over a period of two weeks. This was while Cynthia and her husband were working from home which meant it got plenty of use with regular (and much needed!) coffee breaks. Although a cappuccino and latte fan, she was very impressed with the delicious, smooth espresso.