The Christmas dinner table is the heart of the festivities. It's where glasses are raised, crackers are pulled and an ungodly amount of pigs in blankets are eaten. So it seems only right that it should be dressed to impress. Here are our ideas for putting together the best Christmas table, whatever your style...
1. Make use of what you've got
There's definitely something endearing about a Christmas table that's got character. Mismatched plates, vintage trinkets and homemade decorations can all come together to create a lovely festive melange. So before you go buying anything new, take a look around your home and see if anything could be given a second home next to the cranberry sauce.
2. Use natural materials for a rustic touch
We've talked a lot about bringing the outside in at Christmas, but it really is such an effective, inexpensive way to make a space feel immediately more festive. Try strewing your table with some branches, stems of eucalyptus and pine cones for an on-trend Nordic look.
We've got some lovely Scandi Christmas decorating ideas, plus a guide to Christmas foliage and flowers, should you have a moment...
All Christmas tableware from George Home.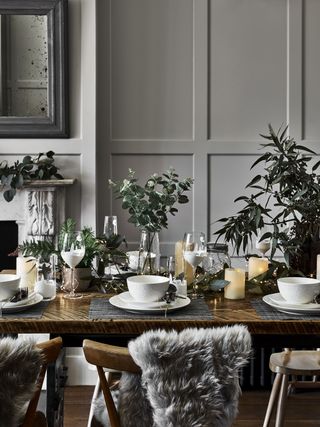 3. Go for a traditional colour scheme
If you are a sucker for traditional Christmas decorations, don't limit all that red, green, gold and tartan just to the tree, incorporate them into your Christmas table settings, too. Start by dressing the table in a deep red tablecloth and then build up from there – holly, ivy, leftover baubles, tartan napkins – the whole shebang.
Tableware and accessories from Talking Tables.
4. Add some retro feels with kitsch decor
Nostalgia plays such a huge part at Christmas, it explains why we are seeing a comeback of kitsch Christmas decorations. So why not have your turkey joined by a flamingo or the odd llama this year? Recreate this look by getting playful with pastel colours, confetti, sparkling stars and vintage baubles. Basically anything colourful goes.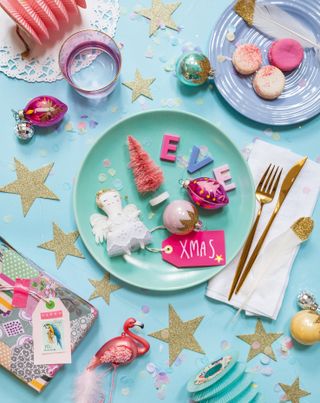 5. Create opulence with gold accents
Because if you can't have an overload of sparkle at Christmas then when can you? Mix rose gold metallics with blush-hued tableware and team with a simple table runner to recreate this look. (And pssst… that glimmering, golden branch running through the middle of the table, isn't a painstaking DIY make, it's actually a pre-lit garland from Lights4fun).
6. Decorate your dining chairs
Add an extra touch to your Christmas table by decorating your dining chair,s too. Tie ribbons around them, adorn them with mini wreaths or just simply hang a bough of fir off the back. It might not last long, but looks lovely for the big day, wouldn't you agree?
Tableware, artificial trees and furniture by Neptune.
7. Go for a dark, dramatic colour scheme
Not traditionally the most festive of colour schemes, black and greys may not scream Christmas cheer, but this table setting is just irresistibly gothic and, combined with the gold candles and plenty of foliage, we reckon it still looks plenty festive.
Tableware and decorations from George Home.
And if you just love a touch of Tim Burton, why not choose dark candles over the more traditional ivory tapers?
8. Use fur and linen for a softer look
As much as we love a crisp white table cloth, try using a linen one instead for a more casual Scandi vibe. Complete the look by throwing some fur rugs over your chairs and lacing the table with some greenery. Want more Scandi Christmas ideas? Check out more of our decorating ideas.
Tableware and decorations by Neptune.
9. Go all out Victoriana
Pay homage to the Victorian tradition of using food as decoration and make it the centrepiece of your Christmas table. Pick out some delectable looking fruit and pile it high in the middle of the table, then chose some vintage inspired tableware and dramatic tapers to complete the look.
Decorations by B&Q.
10. Leaving it till the last minute? Candles, candles, candles
You just can't go wrong if you have plenty of soft, glowing candles. And if you don't trust your family to be around an open flame (especially after a few snowballs) these wax LED candles from Light4fun are incredibly realistic no one will even notice the difference (again, especially after a few snowballs).
11. Add a personal touch with place cards
Not only does this ensure that you can be conveniently positioned at the opposite end of the table to whichever sloshed relative has had one too many bucks fizz, but place cards are also a really easy (and inexpensive) touch that shows you have made a bit of extra effort. You could of course have your place cards made (Not on the High Street have some lovely options), or you could copy this idea and get fancy with a calligraphy pen (or just a biro) and some nice heavy paper.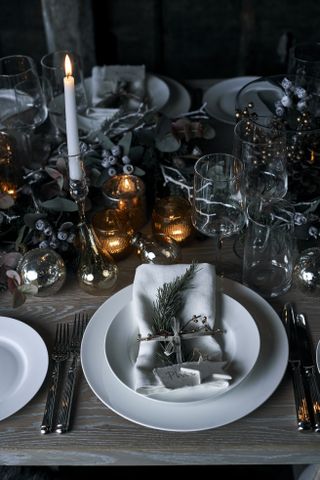 Looking for more Christmas decorating inspiration?