Designing a new kitchen? You probably have your wall colours picked out, cabinets designed and an idea of what look you want from your kitchen worktop.
But which worktop material should you go for – wood or stone, concrete, composite or metal? The options may seem endless, but it's worth taking the time to get this hardworking surface right. Follow our guide to choosing the best kitchen worktops for your kitchen.
Related articles: 11 clever kitchen island design ideas | How to fit a kitchen yourself | Create the perfect kitchen extension | Find a kitchen fitter
How to choose kitchen worktops
Your kitchen worktops will be used for preparing, serving and, potentially, dining and will need to withstand regular, intensive cleaning. They're a natural focal point in your kitchen, complementing the kitchen cabinets and kitchen flooring, and have become a key part of the design process. You're going to be using with them multiple times a day, so it's important to choose a style you like the look of, as well as a surface that will suit your lifestyle.
Picking THE RIGHT MATERIAL FOR A KITCHEN WORKTOP
Subscribe to Real Homes magazine
Love your daily dose of Real Homes? Then why not subscribe to our magazine to see our newest content first? Packed with fabulous readers' homes, trend features, project advice and easy updates, you'll wonder how you ever lived without it.
The primary factor to consider is material, the most common options being stone, wood, man-made composite and laminate, each coming with its own unique properties.
Natural stone and wood, with their varied colours and markings, look stunning in a traditional kitchen, but can scratch and stain, requiring sealing and regular maintenance.
A fuss-free alternative is a man-made composite material, such as quartz or Corian, which blend natural minerals with resin to create highly durable surfaces that are non-porous and easy to clean. However, these can be costly and require specialist fitting.
If you're on a budget, laminates are the best choice. Comprising a plastic overlay and design layer bonded to man-made board, they can mimic hundreds of finishes, from weathered wood to veined marble, at a fraction of the price, while being water resistant.
Alternatively, zinc, stainless steel and concrete are becoming increasingly popular as a way to achieve an on-trend industrial look.
Granite kitchen worktops
Granite is one of the most popular choices for kitchen worktops. It's stylish, beautiful and is associated with luxurious kitchen schemes.
Pros:
Hard-wearing
Heat resistant
Antibacterial
Easy to clean
Cons:
'Granite is the result of cooling pressurised magma over millions of years resulting in a rock that is both heat and scratch resistant. When sealed properly it is also stain resistant and, once installed, requires no more maintenance,' says Jon Brewer, managing director and founder of Purple Granite.
Quartz kitchen worktops
Quartz is a man-made alternative to traditional stone worktops like granite. Employing industrial techniques, natural quartz is fortified with resin to create a truly hard-wearing and customisable worktop.
Pros:
Hard-wearing
Antibacterial
Easy to clean
Unrestricted range of colour
Cons:
'Quartz has become ever more popular over the years and offers a more uniform, contemporary stone work-surface. It is naturally resistant to staining and scratching, but is less heat-resistant than granite, ' continues Jon.
Hard wood kitchen worktops
Whether you are after a contemporary or traditional kitchen, hard wood is a great solution, as long as you are willing to put the work into its maintenance (see below).
Pros:
Cheaper than stone options
Variety of wood grains and colours
Antibacterial if maintained
Looks great with age
Cons:
Requires bi-annual maintenance
Can become stained
Can scratch
What to consider
The drawback with wood compared to stone or composite options is that it requires biannual oiling to keep away stains and damage. However, you may see this as a benefit as the worktop will age over time, gaining a beautiful patina.
Laminate kitchen worktops
Laminate is a cost effective and versatile worktop solution and has become the most popular option on the market.
Pros:
Cheap
Antibacterial
Can be made to look like more expensive materials
Easy to maintain
Easy to clean
Hard-wearing, scratch and heat-resistant
Suits any style of kitchen, from contemporary to classic
Cons:
Peel
Burn or even melt
Scratch and become unhygienic
What to consider
Laminate worktops may look good on paper, but you get what you pay for. Cheaper options will damage easily and may not carry some of the benefits listed above. Make sure you shop carefully if you are considering laminates because there is a huge variation in quality.
Glass kitchen worktops
Glass has only recently been introduced to the worksurface market. It is stylish, versatile and works perfectly in a contemporary design.
Pros:
Can be made in any size or shape
Easy to clean and hygienic
Extremely durable
Heat resistant
Limitless range of colours
Looks modern, stylish and sleek
Cons:
Expensive
Needs frequent cleaning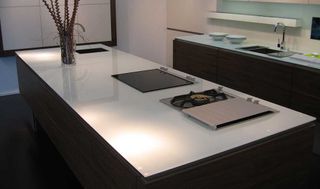 Solid surface composite: Corian, Maia, Encore kitchen worktops
Solid surface worktops are made by applying an acrylic resin to the top of a substrate material like wood. They create a seamless, glossy worktop that fits perfectly into a contemporary design.
Pros:
Heat and scratch resistant
Seamless
Stain resistant
Can be moulded into any shape
Cons:
What to consider
These solid surface materials are great for modern kitchens. They are heat and scratch resistant to a point, but can't compete with solid stone or quartz. Although the resin exterior is waterproof, if any water gets within the substrate material, it can cause irreparable damage.
Stainless steel kitchen worktops
Stainless steel is the go-to worktop material in the commercial kitchen sector, and is perfect for industrial-style kitchens.
Pros:
Strong and durable
Naturally antibacterial
Easy to clean
Water proof
Heat and acid resistant
Very light
Cons:
Cold
Clinical
Difficult to integrate into large areas
What to consider
Stainless steel is still not very popular in homes because it can become overwhelming when used in large areas. However, there is no reason you couldn't use it to make a statement and take advantage of its benefits on a kitchen island or in a small workspace. Cavendish Equipment have a gallery of case studies that may convince you that stainless steel can be a beautiful option. Find out how to clean stainless steel to keep your worktop looking in top condition.
Porcelain kitchen worktops
'Something I expect to really take off is a product called Neolith. It's a porcelain product that is heat resistant, scratch resistant and can be book-matched. Boo-kmatching is a process where two pieces of the same stone slap are joined to create a mirrored pattern in the surface. This was only previously possible using quarried marble which, as well as being expensive, is nowhere near as durable as Neolith, ' says Jon.
Concrete-look worktops
Concrete worktops look beautiful in industrial style kitchens but concrete does have its drawbacks as a worktop material – so why not get the looks of concrete with the pros of a quartz worktop? The Topus Concrete quartz worktop was inspired by topological strata – fossilised textures built up over time in veiled layers – and combines the mineral formations found in nature with the rugged patinas of industrial materials, giving this surface movement, opacity, and depth.
Where to buy kitchen worktops
Specialist natural stone and composite worktops are usually included as part of a bespoke fitted kitchen and supplied by the cabinetmaker. However non-specialist laminates and some timber worktops can be bought in standard sizes or by the metre, then cut to size and fitted by a tradesperson or you, if you are fitting your own kitchen.
Maintaining and cleaning kitchen worktops
Kitchen worktops are big investments so, once installed, make sure you know how to care for them – the kitchen supplier will usually advise. For impenetrable man-made composites and laminates, soap and water or a mild detergent is all that's required, but wooden worktops, which are easily damaged, will need oiling at least once a year. Follow our guide to cleaning and caring for your wooden worktops.
More kitchen design know how