Painting kitchen cupboards is a great, affordable way to give your kitchen a total refresh. If you are happy with the layout and design, why go pulling your whole kitchen out just to change the finish or colour of your kitchen cabinets? You can quite easily paint them yourself.  Yep, very doable, and if you are buying whole new kitchen, you can still keep costs down by buying cheap plain units and painting the kitchen cabinets yourself...
The colour of your units will essentially determine the whole look and feel of your space, whether you've an open plan kitchen, or not. Neutrals are always in fashion, particularly pale greys or stones, but bolder blues, greys and greens also look fantastic. Whatever look you're going for, use our step-by-step video and guide to painting kitchen cabinets below, to revamp your kitchen for less than you might have imagined. 
If you're after more kitchen ideas our feature offers all the inspiration you need. 
What kind of kitchen cabinets can be painted?
While painting kitchen cupboards is a relatively easy and cheap way to update your kitchen, unfortunately, you can't just whack paint on and hope for the best. First, you have to check your kitchen cabinets can be painted. If you have solid wood kitchen cabinets doors you are good to go: paint away, just make sure they are properly primed (more on that later). 
If your kitchen cabinet doors are laminate or veneer, you have a trickier job on your hands. You can still paint them, but the shiny, smooth surface just means you have to be all about the sanding and using a good primer to encourage the paint to stick (again, more on that next). 
Finally, you need to find suitable paint – check out our pick of the best paints for kitchen cabinets before you get started.
How to paint kitchen cupboards
Step one: remove doors and drawer fronts 
Before you start painting kitchen cabinets, remove the doors and drawer fronts that you intend to paint. If you can, remove all the handles and hardware too, and if you can't do this, tape up anything you don't want to be painted.
Step two: sand surfaces 
If you are painting kitchen cabinets with wooden doors that have already been painted, you can probably skip this step, but the whole point of sanding is to create a rougher surface for the paint to adhere to, so if your wooden doors are super smooth, just give them a quick go over with some sandpaper. If you are working with laminate or veneer kitchen cabinet doors, this step is essential as the paint won't adhere to the smooth surface. 
Make sure that once you have finished sanding you get rid of any dust. Give the doors a wipe down with a damp cloth. Get the vacuum out as you don't want any of those tiny particles around when you start painting. 
Step three: prime kitchen cabinets
Once the doors are dry and clean you can add the first coat of primer. Choose a primer that is best for the material you are painting: for wooden doors use a wood primer or undercoat and for laminate, a good multi-purpose primer or a specialist surface primer. 
Add an even coat to the whole surface using either a roller or a paintbrush and leave to dry. If you are painting laminate or veneer doors, give your doors another sand to to create even more texture for the paint to adhere to. 
Step four: start painting your kitchen cabinets 
To choose a paint that will suit your kitchen cabinets, you can pick one from the best paint for kitchen cabinets. Go in with your first layer of paint. Remember when you paint cabinets: lots of thin layers are best, so don't lay it on too thick. Let that layer dry completely and then paint a second layer. Depending on what colour you are painting over, two coats might be enough, but do a third coat if you need to. 
Step five: reattach your kitchen doors 
Once the doors are completely dry, screw back on the handles and reattach your kitchen doors. You could even treat yourself to some new kitchen handles since you have saved so much by painting your kitchen rather than buying new...
Which paint colour to choose for your kitchen cabinets?
More from Period Living
(Image credit: Period Living)
Period Living is the UK's best-selling period homes magazine. Get inspiration, ideas and advice straight to your door every month with a subscription.
Along with neutral shades, black, soft blues, greens and greys are ideal for all styles of kitchens, and lend a light, elegant feel. Light pink is also an on trend shade that can look contemporary matched with greys.
Remember, though when you are painting cabinets, the entire kitchen need not be colourful – a bold shade, such as red or dark blue, can be used to accent a short run of units, a kitchen island or statement dresser, with the rest of the kitchen in a neutral or natural wood finish.
Alternatively, you can consider adding depth and interest to a kitchen by using different shades of the same colour. For example, painting the wall units a lighter colour than the base cabinets is a clever way to make the kitchen feel more spacious.
You'll find plenty of inspiration for each of these coloured finishes in our kitchen cabinet design ideas, as well as in our clever kitchen island design ideas.
How to accessorise painted kitchen cabinets
Once you've finished painting your kitchen cabinets, you'll want to think about accessorising them in order to complete the look. 
Use the following tips, along with our kitchen splashback ideas and guide to the best types of kitchen worktop for inspiration: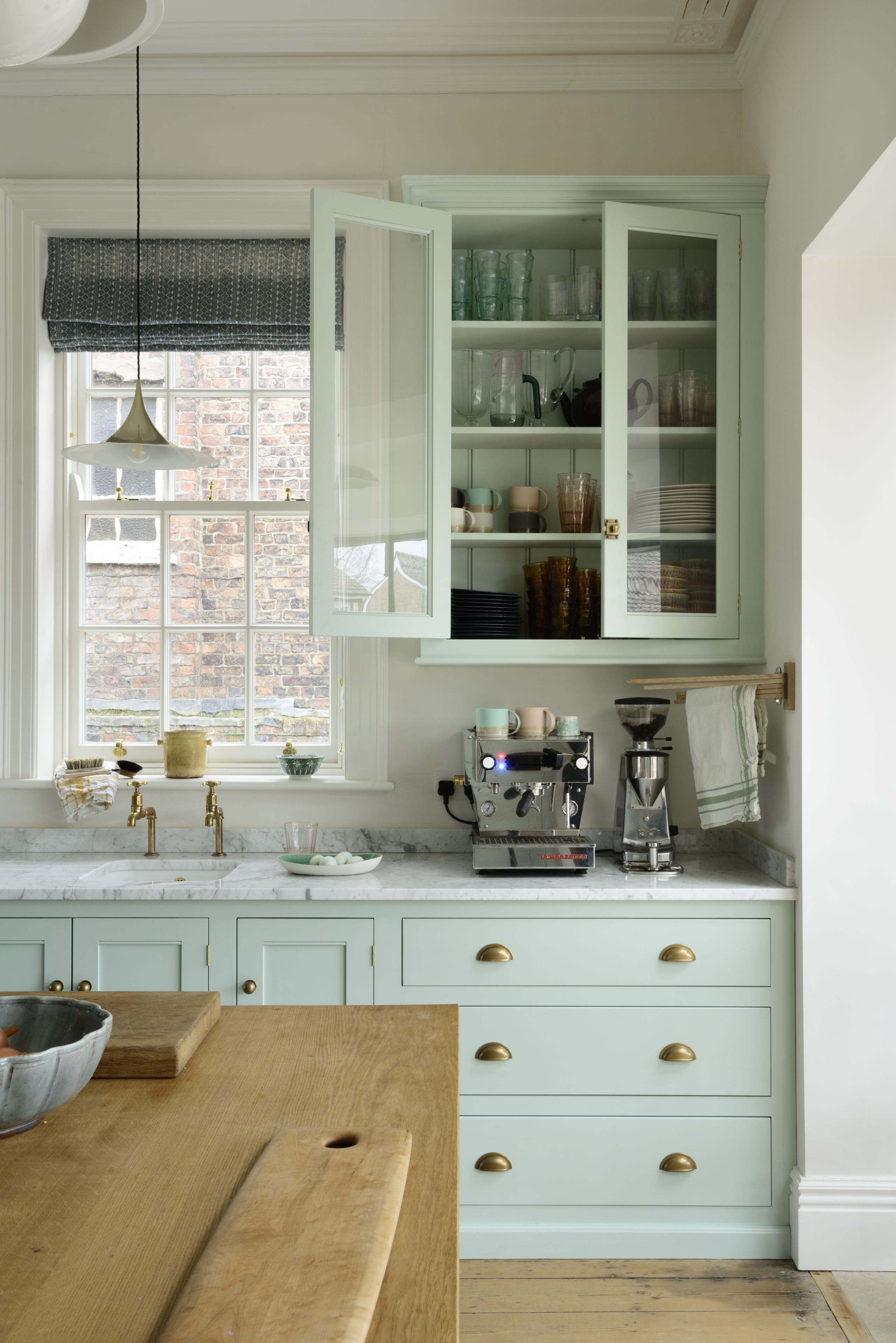 Paint kitchen cabinets to lift the look of a budget kitchen
Painted kitchen cabinets are often associated with higher end bespoke manufacturers of handmade solid wood units, but the beauty of painting cabinets is that the species of timber underneath doesn't have to affect the end appearance.
For example, a pine kitchen might cost less than half the price of hardwood, and still have the same finish and handcrafted quality once painted and dressed with beautiful cabinet door handles and worktops. 
If you're looking for more easy ways to design a stylish kitchen on a budget, there are plenty in our thrifty feature. 
Looking for more kitchen inspiration?