If you are considering painting kitchen cupboards, we are only here to encourage you to do it! It's by far the easiest and cheapest way to totally transform your kitchen yourself. 
Really if you are happy with the layout and design, why go pulling your whole kitchen out just to change the finish or colour of your kitchen cabinets? You can quite easily paint them yourself.  Yep, very doable, and if you are buying whole new kitchen, you can still keep costs down by buying cheap plain units and painting the kitchen cabinets yourself, just follow our step-by-step for the best results...
If you're after more kitchen ideas our feature offers all the inspiration you need. 
What kind of kitchen cabinets can be painted?
While painting kitchen cupboards is a relatively easy and cheap way to update your kitchen, unfortunately, you can't just whack paint on and hope for the best. First, you have to check your kitchen cabinets can be painted. If you have solid wood kitchen cabinets doors you are good to go: paint away, just make sure they are properly primed (more on that later). 
If your kitchen cabinet doors are laminate or veneer, you have a trickier job on your hands. You can still paint them, but the shiny, smooth surface just means you have to be all about the sanding and using a good primer to encourage the paint to stick (again, more on that next). 
Finally, you need to find suitable paint – check out our pick of the best paints for kitchen cabinets before you get started.
How to paint kitchen cupboards
Step one: remove doors and drawer fronts 
Before you start painting kitchen cabinets, remove the doors and drawer fronts that you intend to paint. If you can, remove all the handles and hardware too, and if you can't do this, tape up anything you don't want to be painted.
Step two: sand surfaces 
If you are painting kitchen cabinets with wooden doors that have already been painted, you can probably skip this step, but the whole point of sanding is to create a rougher surface for the paint to adhere to, so if your wooden doors are super smooth, just give them a quick go over with some sandpaper. If you are working with laminate or veneer kitchen cabinet doors, this step is essential as the paint won't adhere to the smooth surface. 
Make sure that once you have finished sanding you get rid of any dust. Give the doors a wipe down with a damp cloth. Get the vacuum out as you don't want any of those tiny particles around when you start painting. 
Step three: prime kitchen cabinets
Once the doors are dry and clean you can add the first coat of primer. Choose a primer that is best for the material you are painting: for wooden doors use a wood primer or undercoat and for laminate, a good multi-purpose primer or a specialist surface primer. 
Add an even coat to the whole surface using either a roller or a paintbrush and leave to dry. If you are painting laminate or veneer doors, give your doors another sand to to create even more texture for the paint to adhere to. 
Step four: start painting your kitchen cabinets 
To choose a paint that will suit your kitchen cabinets, you can pick one from the best paint for kitchen cabinets. Go in with your first layer of paint. Remember when you paint cabinets: lots of thin layers are best, so don't lay it on too thick. Let that layer dry completely and then paint a second layer. Depending on what colour you are painting over, two coats might be enough, but do a third coat if you need to. 
Step five: reattach your kitchen doors 
Once the doors are completely dry, screw back on the handles and reattach your kitchen doors. You could even treat yourself to some new kitchen handles since you have saved so much by painting your kitchen rather than buying new...
Which paint colour to choose for your kitchen cabinets?
Along with neutral shades, black, soft blues, greens and greys are ideal for all styles of kitchens, and lend a light, elegant feel. Light pink is also an on trend shade that can look contemporary matched with greys.
Remember, though when you are painting cabinets, the entire kitchen need not be colourful – a bold shade, such as red or dark blue, can be used to accent a short run of units, a kitchen island or statement dresser, with the rest of the kitchen in a neutral or natural wood finish.
Alternatively, you can consider adding depth and interest to a kitchen by using different shades of the same colour. For example, painting the wall units a lighter colour than the base cabinets is a clever way to make the kitchen feel more spacious.
You'll find plenty of inspiration for each of these coloured finishes in our kitchen cabinet ideas, as well as in our clever kitchen island ideas.  Or just check out our top five ideas to copy right now...
1. Pick a bang on trend sage green
Everyone is going mad for sage green at the moment and it would be the perfect colour to paint your kitchen cabinets. If you are after something subtle, go for a pale sage, like Dulux Fresh Sage. 
If you are after a more dramatic change, a slightly dark sage green with more of an olive tone works like Farrow & Ball's Bancha, works well in a light kitchen with white or cream walls. Pair it with a white worktop and some gold hardware to give the space a proper refresh on a budget. 
2. Use chalk paint to give kitchen cabinets a rustic finish
How gorgeous is this idea! If you have a cabinet with that has a relief pattern or that has grooves, this is a really easy look to copy. Give it a few coats of chalk paint (this kitchen has been painted with Annie Sloan's Old White) and once you are happy with the coverage, go in with a low grade sandpaper and gently rub at any raised areas to create that shabby chic look that never seems to date. 
3. Give simple modern kitchen cabinets an update
If you are looking to update, simple modern kitchen cabinets, a lick of paint colour may be all they need. Modern kitchen cabinet doors like the ones above are usually made from Melamine or a similar man made material that paint might not adhere to as easily as wood. We recommend gently sanding your doors first to give the paint a better chance of lasting. 
4. Be brave and go for a dark colour when painting kitchen cabinets 
Always wanted to see what dark kitchen cabinetry would look like? Now is a better time than any right? If you love it, great and if it doesn't work you can always paint over it. We love a dark blue in a kitchen, especially paired with a light wooden worktop and creamy walls. For a similar colour, check out Stiffkey Blue, it would work in a traditional or contemporary kitchen. 
5. Freshen up your kitchen with clean white cabinets 
You just can't go wrong with a clean looking white. Even if your kitchen cabinets aren't far from already being white but have yellowed with age, we can guarantee giving them a coat of fresh paint will make all the difference. We have a whole gallery of white kitchen ideas so head over there for more inspiration. 
6. Go for a two toned kitchen for a stylish look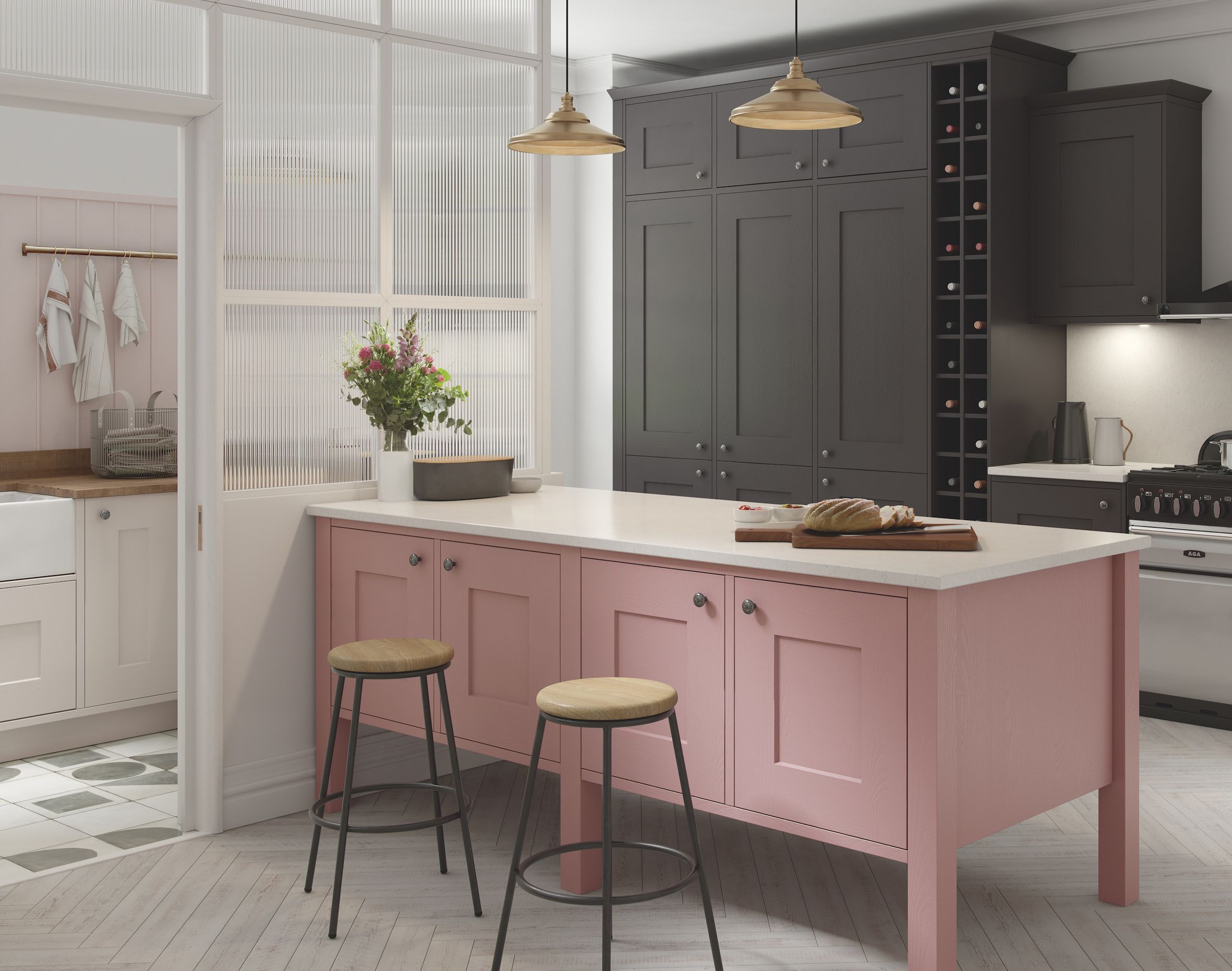 Who says you have to stick to one colour? Two toned kitchens are bang on trend this year and it's a really easy look to get by painting your kitchen cabinets. If you have an island paint that in different colour to your cabinets or you could paint your wall cabinets in a colour that contrasts your floor cabinets. The combination is totally down to your tastes, but you can't go wrong with a grey and dusky pink can you?
Looking for more kitchen inspiration?