Find out the difference between warm water and electric underfloor heating (UFH), how UFH can affect your energy bills, whether you can install it yourself, what type of flooring you should lay over it and much, much more.
What are the different types of underfloor heating?
There are two main systems – water, which runs through pipes as part of your regular heating system, or electric. Here's what you need to know about them:
Warm water: buried
Traditional buried warm-water systems involve burying 1.6cm pipes into the floor screed. The screed is then finished in your selected covering and the zoned system controlled by a manifold, usually located in a store cupboard. This method means the whole floor slab becomes the heat emitter and ensures long-burn heat production.
Pros: Most energy-efficient way of delivering UFH. Low running costs.
Cons: Requires a complete overhaul of the existing floor structure and so best suited to extensions.
Wet vs dry systems
As electric systems are installed directly under the floor covering, and work independently from your central heating system, they are particularly useful for one-room installations or where the sub-floor level is already set. The wire or matting systems are very thin (around 3mm) and shouldn't cause problems with differing floor levels – thus creating little disruption to the existing room.
Wet systems circulate warm water through plastic pipes installed underneath the floor and are connected to the main central heating source. This system tends to work best when the pipes are embedded in a screed, as this helps dissipate the heat, so it is suited to new floor constructions where the sub-floor can accommodate the pipework and cement screed. Wet systems are therefore more likely to be used in new-builds and extensions or during major renovation work.
Martin Conway, technical services manager at Pimlico Plumbers
Warm water: surface mounted Luckily, the options for renovators who don't want to dig out their floor structures have improved significantly in recent years. Companies such as Nu Heat and Polypipe have developed insulated panels with channels routed out for 1.2cm pipes to sit in, which can be laid on top of the exisiting floor structure. The panels add as little as 1.5cm to the floor height and use warm water in the same way as the buried systems. Pros: Easy-to-fit low-profile system. Cons: Relatively expensive and adding this system to certain rooms on a storey will cause level changes between the rooms.
Electric If you don't want to raise the floor levels in your existing rooms, an electric system is the only answer. Popular for single-rooms, electric systems operate with matting on to which cables connect into the home's electrical circuit. It is operated as any heating system would be, by thermostats. Electric UFH mats are slim and can be laid within tile adhesive, making them very popular for bathrooms. Pros: Easy to retrofit. Ideal for individual rooms. Cheap to install. Cons: Relatively high running costs compared to water systems.
Jason Orme, renovation expert
How much does underfloor heating cost?
You can expect to spend upwards of £100 per square metre for water systems and from £50 per square metre for electric, excluding preparation, underlay and installation. Although electric systems are more expensive to run than wet systems, programmable timers can help you to cut costs.
Materials only:
Electric mat = £35-80 per m2
Electric in screed = £20-90 per m2
Warm water, first 20m2 = £80-120 per m2
Warm water, subsequent m2 = £25-35 per m2
Controls = £80-150 per room
Installed system:
Electric mat = £70-120 per m2
Electric in screed = £60-110 per m2
Warm water, first 20m2 = £120-160 per m2
Warm water, subsequent m2 = £45-95 per m2
Controls = £100-200 per room
The higher unit cost of electricity means that warm water-based systems have lower running costs than electric, but electric systems offer the lowest profile, increasing floor height by as little as 2mm. They are also far less expensive to install for small areas up to 20m2.
Michael Holmes, renovation expert
How to measure up
Standard UFH systems are 15cm-16.5cm in depth, comprising 10cm of insulation, 5cm-6.5cm of screed containing the warm water or electric heating elements inside, followed by the floor finish.
Is underfloor heating efficient?
Warm water UFH systems generate temperatures of 40°C to 65°C, meaning that the actual floor temperature will be on average between 23°C and 32°C. This is lower than standard radiators, so your heating costs should be reduced over time.
Electric systems may prove a little more expensive, however, timers can be used to optimise performance. As electric UFH is independent from the central heating system, it allows you to warm a specified floor, without having to heat the entire house. You also need to take into account the lower cost of installing electric compared to water systems.
Royden Evans, managing director of PlumbNation
How to choose the right heat output
Your heating engineer or UFH supplier will design the system for you, matching the output per square metre to the heat requirement of the room, based on volume, heat loss characteristics of the walls, floor, roof, windows and ventilation, and your choice of floor covering.
DID YOU KNOW?
Compared to a radiator-only heating system, UFH is estimated to be 25 per cent more efficient when paired with a modern condensing boiler, and up to 40 per cent cheaper when combined with a heat pump.
Is underfloor heating the best choice for your home?
It's particularly effective for large open-plan spaces – particularly those with high ceilings – as the entire floor radiates heat upwards so you benefit from warm feet and even room temperatures. This radiant heat also means reduced draughts, moisture levels and airborne allergens.
Typically underfloor heating is more than enough as a stand-alone form of heating. However, its capabilities will often be dictated by other factors, such as floor coverings and a building's insulation levels (especially walls and windows). This is why heat-loss calculations are so fundamental, as having looked at a building's individual thermal performance they will tell you how much heat you need to generate.
For example, a poorly insulated room with lots of glazing may not heat fully when it is cold outside (which means additional insulation or supplementary heating may be necessary). Floor coverings also play an important role. Normally, stone and tiles are excellent options, as are carpets with suitable tog ratings. If you're keen on timber, however, remember it has a lower temperature tolerance.
Bob Sage, head of operations at Robbens Systems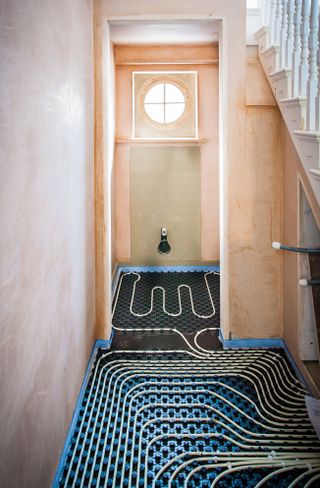 This LoPro Max surface-mounted water system has low running costs compared to an equivalent electric UFH system. For example, a 30m2 electric underfloor system would cost about £720 per annum to run, while LoPro Max costs £240 when working with a gas boiler. Single-room, 4m2 kit, from £970.80, Nu-Heat
Can I retrofit underfloor heating in an existing room?
Wet underfloor heating installation means removing and replacing the existing floor structure, or using a hybrid low-profile system. However, electric underfloor heating may be installed on all existing subfloors when renovating a room or house. Virtually all floor surfaces can be heated including laminate, vinyl and wood.
An electric underfloor heating system is usually composed of a either a heating cable or a mat with a pre-spaced cable together with a thermostat for the zone. Ultra-thin 1.8mm heating cables are available on the market along with 3mm mats so the system should not affect your floor height. With no pipework, no maintenance, a lifetime warranty and highly efficient zone control of heating, electric underfloor heating is exceptionally good value to install and run.
A 3m² bathroom heater can be self-fitted and installed for less than £250 and cost £20 each year to run.
Remember to get a heat loss calculation done prior to buying a system to ensure the efficiency of your home. The key is to check that the heat output of underfloor heating is higher than the heat loss of a room.
Andrew Stimpson, CEO of WARMUP PLC.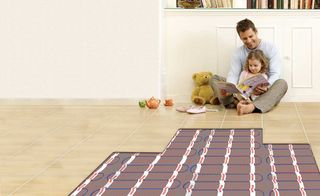 What kind of insulation do I need?
No matter which system you choose, it's vital that you use the correct insulation to maximise its efficiency. The type of insulation you need will depend on the kind of system you have chosen.
For ground-floor rooms and renovation projects with a solid floor construction, UFH systems will need to be laid directly onto pre-installed foam or polystyrene- type insulation, in order to meet building regulations. There are also systems for solid floors that incorporate insulation into their system design, such as Polypipe's Floating Floor System, which features high-density polystyrene floor panels that provide the base for the heating pipes, but also enhance insulation.
For rooms upstairs, the insulation you require will once again depend on the product you have chosen. These slightly trickier installations require underfloor heating systems that can be installed onto floors without a solid base, often on suspended timber or battened surfaces. Here, we would always recommend using a solution that incorporates insulation into its design, so that you can be sure that the insulation is the perfect fit for your system's requirements.
For example, Polypipe's Suspended Floor System features insulation specifically designed to fit between supporting joists, while the Modular Heating Panels solution is a system made up of pre- configured panels with 3cm of insulation already built in, with the panels able to be simply connected and then installed between joists on site.
Andrew Coy, product manager at Polypipe
How easy is UFH to control?
Specialist UFH controls are vital to ensure comfort, responsiveness and energy efficiency. UFH takes longer to heat up and cool down compared to radiators, so to overcome this time lag, programmable controls are essential.
For households with irregular or limited occupancy and for holiday homes, it is useful to have remote control so that you can turn it on an hour or two before arriving. Remote control is also useful if you forget to turn the heating off.
Michael Holmes, experienced renovator
The installation process
Electric underfloor heating systems can easily be installed by a competent DIY-er, although the majority of projects are still completed by a contractor, such as a tiler or electrician.
Most UFH systems are laid on insulation with a screed covering. In this situation, laying the pipework and connecting the manifolds can be carried out by any competent person.
If you're doing this yourself, your chosen company should provide pipe layout drawings for you to follow, along with installation manuals or videos covering a similar project. It is simply a matter of following the pipework drawings – running each individual circuit from the manifold, clipping the pipe to the floor with the provided staples, and then returning the pipework to the manifold. All installations should be tested before the final floor finish is laid.
A qualified installer is needed for electrical or gas connections.
Nigel Sanger, divisional director of technical support at JG Speedfit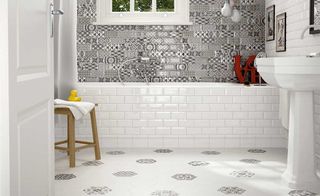 What is the best type of flooring to use over UFH?
The best type of floor sub-structure is one made from screed that fully encapsulates the pipework and provides a dense and conductive medium for the spread and emission of the heat flowing through the pipes. This then allows a lower temperature of pipe to be used, typically around 35°C, and makes for a much more efficient UFH system.
Solid floor coverings are then the best choice for the flooring over the top and these include stone, porcelain, ceramic, terracotta and slate, all of which will provide good heat output.
If you prefer solid timber flooring, always check with your supplier to ensure it is suitable for use with UFH, or consider engineered timber boards that, due to their construction, tend to be more stable during changes in temperature. In both cases, bear in mind that surface temperature shouldn't exceed 27°C.
Most top-of-the-range laminates and vinyls can also be used with UFH, as can carpets — although you may find heat output is slowed down a little, due to the combination of thick carpet and underlay.
Chris Holt, managing director at CDI
Can underfloor heating leak?
Underfloor heating vs radiators
Where cost is an issue, the expense of installing underfloor heating may outweigh the advantages, especially if it involves removing concrete floors and re-screeding. In houses not occupied during the day, underfloor heating's slow warm-up and cooling time (which can be up to four to six hours) may not suit you.
'A combination of both systems can often be the best answer for many homes, as radiators can be easily incorporated into an underfloor system. A good compromise is to install underfloor heating on the ground floor, with radiators upstairs to accommodate the different requirements for living and sleeping spaces, especially as many people still want heated towel rails in their bathrooms.'
Saffet Kalender, managing director of Aeon
The main cause for concern for many prospective buyers of warm water underfloor heating is what to do if the pipes leak. However, unless a nail is accidentally put through them at some stage, this simply does not happen. There are no joints in the floor and the various pipes used are designed and tested to have a 50-year life expectancy at temperatures and pressures that exceed those required by the system.
If accidental damage should occur, then individual pipes can be pressure tested to locate the correct one. In timber floors, the pipe can usually be exposed to allow for repairs, while screed floors will need to be excavated to uncover the pipe. When it comes to electric systems, the heating element often sits directly under the floor so it is simply a case of lifting the floor covering and replacing the damaged circuit.
Chris Ingram, chairman of UHMA (Underfloor Heating Manufacturers Association)
Extended warranties
Look for systems that come with an extended warranty as standard. Wet systems consist of various components, and you may find different lengths of warranty are offered on each part — for example, 25 years on pipes, but perhaps two years on the manifolds. As a general rule, manifolds are simpler to replace than pipes, so a long warranty on the pipes themselves is highly desirable. With electric systems, extended warranties are usually in the order of one year for the thermostats, which are easily replaceable, and 10 years for the heating cables, which are not. Lifetime warranties are also available with some brands.
When looking at warranties, do ensure that the company backing it has some substance. A number of online companies have sprung up offering extended warranties on their systems, but if they are no longer in existence when the system fails then that warranty will be worthless.
David Green, director of Heat Mat
Are there other 'invisible' forms of heating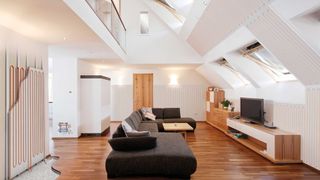 Skirting board heating:
'Wet or electric skirting heating systems are a great option,' says Martin Wadsworth, managing director at Discrete Heat. 'Wet systems can be used with heat pumps as well as conventional boilers due to their large surface area and the even distribution of heat around rooms. Direct electric versions are easier and simpler to install into properties with no existing gas or pipework, but are more expensive to run. However, their fast response times and even heat distribution does offset some of the additional costs when compared to other forms of electric heating.'
Installation of a skirting board heating system in a typical two bedroom semi-detached house would cost upwards of between £3,600 to £6,000, although cheaper, DIY supply-only options are available; expect to pay upwards of £500 to £720 per room.
Wall panel heating:
Variotherm modular wall and ceiling heating panels (above) are a solution for rooms where underfloor heating is not an option, whether in renovations or new builds. They are easily adaptable for walls, sloping ceilings and complex roof structures. Full systems start from £70 per sq metre, including the manifold, boards and controls, from UFH1.