Feeling too hot to sleep? We can help. Whether you're on the top floor of your home with little airflow, a heatwave has hit the country, or there's another cause of feeling too hot and restless to sleep, we've put together some tips and advice.
Thankfully, there are plenty of options when it comes to how to sleep better when it's warm. Bouts of insomnia and sweaty sheets can be cured by everything from specialist bedding to good old-fashioned hacks.
Why do I get so hot at night when I sleep?
There can be lots of contributing factors, many seasonal, but for the ultimate sleep environment, your bedroom should be between 16–18˚C. It can be difficult to accurately know what temperature it is, and heat can really affect children so consider installing a thermometer in their room (be sure to place it somewhere they won't be able to reach or play with it), so you can tell if it's too hot and decide whether or not you need to move them to another, cooler room for the night.
Apart from investing in air con or the best fan, follow our tips to help keep you calm and to help regulate your bedroom's temperature at the sleep-inducing sweet spot of 18°C:
1. Swap to cotton bedding
If you feel too hot, swap your duvet for a cotton sheet which will help you better control your body temperature. Polyester and other synthetic fibers retain heat, while cotton is breathable and will provide the best ventilation for a cool night's sleep.
Lucy Ackroyd, head of design at Christy England (opens in new tab) explains: 'Pure cotton sheets have sensory benefits and, being naturally breathable, help to regulate your temperature and moisture levels while you sleep, preventing the dreaded clammy feeling you can experience with synthetic fibers.'
'Not only that, but high thread count fabrics are smoother against the skin, so as well as being much more comfortable, you are less likely to feel tangled up or trapped by rougher fabrics that cling, especially to nightwear.'
'Try Percale as opposed to Sateen sheets, as they're made with a looser weave and therefore are much more breathable.'
2. Pick linen sleepwear... and ditch the buttons
Shorts, a chemise or simply in the buff - we all have our preferences on how we like to sleep. But, just like our bed linen choices, our sleepwear selections can impact on how comfortable we are when it feels too hot to sleep.
So ditch the onesie in favor of a more sleep-friendly outfit (or your birthday suit). But if snoozing nude isn't your thing, cotton or linen sleepwear is an appropriate solution.
For children, choose sleepwear with poppers instead of buttons to allow them to take off garments easily in the night should they feel the need to.
3. Invest in cooling bedding
Want to feel as cool as a cucumber without spending lots of money? If your mattress isn't dispersing heat as well as it used to, there are alternative solutions to buying another.
Easy to install, cooling mattress pads fit much like a fitted sheet. Wicking away moisture past midnight, the latest offerings come in different sizes, colors and materials to suit all needs and interior styles.
You might also want to consider shopping for a different tog duvet. Look out for options that are around 2.5-4.5 for a light option that you won't be pulling on and off in frustration.
'As well as making sure you have the right sheets for summer, you should also make sure you have the right duvet too.' says Lucy Ackroyd, head of design at Christy England (opens in new tab).
'During these hotter months, a lighter tog of 4.5 is recommended. If you like something a little heavier but still breathable, try a 10.5 tog.'
You could also invest in the best mattress to increase your chances of sleeping like a baby.
Jonathan Warren, director at bed specialist Time4Sleep (opens in new tab) comments on just how important it is to choose the right mattress and what to consider if you struggle to sleep during the summer.
He says: 'There are a number of mattress options available that can help you to regulate your body's temperature.'
'Generally speaking, a mattress with a high content of natural fillings such as wool, cotton or bamboo is often a great choice for those suffering to sleep in the heat as they tend to be cooler as well as being naturally hypoallergenic.'
'Other options to consider are new generation elite gel memory foam mattresses that include intelligent temperature regulating technology to help keep you cool in the summer and warm during the winter.'
'These mattresses include a temperature regulating cool gel that adjusts with your body temperature to ensure you're never too hot or cold during the night, allowing you to have a truly blissful night's sleep.'
4. Flip your pillow and duvet over
There's nothing like the cold side of the pillow or duvet on a 'normal' day - so you can only imagine what it'll feel like when it's too hot to sleep.
This quick, easy and affordable solution can provide some relief without having to fork out on specialist bedding.
If you're a little more organized and can anticipate that it'll be too hot to sleep, you might want to put your pillowcase in the freezer.
Simply place it in a clean plastic bag and leave it in the freezer for 10-15 minutes. Your bed will feel instantly fresher and cooler.
5. Keep windows and blinds closed in the day
Keeping windows, blinds and curtains shut during the day to stop the sun and hot air filtering into the bedroom, so it's cooler when you come to use it. At night, open more than one window to allow for air to flow and cool down your bedroom faster.

One expert also suggests reviewing the suitability of bedroom window treatments as heat management isn't a one size fits all approach.
Jason Peterkin, director at 247 Blinds (opens in new tab) says: 'To begin with, consider factors such as which direction your window faces.
'For example, a south-facing room will benefit from thicker, thermal materials to help keep it cool.
'Generally speaking, wooden Venetian blinds and plantation shutters are great for keeping the temperature down in the home as they allow you to adjust the amount of light filtering into the room by altering the size of the gap between the slats.
'The wood also acts as a natural heat conductor, helping to keep the warm air out during the summer months.
'If you want to completely block out the sunlight, opt for blackout blinds. The thick fabric will not only help to regulate the temperature of the house, but also ensure you get a better night's sleep during the brighter months and lighter mornings.'
6. Invest in black out blinds
Our bodies naturally assume it's time to wake up when it gets lighter outside. Invest in blackout blinds and curtains to make sure you are not woken prematurely.
7. Dot frozen bottles of water through the room
Wondering how to cool down a room fast? An especially good tip if you've got youngsters is to try placing several frozen bottles of water around their bedroom as this helps to cool the air around them as they melt overnight, bringing the temperature down a little.
8. Take a cool shower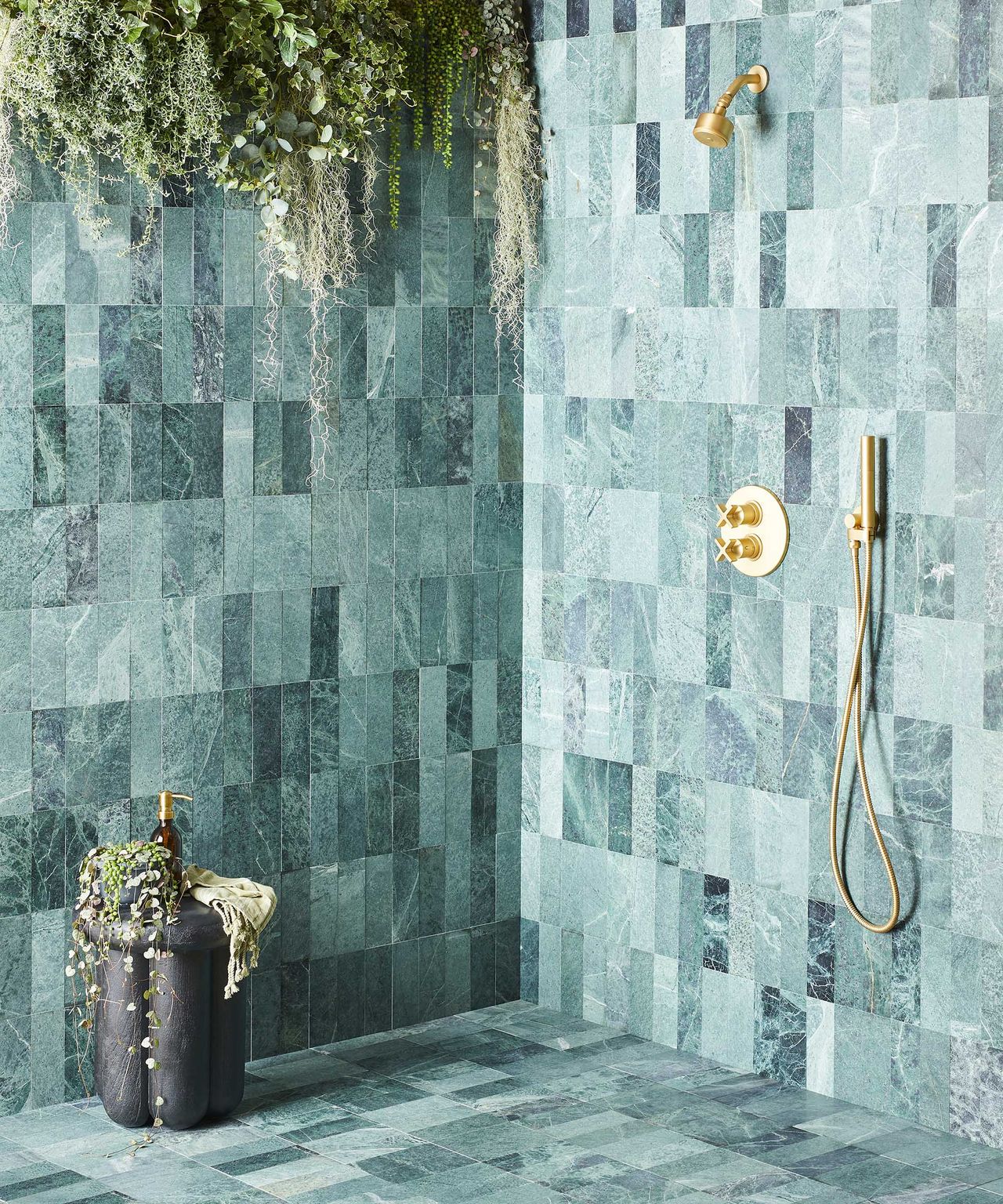 A cool shower before bed can lower your body temperature after a hot day and help prepare you for a good night's sleep. Avoid hot baths during warm weather.
9. Or, take a bath
Consider having a cool bath before going to bed as this can really help to leave you feeling rejuvenated and less sweaty. A lukewarm bath also works especially well at cooling down small children as it can be incorporated into their bedtime routine, leaving them feeling refreshed and ready for bed.
If there's no time to run a bath, running your wrists and feet under cold water will give you an instant cool down.
Alternatively, stay cool by rubbing an ice cube on pulse points.
These are the areas where your blood vessels are close enough to the skin that you can feel a pulse, including your wrists, neck, inside your elbow and at the back of your knees.
Keeping your pulse points cool helps to lower your body temperature.
10. Tie up your hair if it's long
Soft and flowing, hair can make us feel fun and feminine. But when it's too hot to sleep, silky strands sticking to our face and bodies is a surefire way to feel flustered.
One way to stop us getting hot and bothered is to keep it out of sight is by tying it up with a headband or scrunchie.
Loosely does it however, as tension caused by a tight hairband can cause headaches and in some cases, hair loss. To avoid this, choose a hair accessory without a metal grip.
Children who have thick or textured hair may also benefit from braids or plaited designs.
11. Sleep downstairs
Heat rises, so if you can't reduce the temperature enough in the bedroom, maybe consider temporarily sleeping downstairs.
This pudding bed from Loaf (opens in new tab), available in 149 different fabrics and two sizes will make us want to sleep in the living room all year round.
12. Try sleeping on your back
This might not be your natural sleeping position, but lying very still on your back will help your body keep cooler, and will allow the cooler nighttime air to cool you down quicker.
13. Send children and pets to their own bed
Children and pets love a snuggle in bed. But as cute as they are, these extra bodies can act as a mini radiator in your room.
So if your kids and fur babies can sleep independently - instruct them to do so. Or, if you want to provide some parental support during a particularly challenging night, set up some lightweight bedding solutions in your master bedroom.
If your child or pet is too hot to sleep, keeping a glass or bowl of water by their bed is an easy way to ensure that they can hydrate themselves without waking you up.
14. Watch what you eat and drink
What you eat affects your body temperature, believe it or not. And, protein dense foods make our bodies work harder at digestion, which in turn can raise body temperature.
Also avoid foods that are diuretic, as they will make you dehydrated, making it even harder to go to sleep. These foods include asparagus, artichoke, and – we're sad to report – mangoes.
What should you eat? Most vegetables and fruit are good to eat when it's warm or even hot weather, especially water-rich watermelon and cucumber. Lean protein is also fine – think turkey or fish – plenty of salad and a little bit of protein should be good.
Paradoxically, you don't need to stay away from spicy foods during a heatwave, but when you eat them is crucial. A spicy curry at least three hours before bed will encourage you to sweat, which will eventually bring your body temperature down. Just don't eat it right before trying to doze off.
And, of course, avoid alcohol and caffeine, which can be the root of many sleep problems. Stick to water, and plenty of it.
15. And try and eat earlier
During the summer months, many of us try and make the most of the sunshine and socialize outdoors.
As a result, we'll often eat alfresco, or make later dinner reservations, much to the detriment of our digestive system.
This is because it has to work harder and also use more energy. By eating later, our body temperature increases over the course of the evening and before you know it, we find ourselves too hot to sleep.
So if you're going to meet up for a special occasion, why not make a brunch appointment or start the celebrations a few hours earlier?
That way, your food will a least be part digested before you snooze and you won't have the dreaded 'food baby ' sitting on your stomach.
16. Try Chamomile tea in a cool shower
Drinking chamomile tea is perfect for winding down, but a hot beverage before bed might make you feel too hot to sleep.
Instead, take a flask of chamomile into the bathroom and drink it during a cool shower.
This allows you to get the benefits of the naturally relaxing drink while keeping your body temperature cool.
17. Fan of working out? Try exercising earlier
We all know about the benefits that exercise can have on our mind and body to relief stress and improve our cardiovascular health.
But unfortunately, that evening home workout or sunset spin sesh might be doing more harm than good when you're suddenly finding yourself too hot to sleep. When wanting to settle down, the mantra 'no pain - no gain' doesn't hold much value.
So as well as freeing up the rest of your day, choose an earlier workout to allow your body a chance to cool down before bed. It'll also stop that post-workout insomnia that many of us suffer from. That's because the body produces natural painkillers (or endorphins) as a response to exercise (stress).
18. Turn off those appliances
Turn off any heat-generating lights or appliances unless you absolutely need them. Incandescent lights in particular, generate more heat than you might think, and this trick will help to keep your bedroom from getting even hotter.
19. Turn your hot water bottle into a cold compress
Cuddly and comforting, a hot water bottle can take the chill off a cold winter's day. But if you're finding it too hot to sleep, a cool vessel placed against your body can provide some respite for a rise in temperatures.
Instead of filling up this rubber container with water from the kettle, fill it with cold water and place it in the freezer to chill. Remember to remove the fluffy or woolly insulating cover that comes with your bottle for optimum results.
20. Wash your sheets twice a week at 60°C / 140°F
Hot weather can cause a minefield of germs lurking in your bedding, since you sweat a lot more on summer nights.
This results in a build-up of bacteria and skin cells, plus all the other germs which get into your bed, like dust mites, pollen and pet hair.
If you sweat often in bed, change your sheets twice a week to avoid getting into a dirty and potentially damp bed at night. Once a week is enough if you don't sweat much.
20. Get a plant mister – for your face
While more commonly used for spraying houseplants, a mister is the perfect way to quickly cool down at night.
Keep one beside your bed for fast, refreshing relief whenever you feel too hot to sleep. A couple of sprays across the face should do the trick.

If you want to feel super boujie, add a few drops of peppermint extract to a spray bottle of water, and when you're feeling hot, mist yourself with it.
The mint will make you feel extra cool as the water evaporates, similar to how minty chewing gum makes water feel colder when you drink it.
21. Open your loft hatch to let heat rise
If you have a loft at home, keep the hatch open during the warmer months and let the heat rise.
This can help to keep your bedroom cooler as the heat won't stay trapped on your second or third floor and instead will rise into your loft.