Naturally, we all dream of having the kind of walk-in wardrobe that Carrie Bradshaw touts throughout Sex and The City and in And Just Like That. I mean, those wardrobes are a thing of serious beauty, who wouldn't want their own at home? I know that I've spent many an hour daydreaming about the privilege of having that kinda boutique store-style storage setup in my bedroom.
But, let's be honest, the reality for most of us is either a super tiny closet or a basic AF wardrobe that you can barely squeeze all your clothes into — and that's if we're lucky. Some of us don't even have a space for our OOTDs. Yep, seriously. My rental just doesn't offer the space for a wardrobe — and, FYI, it's not the first time I've been in this predicament either.
So, what happens when you're stuck with no wardrobe at all and no room to put one in? Do you just leave your clothes sprawled across the floor or are there other storage options worth exploring? I have answers.
What to do if your bedroom has no room for a wardrobe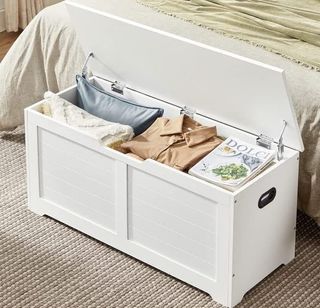 A clothes chest
If you have space at the end of your bed or have a cute little cubby hole in your room to store clothing, a storage chest — aka an adult version of a kids' toy chest — is absolutely great for items like sweaters, tops, and jeans. Honestly, they have SO much space. You'll be amazed at how much you can fit in one. You can opt to buy a new option like this, or you could find a second-hand one and paint it yourself, like I'm planning on doing.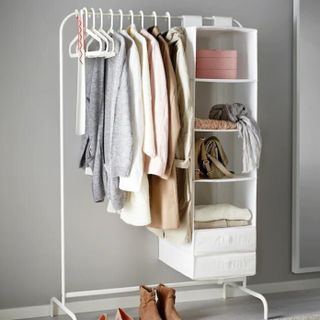 A clothes rack or rail
Another great option, if you don't have the space for a full wardrobe, is a clothing rack. I picked up this one from IKEA and it's been great. It's secure, sturdy, and holds a hell of a lot. Plus, with the right hangers and under-rail storage — like these cute stackable storage boxes — it can look pretty stylish.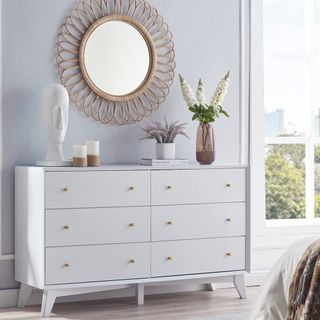 A chest of drawers
A chest of drawers is a great option as it provides segmented space where you can easily store different items of clothing. If you're sharing your dresser — like I have to with my partner — these handy drawer dividers are a seriously useful buy, as are these drawer organizers.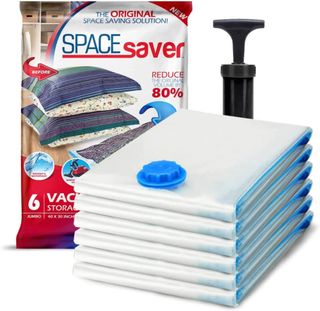 Vacuum storage bags
For any seasonal items that you want easy access to but don't need right away, vacuum storage bags are a great option. You can fill them with your seasonal clothes, vacuum seal them, and easily stash them under the bed. This frees up precious storage space year-round (forget having puffer coats hanging up in June).