When you live in a small apartment, it can feel like there's never enough room to store everything. And, that's because, well... there isn't actually enough space. Whether you're a major germaphobe who likes to regularly deep clean your entire place (I feel you on that) or you're more of the clean-as-you-go type, the chances are that you'll have a collection of go-to cleaning supplies that need a home — which in a small apartment can be challenging. Like, where are you supposed to store them? Anyone?
Well, I've definitely been there, and I can tell you that it is possible to take an organized approach to store your cleaning products, regardless of the size of your home. If like me, you're sick and tired of your cleaning products cluttering up your sides and taking over your cabinets, here's how to properly store your cleaning supplies without using up all of your under-sink space.
How to store cleaning supplies in a small apartment
1. Start by laying out all of your cleaning supplies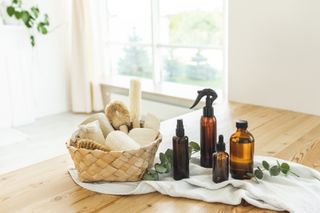 Before you begin to organize your cleaning supplies, start by laying out every spray, cloth, and tool that you own ⁠— this will make working out how to organize everything easier. Once everything is laid out, you can group items together. Also, for any products that you have two of, you can possibly store the full bottle elsewhere and chuck out any empties. Give solutions and tools you never use to friends or neighbors.
2. Consider storing products by room
It would be a smart idea to organize your cleaning supplies by room. This way, when you're cleaning one room, you can easily grab everything that you need. While all of your cleaning products are laid out on the floor, separate them into piles. Multi-purpose products can have their own pile.
Any products you use to clean your bathroom specifically should be stored in there (if you have hidden space). The same goes for your kitchen.
3. Invest in caddies and storage boxes
It sounds obvious, but it's far easier to keep your cleaning supplies neat and tidy if they're stored in containers or bins. Or even in a cleaning caddy! It also makes things more manageable if this storage is stackable and has a handle. Because my home lacks space, I often store cleaning products on vertical shelves in handy grab-and-go caddies and small-sized storage containers.
To make it satisfying, you can label these containers by room so that they're easy to identify for you, your roommates, or whoever else will be helping clean.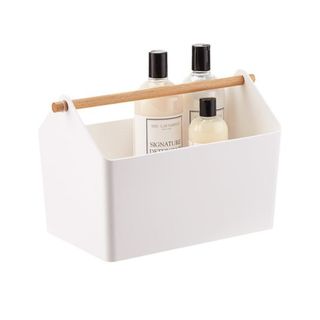 $36.99
Yamazaki Favori Storage Caddy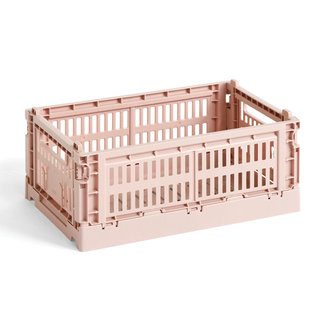 $5.95
Small Pastel Storage Crate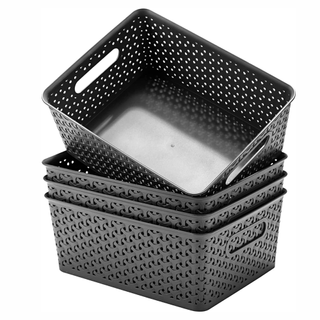 $31.99
Amazon Plastic Storage Baskets 4 Pieces
4. Be smart about how you store items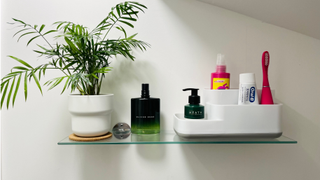 Not every cleaning product needs to go underneath your sink. As I just mentioned, bathroom items can go in your bathroom and kitchen stuff under your sink in there.
If you're limited on cabinet real estate in your kitchen, then think about other ways you could utilize space. For instance, in the first apartment I lived in (it was super tiny) there was literally no cupboard space, so I took advantage of horizontal space for storage, adding shelving to almost every wall and hanging organizers over every door.
As you can see above, I've used a shelf in my bathroom to store my toiletries within reach, instead of a cabinet or hiding them under my sink.
5. Invest in an under-sink organizer
An under sink organizer won't just make your life 10 times easier, but it will save tons of space and ensure you use up every inch of it underneath your sink. Whether in your bathroom or your kitchen, that is. For anyone who needs to maximize this space, we've listed a few of our favorite picks below.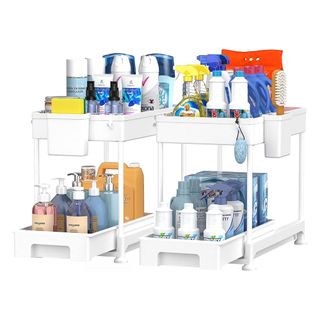 $39.99
Spacelead Under-Sink Organizers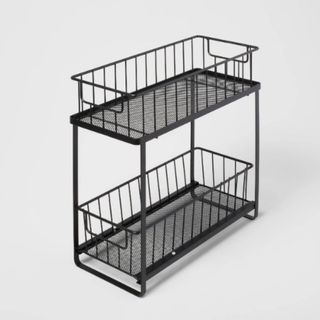 $20
Brightroom Two-Tiered Slide Out Organizer
$21.59
Dexusay Under Sink Organizer
6. Store things off the ground to save space
Yes, hanging organizers are a thing and they're not just for your bedroom closet. If you don't want to waste floor space on your cleaning products or tools, then the hanging organizers I've featured below will definitely help you out. They're genius, TBH. You could hang the broom holders anywhere, even in your kitchen or on your fridge, but the other two might need some space in your entryway closet.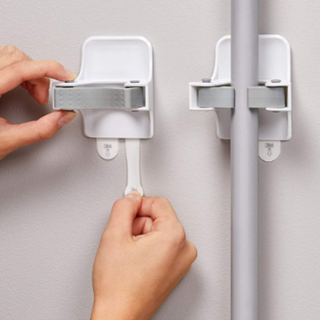 $14.24
Command Broom and Mop Grippers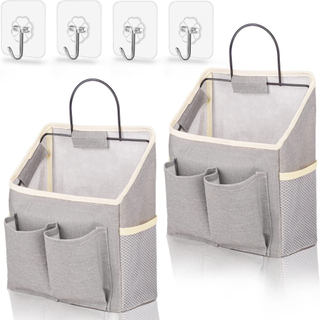 $16.99
Amazon Hanging Wall Organizer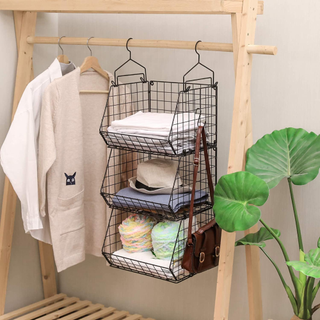 $39.99
Amazon Foldable Hanging Organizer
Up next: How to organize a small bathroom, from the experts