When considering large-scale alterations to your home, knocking your house down and starting again might not be your first consideration. However, it might make sense, both architecturally and financially, to knock down your old home and replace it with something new, designed to your specification.
How much should rebuilding cost?
If you are planning a large extension or large-scale renovation, always speak to an architect first to consider the logistics. As a general rule of thumb, you should add up how much it would cost to rebuild the house to the size and specification you want it.
If the price of this is at least 30 per cent lower than the alteration project would cost, then it is worth considering a full demolition and rebuild. By rebuilding you will make savings on VAT and have the design freedom and simplicity of being able to create your dream home from scratch.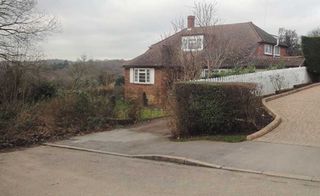 You should, as part of your calculations, factor in what you paid for the original house and the potential end value of the finished project.
The cost of building from scratch is likely to be less significant – so for most people, it's a simple question of affordability. With build costs for new build around £1,350 per square metre and for extensions perhaps £1,800 per square metre, including VAT, it is fairly easy to work out the sums
Maximising the financial benefits
Compile detailed costs to assess whether you are going to be better off renovating your home or starting from scratch. Remember that when renovating, everything you do carries 20 per cent VAT, whereas to erase and replace means zero per cent VAT on almost everything.
With regards to demolition, this should cost between £15,000 to £25,000 depending on the size of the existing dwelling.
Don't be too hasty to discard what has been knocked down. Some of the building materials may be salvageable, such as bricks and roof tiles, especially if they have period detail. In this case, the worth of the salvageable items can be offset against demolition costs to decrease the price.
What to consider before demolition
Once you have made the decision to demolish, there are a number of things you need to consider before you start.
Hire an architect and apply for planning permission to demolish and replace. Check if the building is of significant historical interest, locally listed or in a Conservation Area. If it is any of those things, permission may not be granted unless you can prove why the replacement will be an improvement. In most cases you'll receive a decision within eight weeks, although controversial schemes can take several months.
As the land owner, you are liable for health and safety on the site, so speak to the Health and Safety Executive (HSE) to notify them of the demolition. And don't forget that your utilities will need to be capped off. Make sure you give a long lead time as utility companies can be slow in responding. You won't need to notify the council, but a demolition company will need to know that it has been done and that it's safe for work to start.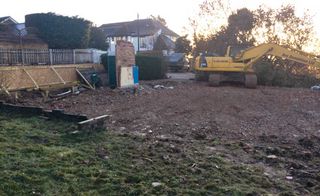 Trading land volume
If you have planning approval before you demolish, you can 'trade' the existing volume, or
You may be able to gain extra volume on a site with a good design. For instance, if the existing dwelling has two floors with a separate single garage, you could build a double-height house across the width of both the former house and garage.
Legally, you have to leave at least one metre between your dwelling and the boundary of your land to avoid a 'terraced' effect, but individual councils can have different requirements so it's best to check with your local authority.
You can also apply to have a basement floor level or rooms in the roof, to gain extra space within the existing volume of land calculated.
Hiring an architect
If you appoint an architect at the beginning of the process, ideally before you buy the property, you can obtain advice on whether you will be able to achieve what you want to on the site. They can submit a pre-application to the planning department before you purchase.
If you receive a negative response, you should think very carefully before going ahead and buying the building, to avoid heartache later on. A pre-application is not as detailed as full planning, but it gives a flavour of the new footprint and an agreement in principal that a new build would be permissible.
Once you have purchased the property, you can work with your architect to submit a full planning application with a detailed layout.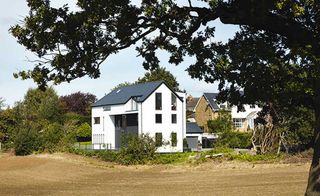 Plan carefully
Be sensible with your application for a replacement dwelling, as the planning department is more likely to accept plans that are in keeping with the neighbourhood.
For instance, if your street is full of Edwardian houses, you may be able to gain permission for a very contemporary house but you'll have more of a battle than if you design something that has similar features to those surrounding it. However, if adjacent to a listed building, the contemporary approach will often be supported by conservation officers as they like architecture to stand alone in its relevant era, and not be pastiche.
In some cases, particularly if you are within a Conservation Area, you may obtain planning permission, but with a restriction on types of building materials – such as roof tiles or bricks – which can be more costly. In this situation, your architect might need to be clever with the design to get the modern appearance you want.
Don't forget drainage
Before you set about erasing and replacing, check the land drainage, particularly if you are planning a larger dwelling than was there previously. In some cases, you may need a pump
You should also consider who owns the utilities and whether you will also need new mains, as you might not be able to connect to the existing drainage system.
Revising your project
If you have fallen into the unhappy position of purchasing a house, only to find you cannot get planning permission for the home of your dreams, you may either have to lower your expectations, or obtain designs for what will be permissible, sell the house with planning, and start the process again. Rebuilding your dream home is very achievable if you appoint the right design team at the beginning, but it isn't as straightforward in most cases as people wish or perceive. However, it's a great feeling when it does happen.
Clear.gb.com / @ClearArchitects