If you're wondering how to clean gym equipment, you're not alone. So many of us have discovered the practicality and joy of having a home gym. Whether that's an entirely separate room, or even just a designated workout space in the corner of your living area, the pandemic drove us to home workouts, and we're sticking with it.
We've shared many home gym ideas, but however stylish your space, if you don't keep it clean, it could end up doing you more harm than good. Keeping your gym equipment clean is so important. While we're all more aware of hygiene than ever before, your home gym is, by nature, one of the most important places to clean. And we've chatted to the experts to share the simple steps you can take to keep yours spick and span....
How to clean a treadmill, exercise bike or rowing machine
It can be very easy to overlook cleaning your exercise machines. But a regular clean can not only keep your space hygienic and fresh, but it can also ensure your exercise machine stays in good working order.
'When cleaning any gym machines you have at home, be sure to unplug them before using any liquids to prevent safety hazards, and wipe them dry completely before powering on again,' says Sarah at Two Maids and a Mop.
You should ideally clean your machines after every use, in order to keep germs at bay. The longer you leave it, the more germs will build up, so little and often is definitely the way to go.
'Use dish cleanser and water to clean handles, foot supports, and other non-electric parts first. Clear off the sudsy buildup with a sodden microfiber material. Clean the exercise center gear with sanitizer, being mindful to not get the hardware excessively wet,' says Reda, Personal trainer, certified nutritionist, and senior editor at thegymgoat.com.
'When cleaning any piece of equipment, make sure to let the disinfectant sit on the surface for a while to sink in and fully penetrate the bacteria. After spraying your equipment down, allow 60 seconds to pass before wiping it away,' says Sarah.
How to clean weights
Keep your loads, free weights, and weight bars spotless, cleaned, and looking great with these simple steps:
'Blend two drops of dish cleanser with two quarters of water. Wash the loads or bars with the lathery water and a microfiber material. For knurled handles, use a nylon brush to get into the sections. Wipe away the cleanser buildup with a new cloth. Remember to dry iron loads immediately after cleaning to prevent rust.
Assuming your loads and hand weights have lacquer paint or an elastic covering, stay away from liquor based cleaners or window cleaners, as they can harm the cover,' says Reda.
How to clean an exercise mat
As the place you go for all the zen and relaxed vibes, it's key to know how to clean a yoga mat properly. Whether you use yours for a Vinyasa class or a Pilates session, you don't want the thought of a grimy yoga mat putting you off your flow.
'Yoga mats get particularly microorganism ridden as loads and hand weights, sweat ans skin cells all have direct contact, and so, will linger. Yoga mats and floor mats, being moist environments, are the perfect place for microbes and parasites that cause bacterial sicknesses to develop,' says Reda. So don't even think about getting your next downward dog on until you've given your mat a thorough clean.
'On the off chance that the mats are truly filthy, use some dish cleanser and water to clean them before you sanitize them. After each use, shower a tea tree oil and vinegar solution (or a regular sanitizer) onto your yoga mat. Allow this to sit for a moment to dispose of the microbes. Use a clammy microfiber fabric to wipe the mats down. Then hang your mat and let it air dry before you set them back,' Reda continues.
Don't forget about the floor
One area of your home gym that may be overlooked is the floor. While many people focus on the equipment itself, the floor where you work out is also dirty with sweat droplets and dirt from your shoes.
'Make sure to disinfect the floor after every workout, especially if you spent a significant amount of time on the floor lying down for sit ups or stretches,' says Sarah.
If you are working out on a hard floor, use a damp mop with some cleaning solution to eliminate germs. If you are working out on carpet, vacuum up the dirt, hair and dust to get through the first layer of post-workout grime – this should be done at least twice per week. Additionally, carpet cleaning products provide a deep clean and leaving a protective shield that defends your carpet for longer. This does not need to be done as frequently and can be left for several months.
Find out how to clean a carpet thoroughly in our guide.
*Survey by by Showers To You
How to wash gym clothes
To clean gym clothes you can put it in the washing machine with your other clothes after every workout, following the care instructions on the label. However, if the smell of sweat is still lingering after washing, there are some tricks you can use:
Avoid using fabric softener as it locks in smells by blocking sweat and odours from washing out, so gym clothes still smell.
Add baking soda to your laundry; including one cup of it can deodorise your clothes and naturally softens them.
Find out how to do laundry safely during coronavirus.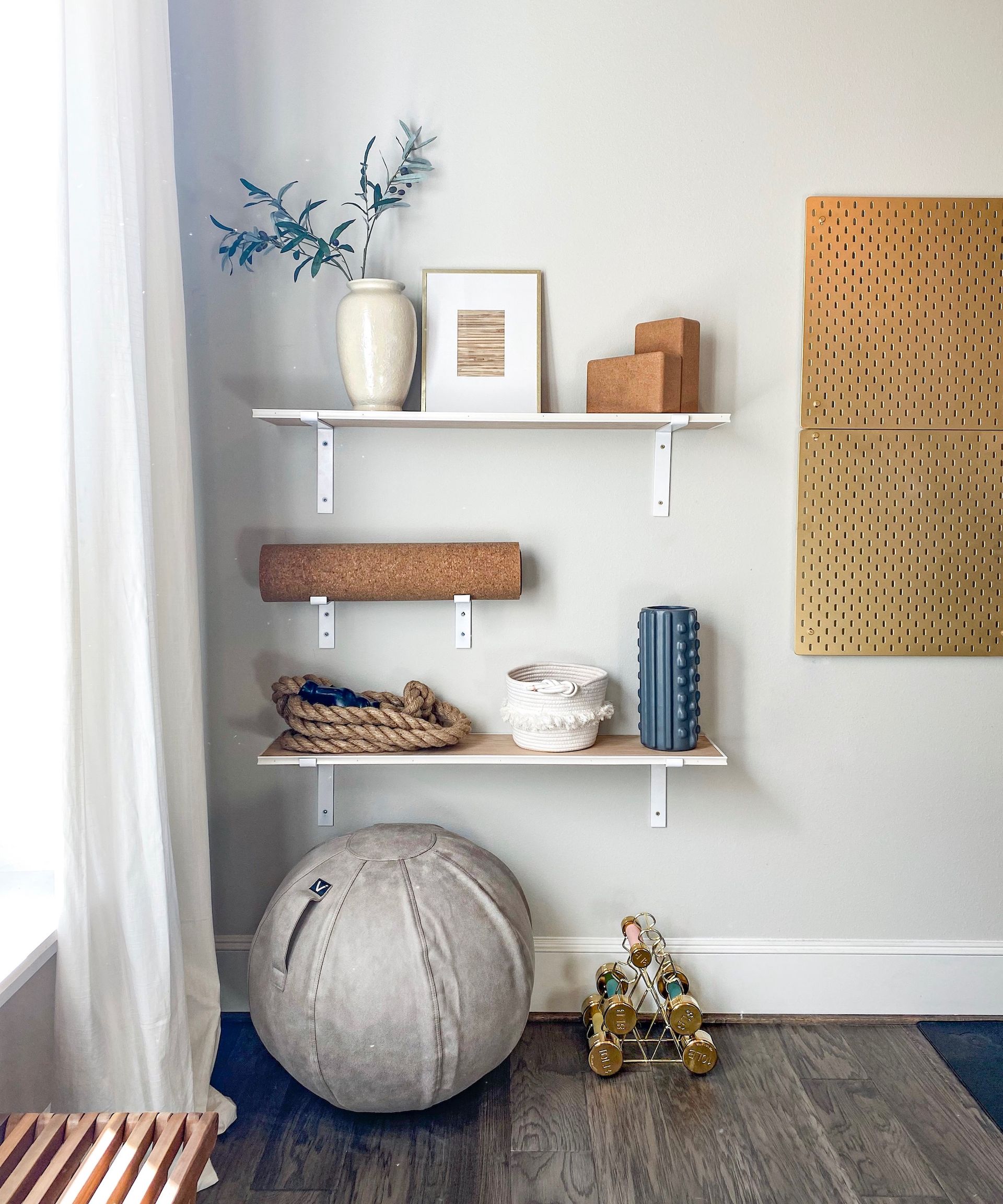 How to clean boxing gloves
Online boxercise classes have become increasingly popular in recent weeks with a sharp increase in participants. But boxing gloves can hold onto odours and become very unpleasant. Wipe them down with a clean cloth to remove extra moisture and prevent bacterial growth.
There are specific boxing glove deodorisers available on Amazon to absorb smells and leave your gloves smelling fresh. For a money-saving option, use air purifying bags. Just place into the glove and leave overnight to eliminate odours.
How to clean running shoes
Running shoes getting extra exercise? Brush or wipe away any excess dirt, grass and mud, then clean with an old toothbrush or a soft scrub brush dipped in warm soapy water. Wipe with a damp towel or wet sponge. If you have removable insoles, scrub them gently with a toothbrush dipped in soapy water then wipe off with a wet sponge. Clean shoelaces using soap, water and a scrubbing brush to remove any visible dirt. Let everything air dry with paper towels scrunched up inside your shoes.
Don't submerge your running shoes in water or put them in the washing machine if possible as this can lead to damaged fabrics.
Avoid placing shoes in the dryer or near a radiator as heat can cause shoes to lose their shape.
For extra freshness, sprinkle baking soda inside when they are dry to absorb odours or residual moisture.
What can I use to clean my gym equipment?
There are many products out there that will work well to clean your gym equipment, such as the best treadmills or best cross trainers. Ensure to choose cleaners that will disinfect, and get rid of germs, rather than simply move them around. You can buy cleaners that are especially made for specific machines. This is a great idea to prevent any damage to your machines surfaces or mechanisms.
Can you use alcohol to clean gym equipment?
While alcohol is a disinfectant, you should avoid using this on your gym equipment. It's worth checking your cleaner to ensure there's no alcohol inside before use. Alcohol could damage your equipment by making its surface rub away. This can be especially damaging for materials such as rubber, steel, vinyl and screens.