No matter how many decades go by, home gym ideas and staying in shape have never fallen out of fashion. After all: health is wealth, so how grand or small your property or material assets are, it's never been trendier to improve your cardiovascular health, right in the heart of your home.
Now, don't get us wrong, we love scrolling and analyzing celebrity workout room ideas and home gym inspiration on Instagram as much as the next person. But, at first glance, these designs can look unviable, unachievable, and overwhelming – especially on an average salary and budget constraints.
So let us do the hard work and sweat the small (and large) stuff. We've put together a set of home gym ideas that'll get you hot under the collar. Whether you're into skipping and sprinting, or strength training with free weights is more your thing, we're here to coach you and help bring your training space to life.
Home gym ideas that'll get your heart racing
'A spare room or garage is an ideal spot for creating a home gym, and it needn't take up the whole space either!' says Charlotte Ingham, Content and Communications Executive, Grenade.
'Think creatively; repurposed dressers or shelves can house items like resistance bands, weights, and ab rollers that can be easily tucked away and pulled out for when you need them.'
'If you're short of time, home gyms are great for fitting in a quick session at any point during the day, with the added benefit of privacy if you're feeling self-conscious. Plus, adding a few essential bits of exercise equipment doesn't need to cost the world either, particularly if you shop around. If you're new to training you might prefer to do this before jumping headfirst into an expensive and lengthy gym contract.'
'If you sometimes struggle to juggle work and home life commitments, a home gym makes it a lot easier to squeeze in time to exercise. With easy access to fitness equipment, it can eliminate the hurdles keeping you from reaching your fitness goals.'
1. Combine grey and light wood for a modern Scandi feel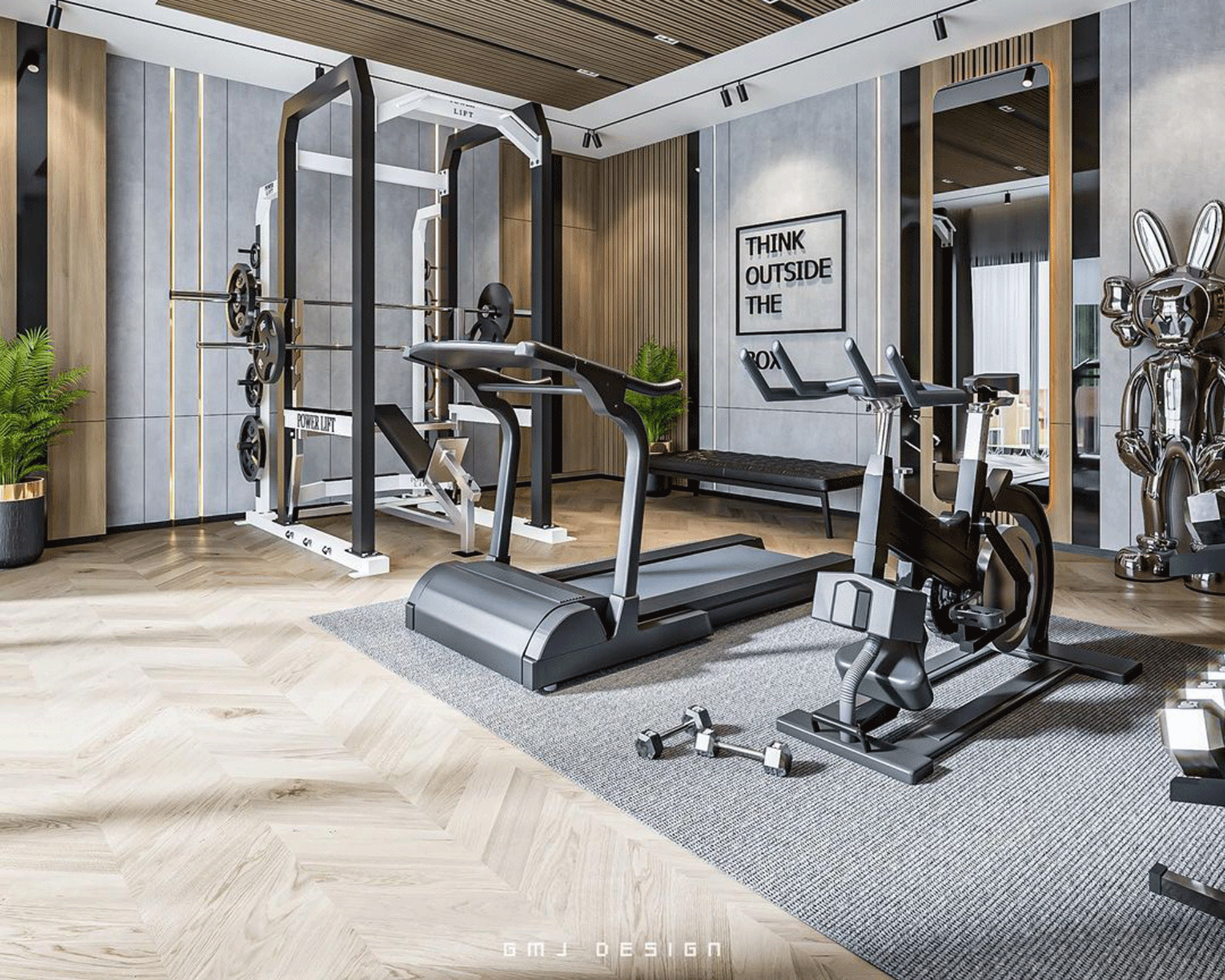 When you think of Nordic-inspired gym design, you probably imagine lots of logs and heavy lifting, Rocky Balboa style. But modern Scandi home gym ideas can be much more refined and offer the health club experience.
Mixing grey decor with light Herringbone-style flooring, potted plants, and reeded wood wall panels, you can create an outside-in feel in your home. This design by GMJ Interiors uses multiple sources of lighting (including LED strips built into the walls, and miniature black lampshades) to ensure you can monitor your form and review your performance with ease.
Widen Liu, director of GMJ Interiors describes this scheme as 'modern urban' and we are here for this city luxe look.
2. Add some color with gym apparatus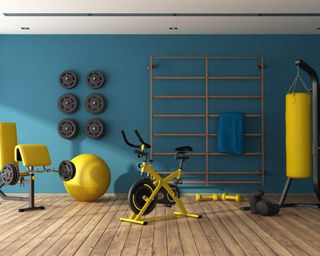 As home gyms become a more accessible option for fitness enthusiasts, retailers have clocked on, creating boxing bags, cardio machinery, and free weights in a whole heap of colors and patterns for a more personalized exercise experience.
Gone are the days of boring black and grey gyms, why not opt for more exciting and dynamic colorways? Yellow, for example, is a hue that creates a sense of energy... So put down that caffeinated drink or pre-workout and purchase the best home gym equipment in a bright shade.
3. Add some neon lighting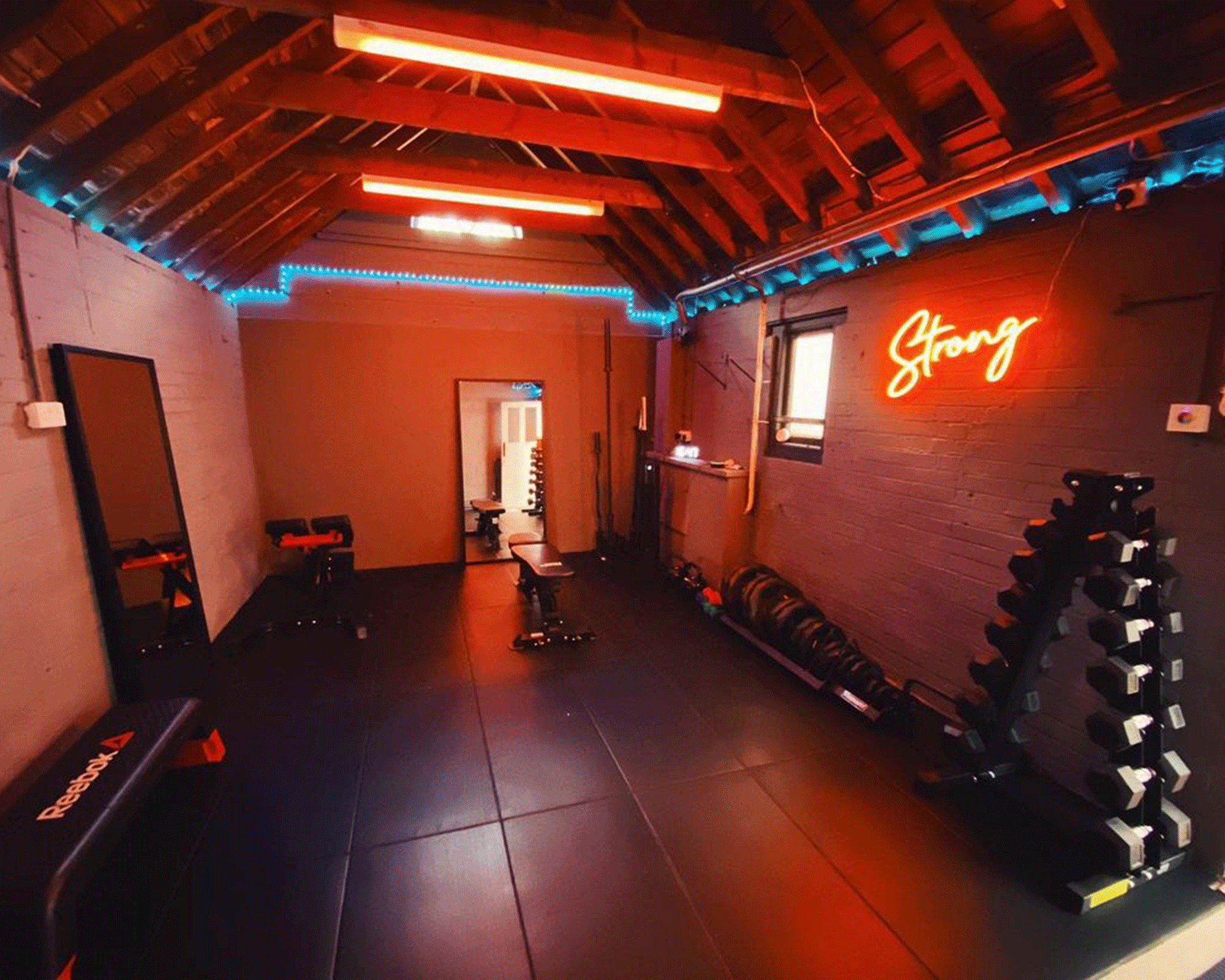 Many gyms and boutique studios often offer spin or cycle classes with bold lighting to emulate a nightclub experience while you're being put through your paces. So set the scene in your residence with home gym lighting. Whether it's cheap tube lighting, an LED strip around the perimeter of your sports space, or a neon light – get excited to exercise with colored bulbs for cardio.
On the other hand, if you're creating a place for lower impact enjoyment such as yoga, pilates, or stretching, you may want something that is warm, calming, and tranquil.

'Think about different layers of lighting which can change the ambiance of the room depending on the activity you are doing.' says Thomas.
'For example, bright lighting is best for using machinery to ensure that you can see what you are doing, however, you may want dimmer lighting to create a relaxing atmosphere when winding down in the evenings doing yoga.'
4. Add interest with wall decals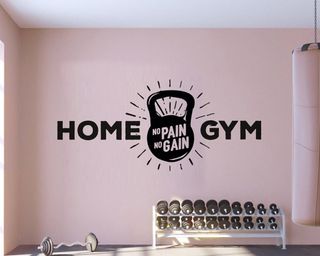 Remodeling your space to incorporate a home gym can be expensive, and that's even before the equipment or the decorating has begun. If your aim to lift pounds of weight has left little pounds in your pocket – don't worry, because the combination of paint and wall decals (available on Amazon) can perform well in this environment as a cheap home gym idea.
'Home gyms don't have to be boring spaces – add your own personality through decorative pieces and add color using bold paints, home gym wall art, or wallpaper. This will help to create a workout space that is motivating.' says Thomas.
5. Squeeze a small space into a corner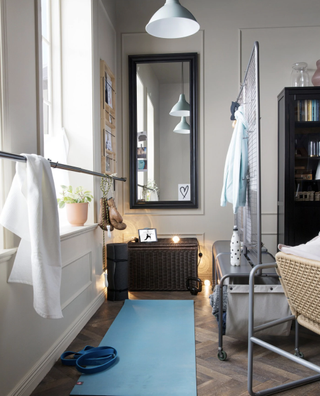 If you know you plie from your tourner, this Ballet or Barre fitness space is perfect for you. Using a divider, you can zone off a section of your living room to create a small home gym. Alternatively, this long and narrow space is ideal for setting up in a hallway.
'Take advantage of energizing daylight by attaching a barre (we used an adjustable curtain rod) across your windows,' says Anna Blom, writer at IKEA.
'A mirror lets you watch your form and makes your workout spot seem bigger too. Stash your equipment inside a beautiful storage box and use the top as a tablet holder for online classes.'
'By choosing a see-through screen you get a separate gym area without blocking out the natural light, leaving you free to exercise or socialize in peace. Create privacy and personalization at the same time by attaching a few art pieces to two dividers. Use the included hooks to hang workout clothes and essentials on the other side so your "room within a room" stays tidy too.'
6. Use your wall space for hanging and storing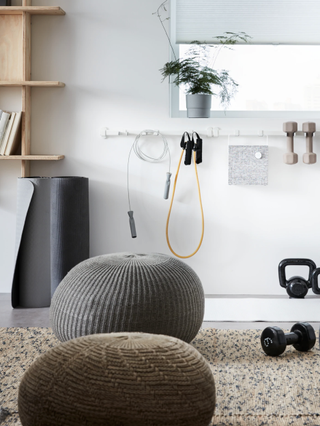 If you've ever stepped on lego as a child, you'll know the pain of not storing things away properly when you're mom or dad told you to do so. Fast forward a few years into adulthood, and tripping over kettlebells can create a traumatic flashback.
So when it comes to storing the best dumbbells and the like, take things off the floor and hook them onto walls. Because trust us, a bit of DIY setting up a shelf or rail is much less painful than a stubbed toe.
7. Use a curtain to divide your living room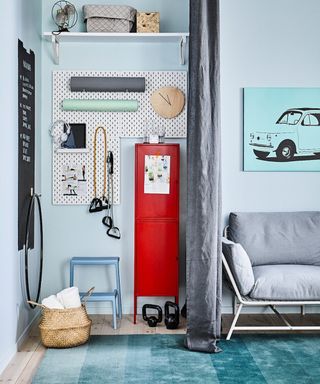 No frills, but absolutely functional, this DIY home gym idea is perfect for apartments and small homes. Using a window treatment like a curtain, you can zone off an area in your living room while someone else watches TV in the home.
The SKÅDIS pegboard, available at IKEA is the perfect spot to store an exercise mat and your headphones so you can get crunches and burpees done in an instant! For a back-to-school feel, add a retro locker, available at Mustard Made to store towels and even the best smart speaker you can afford to play your favorite tunes.
8. Evaluate your form with a large mirror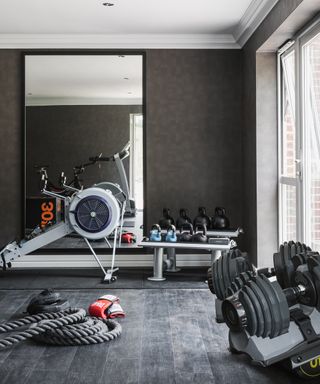 Garage gym ideas are becoming more and more popular as homeowners turn to use the space, not just for storing junk or parking their cars overnight. Yes – it can be a little cold in the winter, but the best heater can stop you from shivering while you warm up.
'A popular area to convert into a home gym is an underutilized garage,' says Thomas.
'It is the perfect size for all the equipment you may need and gives you a space to focus with minimal noise disruption. Garages have also been built to take the weight of cars, so you don't need to worry about the weight of the machines. To create the impression of a larger room, decorate with a large mirror that can either cover the whole wall or most of it.'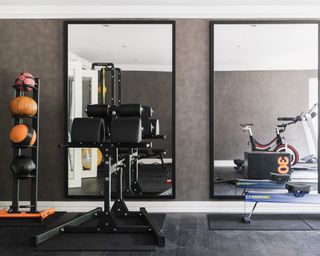 9. Get some air in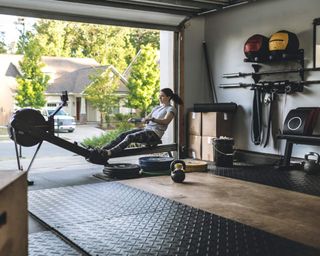 Just like commercial gyms, your home gym requires fresh air to circulate, in and out of the room for a number of reasons. 1) Working out causes your temperature to rise, so you'll appreciate the cool air 2) You're sweaty – it gets smelly 3) Just like your members' club, it's, unfortunately, a breeding ground for bacteria, so you don't want to create warm conditions for germs to thrive.

'Try choosing a room with a window to ensure good ventilation, as this creates good airflow to keep you cool while working out.' says Thomas.
If you haven't got windows, there are other options. You can invest in the best fan or best portable air conditioner. Or, if you're brave enough to have the neighborhood as your audience, flip open the garage door... Maybe just change into your best gym clothes, rather than a baggy hoody or scraggy oversized t-shirt!
10. Take it outside with an outbuilding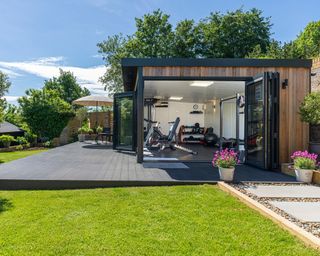 If you lack spare bedrooms in your home for a gym, another option is to transform a garden shed to create a home gym. You can also build an outbuilding, although you should check if you need planning permission first.
'Creating a dedicated space to work out at home is the best way to focus on your fitness goals away from the day-to-day distractions of home.' says Alex Gwilliam, sales manager at Green Retreats.
'If you haven't got a spare room in the house then creating extra space in the garden is a great alternative. A quality garden room is also a great investment in your property as well as your health and fitness.'
'A garden room building as your home gym offers ample light, fresh air, and great garden views to inspire your workout compared to a corner of a spare room or dining room.'
'Having a dedicated garden gym space gives you total privacy for your workout away from the distractions and interruptions from others in your household. So whether you need total quiet for your yoga, or need to crank up the volume for a high-intensity workout, your garden gym is the perfect space to focus how you need it. Top tip: Get a quality smart speaker or surround sound system to motivate your workout with either tranquil background music or your favorite power playlist.'
'Garden rooms are completely customizable to create the perfect environment you need for your workout. By their design, a garden room gives you ample natural light and access to fresh air, as well as motivational views of nature. There are also options to add air-conditioning for total climate control as you would in a professional gym environment.'
11. Add lockers for convenience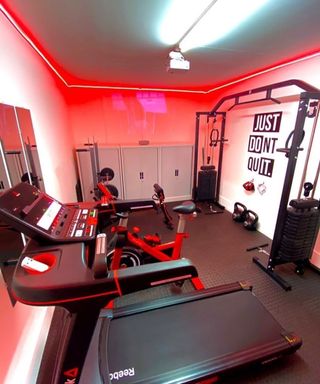 Whether your gym is within walking, public transport, or driving distance... Let's face it, we all have our excuses when it comes to working out. But for some, getting to a gymnasium really is a challenge – especially when you live in mountainous terrain with no chains or branches in reach.
'We live in a rural area up in the Highlands…so it's not easy to access a gym close by. So instead we made one.' says Shireen Fyffe, aka @ourhomebythebeach
We love the way she's used red ceiling strip lighting to add atmosphere and motivational wall decoration to lift spirits during a strenuous session. Aside from this, she's thought to add gym storage in the form of grey cabinets for equipment and other essentials.
12. Paint your garage door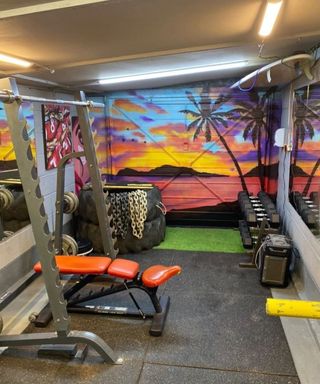 Whether you're getting in shape for a special event, or perhaps a beach holiday, chances are, your home gym doesn't offer much in the way of scenic views of sand or romantic sunsets. Unless of course, you change that.
By using spray paint, available from Amazon, you can create a dreamy destination that'll help you reach your body goals. First things first, before you start with any exotic designs, make sure you know how to paint a garage door first.
13. Invest in a yoga mat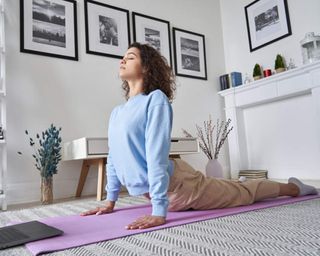 We've come this far into the article, assuming you've got space for a dedicated gym... A little presumptuous you might think.
So if you're short on space, your multifunctional, broken plan living room space may play the part of home gym one day and hosting space the next. If you're still partial to a Zoom or virtual workout, make sure you have one (or a few) of the best yoga mats at the very least for stability. Because carpet burn isn't comfy and laminate flooring can be slippery!
Oh... and just because it's at home, this isn't an excuse for slacking with fashion style. Stretch with sass with the best gym leggings. These stretchy pants will stay in place, squat-proof, and aren't see-through either.
And don't worry about cluttering up your living room with bulky and/or expensive gear We've better ways to hide kettlebells (ie: not using them as a doorstop) if you're wondering how to hide gym equipment in your living room.
14. See your stuff with clear storage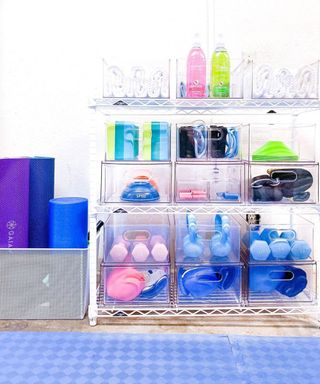 If your skipping rope and boxing gloves are gathering dust and all-sorts in the garage, it can be hard to get into the groove of exercise. But we can change that! All you need is a corner, clear modular storage, a stand-alone shelving system, and a basket...and Voila, visible space for towels, tools, and TRX equipment.
A great way to organize stuff in low-lit areas, these units, available from celeb fave, The Home Edit, are ideal for a basement gym where you might have poorer visibility.
15. Sweat it out with a home sauna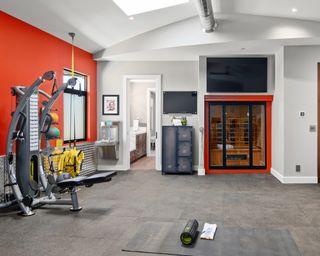 This 500 sq. ft. gym by Tatiana Machado-Rosas and Gabriel Sepulveda, senior interior designers at Jackson Design and Remodeling, is fully outfitted for at-home workouts.
The space includes a sauna and a full bathroom which is great for showering after getting sweaty! High ceilings and skylights give the gym refreshing circulation and abundant natural light. With ample space for every type of equipment, the home gym is comfortable and energizing. A bright orange wall and industrial elements make it feel authentic and motivating.
What is a good size for a home gym?
'The smallest size you would want for a home gym is 3sqm however a good sized one would be 5sqm,' says Thomas.
'For a functional home gym, make sure you have sufficient space for all the essential equipment including machines as well as leaving enough floor space for your workout. Also ensure there is space for storage for any other equipment such as weights, mats and yoga balls.'
'Most gym machines need a minimum of 2m2 however you should allow for extra space around it for movement during your workout and you still need to allow for extra space between the machines to ensure your safety.'
What are the benefits of a home gym?
'As gyms were shut for the best part of the last two years, many of us have gotten used to the flexibility and convenience which comes from working out at home. There's no longer a need to travel to the gym, as most workouts can be done easily at home,' says Matt Flanagan, CEO of e-Bikes Direct
'A home gym allows for flexibility, meaning your workouts can fit into your schedule easier than if you need to travel to your gym or workout class. This results in an increase in motivation, as you know you can carry on with your day straight after your workouts, and not have to worry about traveling back home.'
How do I set up a home gym in my basement?
'One of the most important factors to consider when creating or upgrading a home workout space is what type of gym flooring, gym mats, or gym floor tiles to use,' says Sarah Fishburne, director of trend and design at the Home Depot.

'When it comes to home gym flooring, gym floor mats can be a great option. You may also want to consider rubber flooring or foam floor tiles. Gym flooring, typically made of rubber flooring or foam, is available in interlocking tiles or rolls of sheeting. This type of flooring is created to withstand the wear and tear of gyms and high traffic. It can withstand water as well as reduce noise and absorb shock.'
'Keep in mind that the best gym flooring materials for your home will depend on your lifestyle and budget. We offer a wide variety of different types of gym flooring with on-trend, water-resistant, and easy-to-clean options. Rubber flooring is one of the best choices for gym flooring. Rubber gym flooring is a good choice because of its durability.'
'From gym mats, gym floor tiles, and gym flooring rolls to rubber floor mats and rubber floor tiles, we have the gym flooring products you need to complete your project. We also carry a wide variety of interlocking foam mats and foam mats.'
'Interlocking foam mats are great for home gym flooring. They provide the cushion and friction you need while working out and protect your floors from damage. Exercise equipment mats are also great to have. They keep your equipment in place and shield your floors from scratches while you work out.'
What is the best flooring for a home gym?
'Rubber flooring is best for your home gym because it's easy to install over any existing flooring and is durable so can support heavy machinery.' says Thomas.
'For rubber home gym flooring, it's best to get a thickness between 30-40mm however if you use weights over 40kg you should consider a thickness up to 80mm.'
What are the advantages of owning a home gym?
'Having a home gym set-up can be quite a useful option for many,' says Neal Henderson, head of Wahoo Sports Science.
'One of the primary benefits is the time and energy saved in transit to and from a gym, allowing you to more easily fit in a workout at home into a busy schedule. The time saved might even allow you to get in better overall workouts than you would at a gym.'
'At home, you won't need to worry about waiting for your preferred piece of equipment to be available and you won't have any of the time limitations that are common during peak use periods in many gyms.'
'Finally, there's a little less motivation and commitment required to getting in a quick workout at home – you don't need to look presentable (if you care about that) and nobody will take up valuable workout time by making small talk with you when you're at home.'