Disinfecting our homes is high on the list of ways we can help stop the spread of germs and viruses. Whether you're worried about Covid-19, or someone in your family is sick with a stomach bug, you're going to want to give you home a good cleaning to ensure other members of your household don't get sick.
The Centers for Disease Control and Prevention lists a few key ingredients that will kill most common viruses and bacteria like Salmonella, Influenza, and Covid-19. The good news? You likely already have one of these potential cleaners in your home.
According to the CDC, we can use diluted household bleach solutions to easily disinfect, if appropriate for the surface (note, hard non-porous surfaces are the best candidates for bleach-based cleaning solutions). Typically, most high-touch surfaces in your home, like doorknobs, light switches, bathtubs, cabinet pulls, and countertops (so long as they're not a natural material like marble or granite) can withstand a bleach-based spray. You'll want to avoid using it on textiles.
So how do you make this easy disinfectant spray? We've listed out the CDC's how-to, below.
How to make a CDC-approved disinfectant with bleach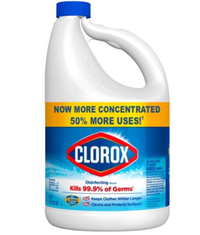 Clorox Disinfecting Bleach, Concentrated Formula | $6.25 at Walmart
Buying bleach online can be tough right now, but we did manage to find this bottle in stock for shipping at Walmart (even two-day shipping in some areas) as of April 24.
To make an effective bleach solution, you'll need to mix a third of a cup of bleach per gallon of water, or four teaspoons bleach per quart of water. Spray on, and keep the surface wet for 10 minutes to ensure germs are killed, and then wipe down as normal.
You should also follow the manufacturer instructions, keep your space ventilated and not mix in anything other than water with your bleach. To be on the safe side, you should consider mixing your solution in a clean, new spray bottle, then clearly label its contents. We've found some purpose-made bottles below.
Also note: never mix bleach with ammonia or vinegar. It creates a toxic gas.
The CDC is also very clear that you'll need to wear disposable gloves when you clean and disinfect, and that you should check that our bleach isn't past its expiry date, as only unexpired bleach will be an effective disinfectant.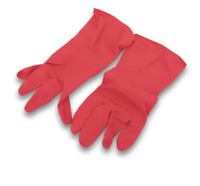 Marshalltown One-Size Fits All rubber gloves | $2.98 at Lowe's
Go for a pair of reusable rubber gloves like these ones we found at Lowe's. They're easier to find right now, you can use them more than one, and you won't have to worry about using up the short-supply of latex gloves currently needed by healthcare workers.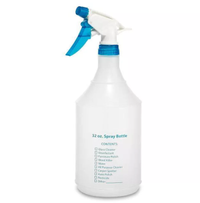 Whitmor Spray Bottle | $2.98 at Target
This 32 oz. spray bottle is perfect for mixing your own cleaning solutions and disinfectant. Just be sure to label the bottle to avoid mixups.
What else works as a disinfectant?
Don't have bleach on hand? These other chemicals and products work to kill germs and bacteria, too.
Disinfectant spray like Lysol
Disinfectant wipes like Clorox wipes
Isopropyl alcohol
Hydrogen peroxide