So you've recently moved into a new place? You're renting, and having your own home is just as good as you'd imagined. I get it, I was in the same situation only a few months ago. I found though, that when I first moved in I just couldn't get a good night's sleep. Maybe you can't sleep in your new surroundings, too? It could be down to nerves or even excitement, but more likely, it's because your landlord-provided mattress doesn't suit your needs. I know you can't throw it out and get a new one, but there are a few things you can do to help.
My new apartment came furnished with everything I needed, but the bed wasn't as comfortable as I would have liked. And with renter's rules, a tight budget, and nowhere to store a spare, replacing it with a mattress of my choice wasn't an option. Instead, I worked on ways to improve my sleep surface, like getting a great mattress topper, investing in quality sheets, and learning how to care for my mattress, to begin with.
Follow my mattress transformation story below, so you can catch the wink of sleep you so definitely deserve. Trust me when I say that investing in your sleep is worth it.
My current mattress
To give you an idea of my mattress situ, and what I was working with, I thought I'd give you the lowdown on what my mattress used to be like. It's a spring mattress, in a double size, and while it wasn't an old mattress by any means, it was too firm for my liking. I'm a side sleeper, who sometimes rolls onto my back, which meant before revamping my mattress, I often woke up a little achy. I know I wouldn't have been comfortable on a memory-foam option, as it would be too soft for my liking, but something less hard than the current one was what I clearly needed.
These are the five steps I took to take my rental mattress from basic to boutique.
1. I added a mattress topper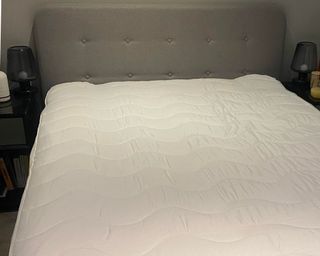 A good mattress topper is the best way to transform any mattress. Whether your current one has seen better days or it doesn't work with your particular sleeping position, your sleep surface is everything. From thick foam options that are great if you sleep on your side to soft pillow-top designs perfect for back sleepers, you can personalize your bed so much with such a simple addition that even Goldilocks would approve of.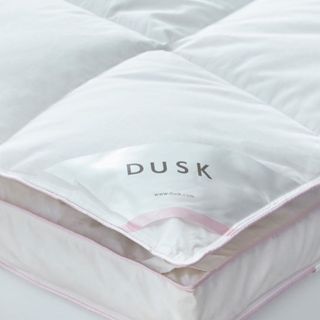 Dusk Supreme Goose-Down Topper, double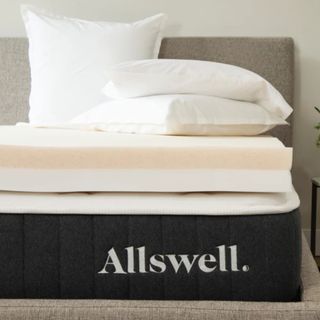 Allswell Memory Foam Mattress Topper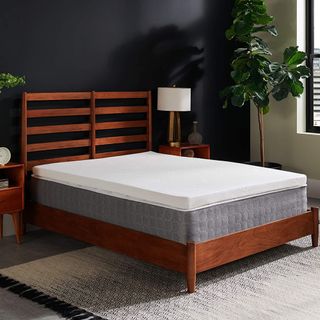 Tempur-Pedic Tempur Supreme mattress topper
2. Then I invested in quality sheets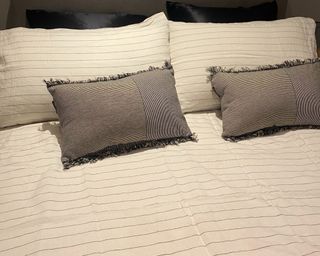 If you rent like me, it's likely that you don't have a ton of spare cash to splash on treating yourself either. But if there's one thing I'd recommend investing in, it's bedding. Slipping into silky smooth bamboo sheets, top-quality linens or high thread count cotton can do wonders for getting your best sleep yet. Remember how well you slept in that hotel bed you stayed in not so long ago? Get ready to experience that all over again, and again.
3. Layered on the soft furnishings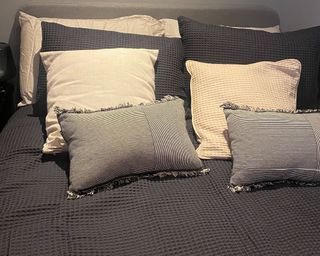 A few scatter cushions and a cozy throw can seriously upgrade your sleep setup. Making your bed every morning can help give you a sense of routine and improve general well-being, so adding a few more steps to the process will only make it more satisfying. Believe me, on cold nights especially, a cozy and layered bed looks and feels extra inviting.
4. Choose a pillow that makes all the difference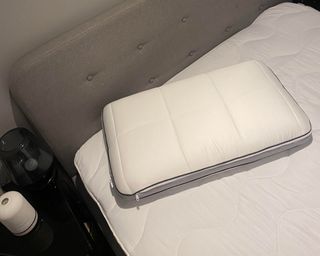 So this isn't an exact alteration to your mattress, but if there's one thing I'd swear by when it comes to sleeping comfortably, it's your pillow. You're probably resting your head on the same cheap pillows you've had for years. I was too. And before I upgraded mine, I would have never guessed that they might have been impacting my sleep. So buying yourself the actual pillow of your dreams could really help you sleep better, and wake up fresher. Plus they don't have to cost much either.
And don't stop there. As a beauty-sleep advocate, silk pillowcases are another must. Sleeping on these has made such a good difference to my hair, skin, and sleep. If you have linen bedding, the fabric can be too abrasive on your face but silk provides a softer surface. Especially if you have sensitive skin like me, it's a total bedding no-brainer.
5. And I cleaned my mattress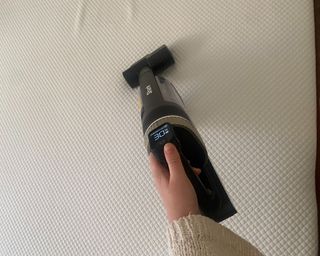 Making sure your mattress is as comfy as it can be will take some extra leg work too. Firstly, flipping your mattress will make it firmer, if you're finding it too soft at the moment. You can also try turning it around since it could be that your mattress has been slept on for too long in the same place. But generally, I've found that keeping my mattress clean is a great way to make my sleep setting feel fresh.
I don't have a handheld vacuum, but using the upholstery tool on a cordless vacuum will plush up the surface whilst removing any debris too. FYI: This attachment should come with the majority of vacuums, otherwise, you can also do this with a handheld vacuum but it might take a little longer.
You can also use a fabric refresher or an air freshener to spray your mattress and give it a little TLC.