I've always struggled with knowing how to organize my desk. I know how to clean, obviously, but in terms of making my desk look aesthetic while still staying functional, I've never found the right balance. Generally, I'll tidy it, and it will look super cute for a day or so… then it gets instantly messy with all the pens, notebooks, and magazines I need for work. Sigh.
So, as with everything nowadays, I've turned to TikTok for organization inspo — and as always, it has delivered. I've scrolled through my feed to find useful products that look gorgeous enough to motivate me to maintain a clean WFH space on the daily and long term.
If you're like me and are looking to get your desk feeling fresh and fab, here are the desk organizing buys that I can't wait to get my life together with…

1. Acrylic storage
Acrylic home decor is having such a moment, which is no surprise as it's a versatile pick when it comes color, size options, and shapes. You can get units with lots of little drawers, options with big drawers, and even stackable versions. Plus, the fact they're clear makes it amazingly easy to see where everything is.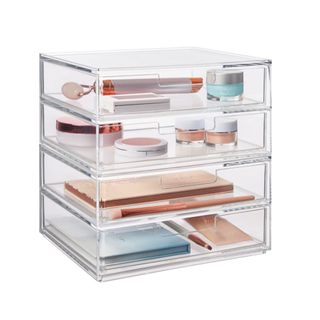 $27.99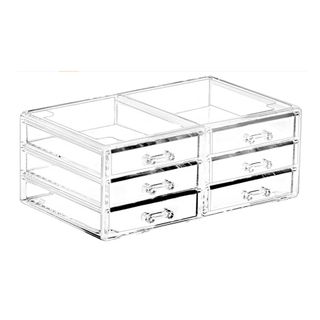 $19.99
6-Drawer Stackable Organizer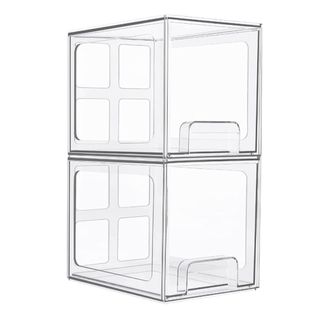 $25.49
Vtopmart Stackable Organizer
2. Small shelves
If you're renting an apartment and can't hang big shelves on your wall, these li'l shelves are an adorable alternative. They're super useful for organizing larger items you need to have handy, like books and notepads. You can also make them a cute decorative feature with small plants, photo frames, and candles.
3. Rotating containers
If you're living in a smaller space but have lots of items you want on your desk, this is a really fun option. I'm a massive child at heart, so if something is fun to use, I'm all over it. Spin your pens, pencils, and highlighters round and round like a record baby with a lazy Susan-style holder. This idea isn't just handy for stationery, you could pop your blue-light glasses, protein bars, and remotes in there, too.
4. Keyboards
As the TikTok says, there's just something majorly mesmerizing about that *click click click* sound the keyboard makes. As well as being super useful, they're such a cute way to add a pop of color and personality to your desk. I'm especially obsessed with these typewriter-style keyboards with big keys, which will make clanging out those Twitter debates so much more satisfying.