Whether you reside in a tiny home and are enjoying that inspiring tiny home movement life (or you have just been "blessed" with limited square footage in your city apartment), you'll know clever storage is everything. When you are living in a van, school bus, teeny A-frame, or minuscule cabin, you really have to get creative with where to store all your stuff.
Having done both the van life thing and the tiny city apartment thing, I can vouch for this. And I am no minimalist. So finding the best ways to store my things and ensure I have a clutter-free space to move around in wasn't the easiest. I have Instagram to thank for any lessons I learned about small-space living and organization. Before I even owned my own tiny home, I had saved so many ingenious storage solutions that helped make life slightly less chaotic, both in my itty bitty apartment back home and then when on the road.
So I took to Instagram again, asking tiny home dwellers to share their top tips for storage when space is super tight to help anyone else in the same position.
1. Make as much as you can multifunctional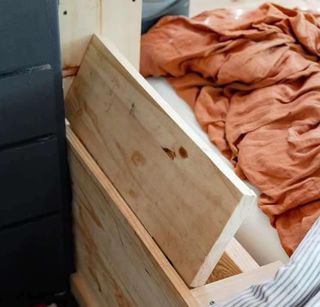 And this goes for any small space living sitch. If something can work harder, make it. A sofa can double as clothes storage, seating can also house your bulky pots and pans, and, as demonstrated here by Kristen Richard of @kristenanne___, even the teeniest gaps around a bed can be turned into great storage areas.
Richard converted her airstream and uses it as a studio space for her gorgeous textile creations. Both living and working in her tiny space have taught her a thing or two about the importance of good storage. "Functionality is key," she says. "When things are multifunctional in a tiny home it makes life so much easier and so much neater. All of the 'tabletop space' surrounding our bed was also made as cabinets for clothing and shoe storage."
2. Use even the most awkward of spaces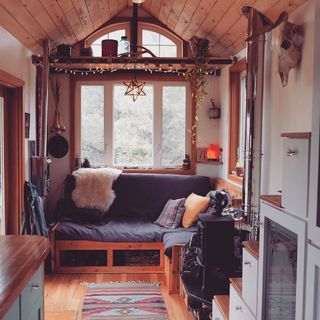 Isabelle Nagel-Brice of A Tiny Good Thing built her own cozy tiny home and now helps others build theirs using natural, eco building materials. You just have to look at her space to learn so many lessons on how to get the most storage out of a tiny home, but her top tip is to utilize any potentially dead or awkward space. The stairs in Isabelle's home are her biggest storage asset — they are essentially a huge chest of drawers. Genius.
"It's important to design the house thoughtfully from the beginning and incorporate storage that utilizes empty or traditionally unused space," Nagel-Brice says. "Having storage with multiple functions is key, like my stairs for example, and my favorite part of my tiny house is that each belonging has its place."
3. Hooks, hooks, and more hooks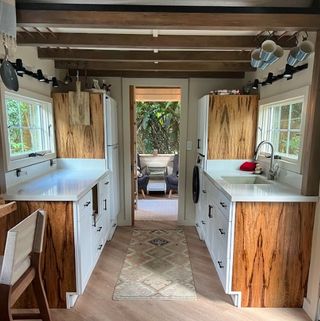 Hooks and rails were a godsend when I was planning my van kitchen. Internal cupboard space was limited, so hanging things was a great option to keep more used items accessible. Plus, when organized, it looked nice and added some character.
This tiny home was created by Paradise Tiny Homes and super stylish tiny home designer Ellie Madsen (aka Ellie K Design). "Additional storage (one of my favorite storage solutions), is endless hanger hooks above both counters in the kitchen," says Madsen. "You can hang utensils, pots, pans, cups, cutting boards, dish towels, oven mitts, and most other things with a hook or a loop in your kitchen."
Madsen has also used "toe-kick under cabinet drawers, built-in storage staircase, and pocket doors" to make the most of tight living quarters. "I designed this particular unit with a floorplan that leaves enough space for a tall (six-drawer) dresser, another three-drawer dresser, a storage bed frame, floating shelves galore, and an entire 8x9 room to do whatever you want with — it can be a walk-in closet, a king size bed, a living room, an office, a dining room, etc."
4. Think vertically with your storage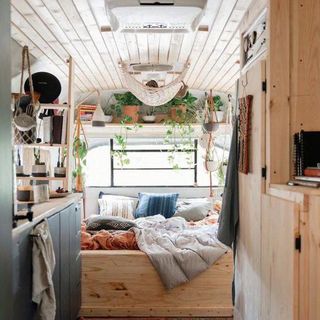 The oldest trick in the book. Got limited floor space? Look to the walls.
"What you lack in square footage, make up for by running shelves and cabinets vertically," suggests Kristen Richard. "We built in shelves at the end of our bed to not only serve as storage but also to separate the kitchen from our bedroom. And my favorite feature is hanging a projector screen at the opposite end of our bed that easily rolls up when not in use!"
5. Turn your storage into decor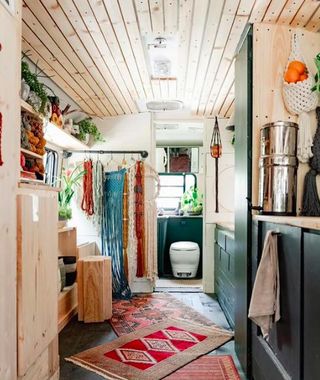 Let's face it, when space is tight you don't have the luxury of hiding everything away neatly in cabinets. There's going to be clutter. But clutter isn't always bad if it's curated and still functional. Anything you need to have out should be displayed in a way that turns it into something decorative.
Take the hooks and rails we talked of earlier. Rather than just hang your un-aesthetically pleasing pots and pans, add a hanging plant in there, or some of your nicest crockery. Pick cute baskets and bags that you can corral clutter into and still give your space the air of being tidy.
"We created macrame hanging baskets to store produce, added in shelves to both store and display everything from dishes to books, and built a 'closet' for the refrigerator so that I could use the 'fridge closet door' as additional wall space to work on," says Richard.
6. DIY bespoke storage pieces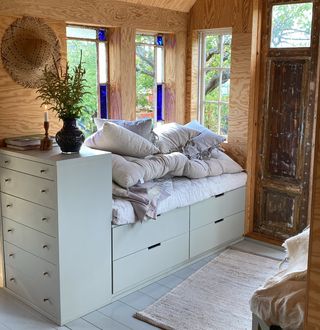 Hannes Mauritzon's tiny cottage is a thing of Scandi dreams, and is filled with small space storage solutions that not only look gorgeous but are usually multifunctional, too. This bed is a super hardworking piece in the home, providing plenty of clothes storage and a spare bed and it doubles as a dining space when needed.
"The key to compact living or minimum space living is the storage and the best [idea] is to invest in time and work to create bespoke solutions," says Mauritzon. "And I always try to include bigger items as decor, like vases or candles, to create an illusion of the space being bigger than it actually is. It's a tiny house cottage, and this bed space doubles up as our dining area, so we added a small antique table that we can put away when not in use."
7. Leave no under area empty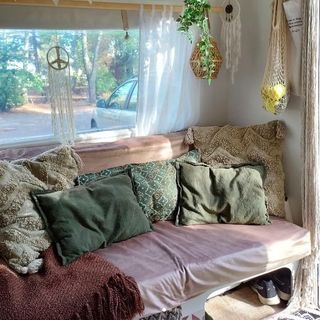 Space under the bed? Under seating? Under tables? Put that space to use and make it work as an extra storage area. Shoes can be particularly tricky things to store in a tiny home because you don't have the luxury of being able to kick them off in a hallway and pretend they don't exist.
These dead spaces under furniture are perfect for getting your shoe collection out of the way, especially if you can pick a spot by the door as in Cajsa's (@min_lilla_adria_305) gorgeous little caravan. Just be sure these spots don't become dumping grounds — keep them organized by using smaller storage items or by labeling. "Make smart solutions," says Cajsa. "Put items within boxes before you store them away so you can keep things better organized."
8. Take a more minimal approach and have regular declutters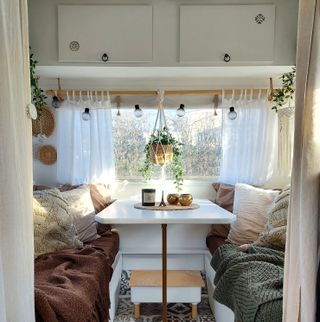 We couldn't avoid this one. Genius storage ideas are only going to get you so far. If you live in a tiny space, you simply need to have less stuff. Have seasonal declutters and anything that doesn't get used regularly needs to go.
"My tip is to think about what you really need," says Cajsa. "You really don't need as much as you think."
Richard agrees. "Only bring in what really matters to you," she says. "A tiny home means you don't have space for things that don't matter and clutter piles up quickly. Keep your space neat and inspirational by letting go of the 'stuff' and minimizing your decor."